Greek Vote Puts ECB Funds at Risk as Crisis Memories Revived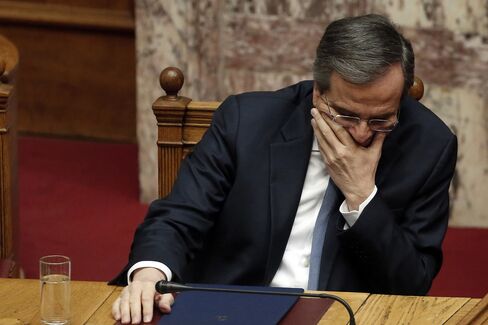 Greece's descent into political crisis is threatening the country's financial system.
The European Central Bank, already battling the risk of euro-area deflation, may soon have to decide whether to withdraw much of its funding for Greek lenders. Special rules on Greek assets accepted as collateral will become invalid if snap elections prevent the country from agreeing to a replacement for its bailout program by the end of February.
The prospect of renewed Greek turmoil is reviving memories of the euro-area debt crisis, which started in the southern European nation in 2009 and spread until it threatened the survival of the single currency in 2012. The regional economy has struggled to recover since then, prompting the ECB to take unprecedented stimulus measures that may extend to quantitative easing as soon as next quarter.
There is "a risk of around 30 percent that Greece may descend into a new deep crisis with potential euro exit beyond the inevitable bout of near-term uncertainty now," said Holger Schmieding, chief economist at Berenberg Bank in London. "That is a significant risk."
The yield on the 10-year Greek bond jumped after the vote was announced in parliament, climbing 132 basis points from Dec. 23 to 9.785 percent as of 5:22 p.m. in Athens. That's the highest since September 2013.
Dissolving Parliament
Greece's path forward was set today when Prime Minister Antonis Samaras failed in his third and final attempt to get his candidate for the country's presidency, Stavros Dimas, confirmed by lawmakers. With the constitution dictating that parliament must now be dissolved, Samaras said he will ask for elections to be held on Jan. 25. That's a few weeks before the country's 240 billion-euro ($293 billion) bailout program expires.
"It's now for the Greek electorate to decide about the future composition of the parliament and the government," the ECB said in an e-mailed statement. "We will not interfere in or comment on this democratic process."
The central bank said it will await "views and suggestions" from Greek authorities on an outstanding review of the country's aid program by the ECB, the European Commission and the International Monetary Fund, known as the troika. It added that Greece "made impressive progress in stabilizing its public finances and reforming its economy over the last years and is expected to return to growth in 2015."
Winning Power
IMF spokesman Gerry Rice said in an e-mailed statement that "Greece faces no immediate financing needs" and discussions with the national authorities on the troika review "will resume once a new government is in place."
Opinion polls show that opposition group Syriza, which plans to abandon the austerity measures and economic overhaul linked to Greece's bailout agreements, would currently win power in the election. Failure to sign up to troika supervision would violate a condition of laxer collateral rules for Greek assets accepted by the ECB that were first introduced in 2010.
The ECB typically takes only investment-grade assets as collateral against its refinancing operations. That would exclude Greek government bonds and government-backed debt. The country is currently rated B at Standard & Poor's and Fitch Ratings, five steps below the threshold.
As of the end of November, Greek lenders were borrowing about 45 billion euros under the refinancing operations against total assets of just under 400 billion euros, according to JPMorgan Chase & Co.
'Tough Line'
Should the ECB reject Greek assets, financial institutions that don't have adequate investment-grade collateral could turn to the Greek central bank for Emergency Liquidity Assistance. While the measure is held on the national central bank's own account, it is still subject to ECB approval. The ECB may limit the duration of ELA to six months, Handelsblatt newspaper reported this month, citing unidentified central-bank staff.
"Our judgment is that the region will take a tough line with a Syriza-led government," said David Mackie, chief European economist at JPMorgan Chase & Co. in London. "Ultimately, Syriza will trim its ambitions in order to ensure that it can remain in the monetary union."
Before it's here, it's on the Bloomberg Terminal.
LEARN MORE