Audi to Invest $29 Billion Through 2019 to Surpass BMW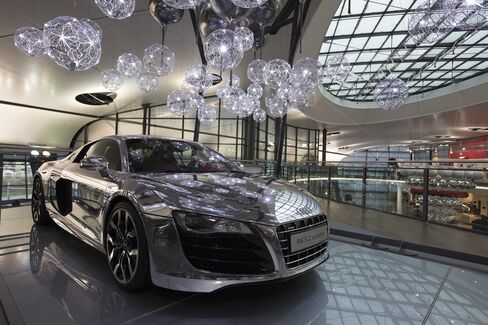 Audi will spend 24 billion euros ($29 billion) to develop technology and expand production, boosting its five-year investment plan by 2 billion euros as it chases BMW for the top spot in luxury-car sales.
About 16.8 billion euros, or 70 percent of the total, is earmarked for new models like the Q1 subcompact sport-utility vehicle, the Ingolstadt, Germany-based unit of Volkswagen AG said today in a statement. Audi expects to sell a record of more than 1.7 million autos this year.
"We are making large investments in the innovative areas of electric mobility, connectivity and lightweight construction," Chief Executive Officer Rupert Stadler said in the statement. The brand intends to increase its lineup to 60 models by 2020 from 50.
Audi, the No. 2 in global luxury-car sales, aims to surpass BMW AG's namesake brand in deliveries by the end of the decade. The race tightened this year. BMW outsold Audi by just 42,600 cars in the first 11 months of 2014 compared with 54,600 a year earlier. Audi's budget is part of Volkswagen's 85.6 billion-euro investment program to beat Toyota Motor Corp. in global auto-industry sales.
Audi plans to spend the equivalent of 4.8 billion euros a year, an increase from the previous rolling five-year plan that called for investing 4.4 billion euros annually on new vehicles and expanding production capacity.
'Watchful Eye'
"Despite the growth in total investment, we will keep a watchful eye on the upcoming challenges and exercise the required cost discipline," Chief Financial Officer Axel Strotbek said.
Audi, which already outsells BMW in China and Europe, is aiming to catch up in the U.S. In November, it unveiled the Prologue concept car in Los Angeles to showcase a more aggressive design. The company also plans an electric crossover for the U.S. in 2017 to challenge Tesla Motors Inc. and is building a factory in Mexico that will start building the Q5 SUV in 2016 for America.
BMW is seeking to fend off Audi and Mercedes-Benz, which also covets the top spot, with its own expansion, adding cars like the $44,700 X4 coupe-like SUV and the $135,700 i8 plug-in hybrid sports car.
Before it's here, it's on the Bloomberg Terminal.
LEARN MORE