Japan Struggles to Escape Recession as Production Drops: Economy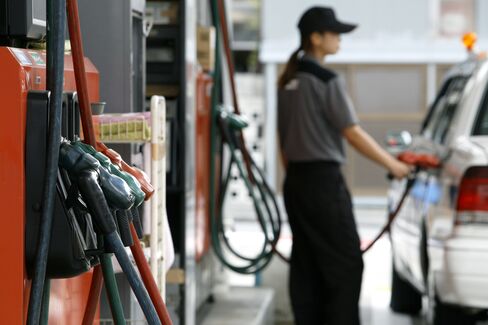 Japan's inflation slowed for a fourth month in November, and industrial production and retail sales unexpectedly dropped, pointing to further weakness in an economy Prime Minister Shinzo Abe is trying to revive from recession.
Output fell 0.6 percent in November from a month earlier, the trade ministry said today, against a median estimate of a 0.8 percent increase in a Bloomberg News survey of economists. Retail sales slid 0.3 percent, while consumer prices excluding fresh food rose 2.7 percent from a year earlier. Real wages fell the most since 2009.
With little sign of a rebound in domestic demand, the world's third-largest economy may rely on exports to avert a third straight quarterly contraction in the final three months of the year. Today's reports add pressure on Abe, whose government tomorrow will unveil a stimulus package, and who pledged growth-inducing structural changes after winning re-election this month.
"Companies have to see a recovery in domestic consumption before boosting production," said Minoru Nogimori, an economist at Nomura Holdings Inc., noting any rebound in the economy in the fourth quarter "will be far from strong." With oil prices weighing on inflation, the BOJ is likely to boost stimulus again, probably around October, he said.
Cheaper Oil
The yen declined 0.1 percent to 120.27 per dollar at 11:12 a.m. in Tokyo, and is down 9.2 percent since Oct. 30, the day before the BOJ unexpectedly increased its already-unprecedented monetary easing. The Topix share index advanced 0.1 percent.
Stripped of the effect of April's sales-tax increase, core consumer prices -- the Bank of Japan's key measure -- rose 0.7 percent, moving further away from the BOJ's 2 percent goal.
Tumbling oil prices could push Japan's inflation as low as 0.5 percent by the middle of next year, according to economists at NLI Research Institute and Dai-ichi Life Research Institute.
BOJ Governor Haruhiko Kuroda said yesterday that over the longer term, cheaper oil will support the economy and spur consumer prices.
Energy prices dropped 1.2 percent from a month earlier, according to today's data. The price of Dubai crude oil -- a benchmark for Middle East supply to Asia -- has lost about a half of its value in the past year. Japan's gasoline prices declined the most in almost six years last week.
Oil Imports
"Japan, a commodity-importing country, gains a large advantage from the decline in crude oil prices," Kuroda said in a speech to business leaders yesterday in Tokyo. The decline "will lead to an increase in underlying prices from a somewhat longer-term perspective," he said.
Kuroda's emphasis on the boost that cheaper oil will give to inflation over the longer term indicates additional easing isn't imminent, said Maiko Noguchi, an economist at Daiwa Securities Co. and a former BOJ official.
Sixteen of 33 economists see the BOJ increasing its easing again before August, and the most popular forecast was for a boost at the second meeting in October next year, according to a survey of economists by Bloomberg News, conducted before the last policy meeting.
The BOJ is counting on rising inflation expectations and a narrowing gap between supply and demand to eventually drive up consumer prices.
Spending by consumers and businesses tumbled after Abe raised the sales tax in April, sending Japan into its fourth recession since 2008. Last month, he postponed another increase that was set for October by 18 months, putting the near-term focus on reviving the economy over reining in the world's heaviest debt burden.
Cash Stockpiles
Speaking to business leaders in Tokyo yesterday, Abe said the government will announce details of an economic stimulus package aimed at spurring consumption and regional development. Kuroda also called on companies to deploy cash and invest more on facilities and workers, saying "the rule book for business will be rewritten" as the economy emerges from deflation.
Corporate holdings of cash and deposits rose to a record 233 trillion yen ($1.9 trillion) at the end of September, according to the BOJ.
Wages have failed to keep up with increasing living costs that were boosted by April's sales-tax hike. Real wages dropped 4.3 percent in November from a year earlier, the steepest fall since December 2009. Total cash earnings slid 1.5 percent.
Abe and Japan's biggest business lobbies last week agreed to work to raise wages.
"I want companies with high profits that are benefiting from the weak yen to raise wages, investment, and on top of that, consider the prices they pay their suppliers," Abe said at the meeting on Dec. 16.
Before it's here, it's on the Bloomberg Terminal.
LEARN MORE