Porsche Recalls 918 Spyder to Fix Faulty Chassis Parts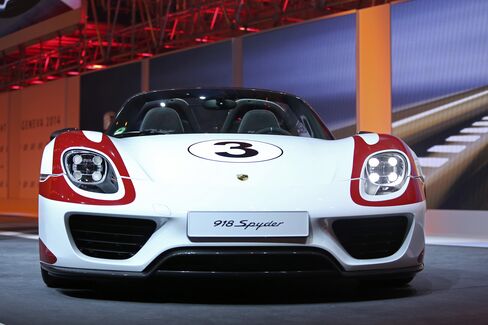 Porsche is recalling 205 of the limited-edition 918 Spyder to replace defective chassis parts, the second quality issue to affect the German carmaker's most expensive model.
Porsche is taking the "precautionary measure" because it can't guarantee the parts permanently, the Stuttgart-based unit of Volkswagen AG said in a statement yesterday.
The fault was discovered during in-house quality tests and no complaints have been registered. The fix will take about two days to complete and will be made by appointment starting in 2015.
Production of the $845,000 plug-in hybrid racer was limited to 918 vehicles to underscore the exclusivity of the car and the brand. Porsche sold the last of the supercars in November.
Porsche already recalled 46 of the 918 Spyder earlier this year to fix a potential defect with rear-axle components. No accidents or injuries were reported related to that fault.
Quality issues have been a growing problem in the auto industry. Recalls in the U.S. reached a record of more than 60 million vehicles so far this year, many of them linked to ignition switch failures in General Motors Co. vehicles and cars using air bags from Japanese component maker Takata Corp.
Before it's here, it's on the Bloomberg Terminal.
LEARN MORE