China Said to Push Qualcomm to Lower Patent Fees for Phonemakers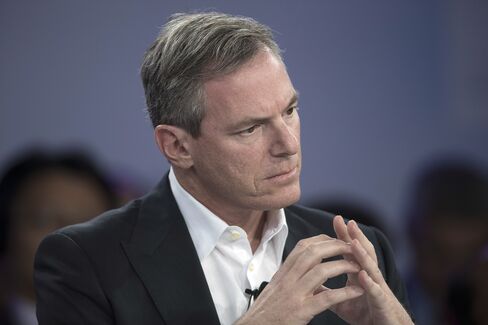 China wants Qualcomm Inc. to accept lower royalty payments for technology used by domestic smartphone manufacturers, people familiar with the matter said, in a proposal that would hurt the chipmaker's main source of profit.
An agreement would end a 13-month anti-monopoly probe by the Chinese government. Negotiations with China's National Development and Reform Commission are continuing, with last-minute changes still possible, the people said, asking not to be identified because the matter is private. The government also may require the San Diego-based company to unbundle its licensing agreements, the people said.
The potential concessions show the high price Qualcomm may have to pay for access to the biggest smartphone market, where sales have already been hurt by the probe as some device makers avoid paying licensing fees. The world's largest maker of mobile-phone chips is pushing back against China's attempt to amend its business model out of concern it could lead to changes in other countries, the people said.
The probe is one of several into non-Chinese companies, particularly in the technology sector. Microsoft Corp. and Symantec Corp. also have been the target of Chinese government investigations, fueling concern that the world's second-largest economy is pursuing a mercantilist agenda to boost its own enterprises. Premier Li Keqiang sought to counter such perceptions in September, pledging to open China more to outside investment and encourage innovation.
Patent Agreements
In the past five years, Qualcomm has collected $30.5 billion in licensing fees, according to data compiled by Bloomberg. Qualcomm was willing to accept a higher fine to avoid changes to licensing, an offer rejected by Chinese authorities, the people familiar with the matter said.
Elsewhere, Qualcomm has asserted patents that cover most modern phone systems, allowing it to charge producers a percentage of the price of every device they sell, regardless of whether they use its chips.
The NDRC, which announced its antitrust probe in November 2013, wants to change that practice to use the value of some phone components, not the whole device, the people said. That would cut the basis on which the licensee fee is calculated to a total measured in tens of dollars from the current hundreds of dollars.
Emily Kilpatrick, a spokeswoman for Qualcomm, declined to comment. The NDRC's press office didn't immediately respond to a request for comment it asked to be submitted by fax today.
Qualcomm has argued that its licensing strategy, under which patents are grouped together in blanket deals, benefits the industry by protecting customers from infringement suits. The NDRC wants to end Qualcomm's practice of forcing clients into cross-licensing deals that curb royalty payments from other Qualcomm customers.
The company is holding "difficult discussions" with Chinese authorities and is working to find a "win-win solution," Chairman Paul Jacobs said last month. The U.S. Federal Trade Commission and European Commission are also conducting inquiries related to its licensing and chip businesses, Qualcomm said in a filing last month.
— With assistance by Tim Culpan, Steven Yang, and Ian King
Before it's here, it's on the Bloomberg Terminal.
LEARN MORE