Xiaomi Finds Patent Problem in Chase of Samsung, Apple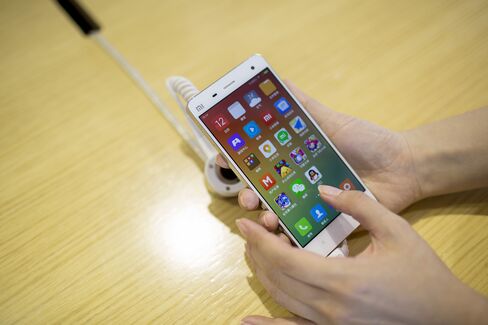 Xiaomi Corp. became the biggest smartphone seller in China without an extensive -- or expensive -- collection of patents. That low-cost approach is now backfiring as accusations of technology infringement stall its global push.
Ericsson AB sued Xiaomi in India, saying the smartphone maker hadn't licensed inventions by Ericsson that enable wireless devices to connect to networks. Judges banned some Xiaomi devices in the company's biggest overseas market, pending another hearing next month.
The lawsuit threatens founder Lei Jun's drive to boost next year's shipments to 100 million units, a fivefold gain from 2013, with an eye toward overtaking Samsung Electronics Co. and Apple Inc. globally. It also puts Xiaomi's strategy of selling devices for near-cost at risk as the Beijing-based company increases spending on research and licensing to avoid the legal battles Samsung and Apple fought around the world.
"The nightmare will keep on going," said Neil Shah, Mumbai-based research director for devices at Counterpoint Research. "Patent companies in other countries will now go after Xiaomi in other markets and use the India market as the example."
Low research costs helped Xiaomi go from startup to the world's No. 3 smartphone vendor within four years of its founding. Virtually all those sales were in China, where weak enforcement of intellectual-property rights meant Xiaomi was "much more protected," Shah said.
Xiaomi says its patent portfolio doesn't make it any more exposed than other makers using Googe Inc.'s Android software.
``Our IP situation is the exact same as everybody else's in this space,'' Hugo Barra, Xiaomi's vice president for global operations, said in an interview last month.
'Calculated Risk'
Technology companies often have their own hoard of intellectual property, which includes patents and trademarks, to protect their innovations and provide a type of currency when it comes to using that of others.
Xiaomi's challenges in this area are noticed by rivals.
"The IP issue may delay the expansion speed of the Chinese company," Sony Mobile Communications Inc. President & CEO Hiroki Totoki said in response to questions in Tokyo on Dec. 19. Sony's Xperia devices compete with Xiaomi.
The patent portfolio is small because Xiaomi is young and must build it over time, said Denis Berger, a patent lawyer at Eiger Law in Shanghai. Entering an overseas market with a limited portfolio can be a "calculated risk," he said.
Xiaomi focused on software while offering devices "at or near cost," Barra said.
Sales Suspended
Xiaomi is working to expand its portfolio globally after filing 600 patent applications last year, said Joy Han, a spokeswoman. It will make 1,000 applications this year, and double that in each of the next two years, she said.
"We file a ton of patents, particularly in China, but not only in China, around the world," Barra said. "We license patents, buy patents. It's the same thing as everybody else has done."
Ericsson holds essential patents for 2G, 3G and 4G mobile wireless technology, which means any seller of products compliant with those standards must secure licenses, said a spokesman, Johannes Persson.
"Xiaomi refused to respond in any way regarding a fair license to Ericsson's intellectual property," Persson said.
Xiaomi suspended all India sales to comply with the Dec. 8 Delhi High Court ruling in Ericsson's lawsuit. A Xiaomi appeal on Dec. 16 led to a partial lifting of the ban, for devices using Qualcomm Inc. chips.
While Qualcomm helps customers get licenses from other patent holders, Xiaomi can't rely on such help in all cases, said Bryan Wang, China country manager for Forrester Research.
"It will become a major issue that Xiaomi needs to address," Wang said.
Xiaomi has a license agreement for 3G multimode units, while details can't be disclosed, Qualcomm said in an e-mail.
New Markets
The Mi3 and Redmi 1S use Qualcomm chips, while the Redmi Note device uses a MediaTek Inc. processor, according to Xiaomi's India website.
To overtake Samsung and Apple, Xiaomi needs to enter markets with stringent rights enforcement that may embroil Xiaomi in more disputes, Shah said.
"Expansion into countries with strict intellectual property laws, such as the U.S. or Japan, has long been a challenge for most Chinese smartphone brands, including Xiaomi," said Neil Mawston, executive director of researcher Strategy Analytics.
"Xiaomi will find its rapid smartphone growth at home in China is much harder to replicate abroad."
The company also may be losing its home-field advantage after China last month set up its first court to handle intellectual property cases in Beijing. Courts are being established for patents, trademarks and software after the U.S. put China on a list of countries needing to improve intellectual property rights for 25 years.
Sony, Microsoft
Even if Xiaomi quadruples patent applications to 8,000 by the end of 2016, as planned, it would lag older competitors.
A group including Apple, Ericsson, BlackBerry Ltd., Sony Corp. and Microsoft Corp. agreed in 2011 to pay $4.5 billion for about 6,000 patents held by Nortel Networks Corp. Google Inc.'s 2012 acquisition of Motorola Mobility for $12.5 billion included 17,000 patents.
Huawei Technologies Co. had 36,511 patents at the end of 2013, the company said. ZTE Corp. had 17,000 patents as of June. Huawei has no licensing agreements with Xiaomi, said Linna Yi, a spokeswoman. David Dai, a spokesman for ZTE, declined to comment if Xiaomi licenses technology.
Xiaomi may need to buy or license portfolios from other companies, said Kiranjeet Kaur, a Singapore-based analyst at International Data Corp.
"In the short term, Xiaomi may need to pay licensing fees, but eventually it may need to build up its patent portfolio," Kaur said. "That won't come without cost."
— With assistance by Edmond Lococo, Bianca Vazquez Toness, and Tim Culpan
Before it's here, it's on the Bloomberg Terminal.
LEARN MORE