Draghi Starts Squaring QE Circle in Month of Persuasion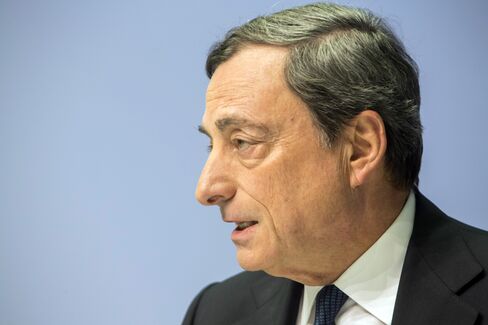 Mario Draghi has one month to win consensus on quantitative easing by reassuring those worried the European Central Bank risks losing its own money.
As officials prepare to consider sovereign-bond purchases on Jan. 22, the ECB president is working to get as many policy makers and as much of the public on his side as possible. One concession being debated is to require national central banks to be responsible for at least some of their own credit risk, according to people familiar with the talks.
Draghi's chief mission in the next 31 days will be to counter arguments that a QE package designed to revive inflation will instead see the ECB loading up with junk assets at high prices to bail out negligent governments. While he might never convince more vocal opponents such as Bundesbank President Jens Weidmann, he can strengthen his position by crafting a program that addresses the concerns of doubters.
"In case of sovereign QE, it'll be difficult to square the circle to make everybody happy," said Marco Valli, an economist at UniCredit SpA in Milan. "But they are trying to make it as consensual as possible, bringing on board some of the smaller states. It would be important for the credibility of any sovereign QE program to reduce dissent as much as possible."
Weidmann has argued that aside from the question of whether government-bond purchases are legal, there's no need for more action now. He has said a slump in oil prices will provide a "mini-stimulus" to the economy. Yet the same slide is proving a concern for Draghi because of the risk that it feeds through into inflation expectations and tips the euro area into a deflationary spiral.
Negative Inflation
The ECB wants to prevent a "dangerous vicious circle of declining prices, rising real wage costs, falling profits, shrinking demand and further declining prices," Vice President Vitor Constancio said in an interview with Wirtschaftswoche published on Dec. 20.
Not responding in defense of its mandate to keep prices stable "would be illegal," Draghi said on Dec. 4 after strengthening the Governing Council's official statement to say stimulus is intended to expand the ECB's balance sheet by as much as 1 trillion euros ($1.2 trillion).
In a preview of the disagreements he might face, that change -- the council previously said stimulus was "expected" to boost the balance sheet -- was opposed by a quarter of the 24 policy makers, including half the six-person Executive Board. While some of those opponents are still likely to support QE, reservations remain on how it would gel with government reforms, risk distribution, and an EU ban on monetary financing.
Legal Judgment
"We need to design a solution in a way that mitigates the concerns of as many people around the table as possible," Executive Board member Benoit Coeure told the Wall Street Journal last week, according to an ECB transcript. "No instrument is perfect."
One example of how Draghi can steer policy makers toward a compromise, if not unanimity, is the Outright Monetary Transactions bond-buying plan announced in 2012. The Italian managed to limit the number of opponents to just one, Weidmann, by agreeing to concessions such as the maturities of bonds to be bought and purchasing pauses during reviews.
OMT, which has never been used, still came under legal scrutiny. Germany's Constitutional Court said the ECB overstepped its authority and asked the EU's highest tribunal to decide on its legality. A non-binding opinion will be published on Jan. 14, with a ruling four to six months later.
Credit Risk
That may spur policy makers to narrow the liability for national central banks this time, according to Anatoli Annenkov, senior economist at Societe Generale SA in London.
"We expect measures to limit credit risk," he said. Options range "from buying only the highest-rated bonds, to letting national central banks keep the credit risk on their own balance sheets, and/or maintaining senior status in case of a debt restructuring," he said.
Other considerations may include limits on purchases relative to each nation's outstanding debt and the size of its economy. Central banks in countries such as Greece and Portugal could be required to set aside extra money or provisions to cover potential losses, Reuters reported on Dec. 19, citing unidentified officials.
In a sign Draghi may also be reaching out beyond policy makers, he was due to give a rare interview to Handelsblatt this month. The article has yet to be published.
'Not Convinced'
Draghi still faces stiff resistance from German politicians.
"I'm not convinced of the need for a large-scale government-bond purchase program," Norbert Barthle, the senior budget lawmaker in German Chancellor Angela Merkel's coalition, said in an interview with Frankfurter Allgemeine Zeitung published today.
The euro area, which expands to 19 member states when Lithuania joins on Jan. 1, lacks a common, risk-free asset such as the U.S. Treasuries the Federal Reserve bought in its QE program. That leaves the ECB looking at a hodge-podge of covered bonds and asset-backed securities, which it started buying this year, or corporate bonds and government-agency debt, which some policy makers have said are possible targets.
Should officials decide that size matters in convincing investors though, government bonds offer by far the largest and most liquid debt market. More than 6 trillion euros of sovereign assets are eligible at the ECB as collateral, and so probably for any purchase program.
"Our base case assumes that Mr. Draghi will implement sovereign QE boldly," said Huw Pill, chief European economist at Goldman Sachs Group Inc. in London. "But we entertain a variant scenario where Mr. Draghi seeks compromise with the QE-skeptics. Such a compromise has the potential to disappoint markets."
Before it's here, it's on the Bloomberg Terminal.
LEARN MORE