Missing Tsunami Buoys Among Flaws With Millions at Risk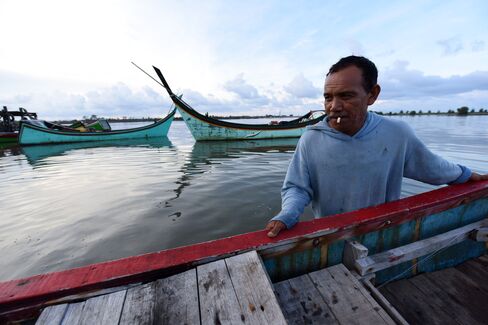 The tsunami that swept away his wife and two of his children came without warning for museum employee Akram bin M. Thaib. A decade later, he says he'd be better prepared if it happens again.
"I will look at the ants," Akram, 54, said at his home in Banda Aceh, capital of Indonesia's northern Aceh province. "If ants in the ground start climbing to the roof, it means in three days a flood will come."
It may not be as crazy as it sounds. Scientists have studied whether the behavior of ants is an early indicator of earthquakes.
Besides, 10 years after an undersea temblor unleashed waves that killed more than 220,000 across 12 countries, in some places the ants may be the only predictor around. Flaws in the warning system include missing ocean buoys that detect tsunamis, insufficient sirens to sound alarms, and a lack of education teaching people how to respond. In places like Banda Aceh, where residents are likely to have just 20 minutes to evacuate to higher ground inland, every second counts. The lack of any warning in 2004 contributed to the death toll in Aceh of more than 160,000.
There has been some improvement since waves as high as 15 meters (49 feet) triggered by a 9.1-magnitude earthquake caught millions living around the Indian Ocean by surprise. An intergovernmental coordination group for the region was set up in 2005 to warn about a tsunami.
Sri Lanka and Thailand are better prepared to alert their people, while in India and Indonesia it's less clear how those living by the sea will get the message to evacuate, the final stage of the warning chain that experts call the last mile.
'Gaps Exist'
"While the establishment of the Indian Ocean Tsunami Warning System is a major leap forward, 'the last mile' outreach continues to be the challenge in the region," said Sanjay Kumar Srivastava, regional adviser on disaster risk reduction to the United Nations Economic and Social Commission for Asia-Pacific in Bangkok. "Gaps may exist in local level preparedness, including those related to dissemination of warnings."
Indonesia lags behind. While there are six sirens in Banda Aceh, the rest of the province -- spread across 22,540 square miles (58,380 square kilometers), almost the size of West Virginia -- doesn't have any.
In Meulaboh, about 180 kilometers (112 miles) south of Banda Aceh, 60-year-old Teuku Mirza Wood, 60, who along with his family survived the tsunami in 2004, plans to head upstairs if he feels an earthquake.
'Don't Panic'
"Don't panic; what's the use of running?" said Wood. "It's tiring and we will be chased by the water. Better go to the second floor."
The archipelago nation has 39 tsunami sirens, compared with at least 1,000 needed, according to Sutopo Purwo Nugroho, spokesman for Indonesia's National Disaster Mitigation Agency.
Other essential hardware is also missing. In 2006, Indonesia deployed sea buoys to capture and transmit any changes on the ocean bed after an earthquake to predict an oncoming tsunami. Only three of the 29 installed are still active, said Ridwan Djamaluddin, deputy for natural resources development technology at the Agency for the Assessment and Application of Technology. The rest have either been vandalized, broken or have drifted away.
"Ideally, the more there are, the better the information relayed will be," said Djamaluddin. The Southeast Asian nation, which has two experimental tsunameter cables in addition to the buoys, also gets data in real time from similar devices used by other countries, he said.
Ocean Buoys
Across the Indian Ocean, between India, Thailand and Indonesia, there are now nine deep ocean tsunameters from none a decade back. These devices consist of seafloor bottom pressure recorders that transmit data to a surface buoy that communicates via satellite. More than 100 coastal sea level gauges measure any changes, compared with four before.
Indonesia is closest to the earth's belt most susceptible to subterranean earthquakes. That gives the country with the world's fourth-largest population at most 30 minutes to evacuate people living by the beach, according to Andy Eka Sakya, head of the Meteorological, Climatology and Geophysics Agency in Jakarta.
It takes Indonesia five minutes to deliver a tsunami warning and it aims to cut that to a minute, said Muhammad Nasir, minister for research and technology. Once the warning is issued, the local authorities are responsible for issuing a call to evacuate.
When an earthquake rocked Aceh in April 2012, surveys showed that 63 percent of the people didn't initially hear the sirens. Some 75 percent fled in vehicles causing traffic jams, something people were strictly advised against doing during drills, according to Nugroho.
Inadequate Spending
Indonesia's national agency says it has a comprehensive disaster mitigation system, though how well that gets implemented will depend on local administrations in the provinces. The funds assigned for disaster mitigation are an indication, according to Nugroho. On average 0.03 percent of a local administration's budget is allocated to it, a fraction of the 1 percent the national agency says is required.
After more than 8,000 people died or went missing in Thailand, the country strengthened its National Disaster Warning Center. The country, parts of which were hit by the waves almost two hours after the earthquake in 2004, relies on three tsunami buoys in the Andaman Sea, one near the Similan Islands off its western coast, as well as nine tidal gauge stations and alerts from other countries to send out warnings.
Warning Towers
Those alerts are sent out as SMS messages to more than 20 million mobile phones, a nationwide TV pool, a call center with eight hotlines, its website and a countrywide network of 328 large warning towers. In addition, local government officials will trigger 654 smaller towers and send alerts to 1,590 special radios monitored by village chiefs.
The Phang Nga province in southern Thailand, among the worst affected a decade ago, has 18 warning towers. That hasn't given confidence to the residents of Ban Nam Khem, located just north of the international resorts that line Khao Lak. More than 900 people died and 400 went missing in the village in 2004.
"For a year or two after the tsunami, many people were extremely traumatized and paranoid," said Wanchai Chitcharoen, 57. "If they received a phone call about tsunami or earthquake rumors they would run and people would panic. It got to a point we thought we couldn't live like this anymore."
The villagers formed their own volunteer tsunami watch group and have maintained it even after the government installed a siren. They carry walkie-talkies, share information on smartphone chat groups, organize tsunami evacuation drills and make sure someone is able to watch the sea at all times.
Lack Trust
"I don't believe in the tsunami system, I believe in myself more," said Banlue Chusilp, a 49-year-old former fisherman who now works as a gardener at the tsunami memorial in the village and is a member of the volunteer group.
In 2004, the tsunami hit Sri Lanka's eastern coast about an hour-and-a-half after the earthquake and reached the southwest including Colombo another 30 minutes later. In a village 110 kilometers south of the capital, C. Abeysekara, 24, knows the drill when the sirens sound an alarm and policemen drive around making announcements. She keeps a bag with essentials and a torch if a warning comes at night.
"In the beginning there was a lot of fear," said Abeysekara. "We know there is time to escape. Now people are calmer."
Sri Lanka was the second-most severely hit after Indonesia in 2004 when more than 35,000 people died and one in 20 of its population were displaced. The island has set up an early warning dissemination system that relies on its neighbors and the regional network for the first alert. This information is relayed to local districts that use speakers, sirens, messengers, riders and engage the police, according to Pradeep Kodippili, spokesman of the Disaster Management Centre.
National Drills
There are 77 60-foot high steel towers that dot the 1,340 kilometer-coast of the island, equipped with sirens, voice recorders, and powered by solar panels. The towers, which are activated by the center in Colombo, are checked and tested every week, said Kodippili. The country conducts a national drill at least three times annually and it takes about 45 minutes to evacuate people.
India is among the countries that gives Sri Lanka first warning of an impending tsunami. In 2007, India unveiled its early warning system that included bottom pressure recorders and tide gauges in the Bay of Bengal and the Arabian Sea. There are six buoys connected acoustically to the bottom pressure recorders and antennas transmit signals via satellites which are analyzed using software at Indian National Centre for Ocean Information Services in Hyderabad.
Prediction of even a few centimeters-high tsunami can be made, according to M.A. Atmanand, director at Chennai-based National Institute of Ocean Technology, which deploys and maintains the buoys.
Damaged Buoys
The challenge for Atmanand and his team is to ensure the buoys are kept in working condition. The institute started educating fishermen about the importance of the buoys after they started getting vandalized or damaged. Annually about 10 percent of data buoys worldwide are lost due to vandalism, according to the U.S. National Oceanic and Atmospheric Administration's website.
Buoys get damaged because of theft of parts or when fishermen tie up their boats to cast their net because the devices attract fish. Sometimes vessels inadvertently run them over.
Paramaguru Pakkiri, a 32-year-old fisherman at Nagapattinam in southern Indian state of Tamil Nadu, is counting on the government next time a tsunami is generated. His father was among the more than 6,000 people who died in the district in 2004. Pakkiri said he has no idea how the warning will reach him, but when he does find out he will just run a kilometer inland.
The state government of Tamil Nadu currently relays alerts to its officials in the coastal districts and villages.
On Oct. 26 this year, sirens in Indonesia's Aceh were sounded for the first time. Until then the administration regularly checked them, but on silent mode. The reason: They didn't want the people to relive their trauma.
Akram has participated in one of three drills conducted in Aceh. The first time he cooked for the participants, though he skipped the most recent drill to go fishing.
"Earlier I wouldn't believe when people screamed water is rising. But now we know, we can prepare," said Akram. "We have the ants, and hold on to prayers."
Before it's here, it's on the Bloomberg Terminal.
LEARN MORE