Poroshenko Meets Belarus Leader as Ukrainian Peace Efforts Stall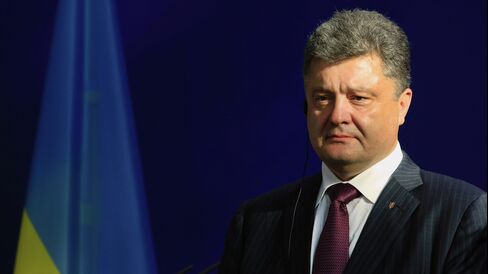 Ukrainian President Petro Poroshenko met the leader of Belarus, whose country hosted negotiations that clinched a cease-fire in September, as efforts faltered to agree on a new round of talks with pro-Russian separatists.
The agreements reached in Minsk are the "basis of the peace process in Ukraine," Poroshenko told Belarusian President Aleksandr Lukashenko today in Kiev. "There's now no alternative model to de-escalate the situation."
While the truce has stemmed deaths, which exceed 4,600 since the conflict began after Russia's annexation of Crimea in March, no date has been set for a new round of peace talks in Minsk. A negotiator for the breakaway People's Donetsk Republic said today that he was hopeful a meeting in the Belarusian capital may be held this year, according to RIA Novosti.
In eastern Ukraine, where another unsteady truce has held since Dec. 9, four government soldiers were wounded in the past day as they came under repeated attacks from their pro-Russian adversaries, according to military spokesman Andriy Lysenko. A convoy of 180 trucks carrying what Russia says is humanitarian assistance arrived in rebel-held cities of Luhansk and Donetsk, the news service Tass reported. Ukraine has expressed concern that Russian relief missions are a guise for funneling weapons and reinforcements to insurgents.
"We don't want war, we want peace," said Alexander Zakharchenko, head of the Donetsk People's Republic, one of two breakaway regions in eastern Ukraine. "But if you want peace, prepare for war."
Defense Spending
Addressing Ukraine's security council yesterday, Poroshenko urged expenditure on the army of 5 percent of gross domestic product in 2015. The government should target NATO guidelines on military spending and seek to meet the alliance's entry criteria, he said yesterday in Kiev, the capital.
"The war made us stronger, but has crushed the economy," Poroshenko said. "There's one article of spending that we won't save on and that's security. Our financial plan should cover force majeure. Our enemy can start a full-scale offensive any minute."
Ukraine is finalizing next year's fiscal plan after the monthslong conflict ravaged its industrial heartland near Russia's border. As its economy shrinks and reserves languish at a more than 10-year low, it's also racing to secure more international aid to top up a $17 billion rescue. Standard & Poor's said Dec. 19 that a default may become inevitable, downgrading Ukraine's credit score one step to CCC-.
With official forecasts putting this year's contraction at 7 percent, the government needs $15 billion on top of its bailout to stay afloat, according to the European Union. To unlock the next tranche of the International Monetary Fund-led package, it plans to submit a 2015 budget by Dec. 23. An IMF mission, which visited Kiev Dec. 9-18, will return early next year.
The European Union and the U.S. are discussing $12 billion to $15 billion in aid to Ukraine and "there needs to be a Russian contribution to the package," Pierre Moscovici, the 28-nation bloc's economy commissioner, said at a Bloomberg Government event this week in Washington. A decision is needed in January, he said.
Before it's here, it's on the Bloomberg Terminal.
LEARN MORE