Hollande Floats Russian Sanctions Relief in EU Split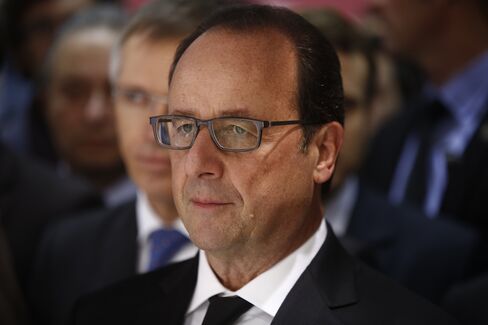 French President Francois Hollande floated the prospect of scaling back sanctions on Russia, becoming the first major European Union leader to offer to ease the Kremlin's economic pain.
"If gestures are sent by Russia as we expect, there would be no reason to impose new sanctions but on the contrary to look at how we could bring about a de-escalation from our side," Hollande said as he headed into an EU summit in Brussels yesterday.
Hollande is the first major European Union leader to offer to ease the Kremlin's economic pain as a wobbly truce in eastern Ukraine reduced casualties over the past week in the conflict that's cracked Europe's post-Cold War order.
The situation in eastern Ukraine remains tense in districts controlled by pro-Russian separatists, military spokesman Vladyslav Seleznyov told reporters today in Kiev. He said rebels shelled government troops nine times in the past 24 hours and have fired on Ukrainian forces 4,311 times since a Sept. 5 cease-fire and 128 times since a Dec. 9 truce.
The EU and the U.S. blame Russia for backing the rebels and stirring up the conflict. The Kremlin denies any involvement.
Ruble Rises
The ruble, which has declined about 45 percent against the dollar this year, strengthened 2.9 percent at 12:15 p.m. in Moscow. The Micex index of Russia shares was down 2.1 percent. West Texas Intermediate crude oil, the U.S. benchmark, has dropped 50 percent since June amid a worldwide glut.
"The door is always open if Russia changes its behavior," U.K. Prime Minister David Cameron told reporters after the summit. "But until that happens, these sanctions shouldn't go and there was a very clear, unanimous and unified view in the European Union tonight."
Hollande's initiative put him at odds with Germany, Britain and most of eastern Europe as well as the U.S., which want Russia to comply with demands on Ukraine before offering any easing of sanctions. The divergence became public as rival EU factions added up the costs and benefits for Europe's sluggish economy of the curbs on business with Russia.
Sanctions including restrictions on European financing of major Russian banks and a ban on the export of energy-exploration equipment will lapse next July unless unanimously renewed by EU governments.
Crimea Sanctions
The latest measures take effect on Saturday, when the EU outlaws the sale of energy-exploration, transport and telecommunications equipment to Crimea, Ukraine's Black Sea peninsula annexed by Russia in March. The EU will also bar tour operators from offering cruises to Crimea.
Hollande's anti-sanctions push, echoed by Austrian Chancellor Werner Faymann, set up a confrontation over Russia policy at the first EU summit chaired by Donald Tusk, a former prime minister of Poland. A summit statement said the EU will "stay the course" while remaining "ready to take further steps if necessary."
Tusk said EU support for Ukraine is as important as disciplining Russia. European leaders continued to be cagey about how much they would contribute to an International Monetary Fund-led lending program for Ukraine's government, now being negotiated.
Aid Needs
Financing of $15 billion is "probably close to the reality" of what Ukraine needs, EU Economic Commissioner Pierre Moscovici said at a Bloomberg Government event in Washington.
European leaders had aimed to put off the debate over renewing or easing the sanctions until March. Hollande tore up that timetable and risked a trans-Atlantic split after President Barack Obama signed legislation that gives him the power to impose more sanctions. Obama said he would only use those powers in concert with European allies.
Russian Foreign Minister Sergei Lavrov told U.S. Secretary of State John Kerry in a phone call that the threat of new sanctions over Ukraine could undermine normal bilateral relations for a long time, the Foreign Ministry in Moscow said in a statement on its website.
Supplying Ukraine with weapons would harm efforts to achieve a settlement of the conflict, Interfax cited Russian Deputy Foreign Minister Aleksey Meshkov as saying.
Under pressure from the U.S. and NATO allies, France has put on hold the delivery of the first of two Mistral helicopter carriers to Russia under a 1.2 billion-euro ($1.5 billion) military contract signed in 2011.
"New sanctions? Absolutely no!" Italian Prime Minister Matteo Renzi said.
Before it's here, it's on the Bloomberg Terminal.
LEARN MORE