Russian Credit Crunch Taking Hold as Interbank Rates Soar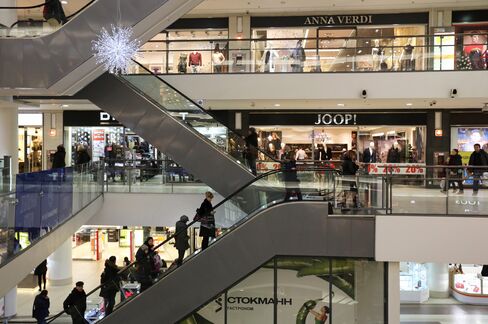 Trust between Russian lenders is breaking down after the biggest ruble rout since the country's 1998 default, sending interbank rates to the highest in eight years.
The Mosprime overnight rate jumped to 27.3 percent yesterday, the highest since Bloomberg started compiling the data in 2006. It declined to 25 percent today compared with from 11.85 percent a week ago. The cost of short-term cash usually closely follows the central bank's benchmark rate, which policy makers increased 6.5 percentage points to 17 percent on Dec. 16 to shore up the ruble amid an exodus of capital from Russia.
"Banks are either demanding additional collateral, or asking to close deals and then reducing limits on the counterparty," Oleg Kouzmin, an analyst at Renaissance Capital in Moscow, said yesterday by e-mail. "Gradually, the situation is getting worse, the market is shrinking."
The money market is showing signs of freezing as the ruble depreciated 17 percent against the dollar this month, and volatility soared to the highest since Russia defaulted on local-currency debt 16 years ago, stoking concern that asset quality at Russian lenders has deteriorated. The central bank said two days ago that banks can use third-quarter exchange rates to value ruble holdings instead of marking to market.
'Entirely Cognizant'
One bank took all 150 billion rubles ($2.5 billion) the Federal Treasury offered at its 10-day deposit auctions, paying 38.3 percent rate, the Treasury said today. The minimum bid rate was 17 percent, and six lenders participated.
The squeeze is partly caused by an ongoing tax-payment period as well as market "nervousness," the central bank said in an e-mailed response to Bloomberg News questions yesterday.
Withdrawal of Finance Ministry funds from banks also contributed to higher rates in the last few days, while a "conservative approach" to ruble liquidity has been necessary to stabilize the currency market, it said. "We see that these measures have started working," it said.
The ruble, heading for its worst month since September 1998, strengthened 3.6 percent to 59.30 per dollar at 5:03 p.m. in Moscow following a 2 percent decline yesterday. The yield on 10-year bonds fell eight basis points to 13.64 percent, from this week's closing high of 16.24 percent.
"The Russian central bank will be entirely cognizant of whatever risks the sudden change in the interest rate will have on the banking sector," Jan Dehn, the London-based head of research at Ashmore Group Plc, which manages about $70 billion in emerging-market assets, said by phone yesterday. "When you do have big changes like this you could see smaller, weaker institutions get a little bit stressed, but I do not see any systemic major risk from that."
Credit Lines
Russian commercial banks, who rely on the regulator for regular liquidity injections, have also increased their cash deposits at the central bank to protect against counterparty risk inherent in borrowing on the money market, according to VTB Capital analysts Maxim Korovin and Tatiana Zueva.
"The efficiency of the interbank lending market has declined, as many credit lines have likely been shut down," they said in an e-mailed note yesterday. Additional credit "is probably hard to provide in light of recent FX and rates swings," they said.
Overnight ruble deposits showed the cost of one-day cash at 21.25 percent, down from an almost six-year high of 22 percent yesterday.
"Nervousness" in the market is provoking lenders to park "large amounts" of cash on accounts at the regulator rather than lending funds out to counterparties, the central bank's press service said in its e-mailed response.
Deposits, Injections
Correspondent accounts with the Bank of Russia rose to 1.9 trillion rubles yesterday, down from a record 2.1 trillion on Dec. 12 and compared with an average of 1.1 trillion in the past 12 months, data show.
The Bank of Russia provided 3.1 trillion rubles in seven-day repurchase agreements at its latest auction on Dec. 16, the second-biggest amount injected since May.
The Bank of Russia announced steps to stabilize the banking system on Dec. 17, as this year's 47 percent collapse in the ruble made it more expensive for companies to meet their foreign-currency debt obligations.
OAO Sberbank, Russia's largest lender, jumped 43 percent in London in the two days after the measures to stop marking to market were announced. The stock is 63 percent lower this year.
'Careful' Squeeze
The central bank has spent $97 billion of foreign reserves supporting the ruble this year and has raised its key interest rate six times since President Vladimir Putin's incursion into Ukraine's Crimean peninsula in March. Brent crude dropped 46 percent from this year's high, cutting foreign-currency earnings in the world's largest energy exporter.
The rate increases will deepen the severity of the recession in Russia, while oil prices present further downside risks to the economy, Fitch Ratings said yesterday. The affect could be greater still if rates have to be kept high or increased to support the currency at lower oil prices, it said.
Borrowing costs may rise further if a bigger bank loses liquidity, according to Anton Tabakh, a director at RusRating, an independent Russian credit-ratings firm.
"Some large banks have suffered big losses on the ruble and bond price declines," he said by e-mail yesterday. "The central bank must be very careful with squeezing liquidity and think in advance what should be done if one of the top banks goes down."
Before it's here, it's on the Bloomberg Terminal.
LEARN MORE