Putin Defiance Over Russia Crisis Cements Ukraine Standoff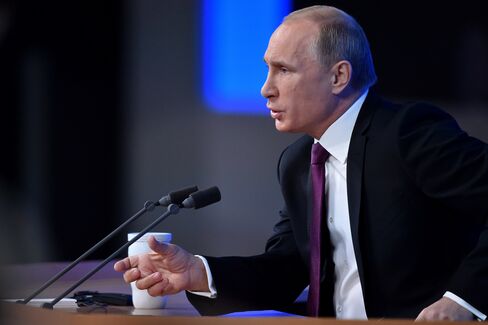 Vladimir Putin is digging in.
Blaming the U.S. and Europe for an economic crisis gripping his country of 144 million and warning the slump could drag on for two years, Putin today signaled a sustained standoff over Ukraine.
"He believes that the economy is capable of withstanding the shock," said Alexei Makarkin, deputy director of the Moscow-based Center for Political Technologies. "Putin's psychology is very simple. From his point of view Russia has made concessions for years and to no effect."
Putin held his annual press conference, speaking to hundreds of reporters for more than three hours. The event took on heightened importance as a 40-percent plunge in the ruble evoked memories of the country's 1998 default and talk of hoarding staples.
Any efforts to bolster the economy are constrained by the country's dependence on oil, its main export, which has dropped to a five-year low. The central bank forecasts gross domestic product may shrink almost 5 percent next year if the price stays at $60 a barrel. The president said today the country must prepare for oil as low as $40. The extent of Russia's woes was underscored as automakers including General Motors Co. and Audi suspended sales in the country.
The economic crunch has been worsened by sanctions imposed by the U.S. and Europe in response to Putin's annexation of Crimea and interference in eastern Ukraine.
"They will always try to chain it," Putin said, likening Russia to a bear protecting its territory. "As soon as they chain it, they'll rip out its teeth and claws."
Ruble's Slide
While advising the central bank not to spend shrinking currency reserves protecting the ruble, Putin offered no new remedies or programs. The currency plunged 16 percent over two days this week. It weakened 2.1 percent to 61.5 rubles to the dollar today in New York. The Mosprime overnight interbank lending rate jumped to 27.3 percent, the highest since at least 2006, data compiled by Bloomberg showed. It was 11.85 percent last week.
"Under the most negative external economic scenario, this situation can last two years," he said. "If the situation is very bad, we will have to change our plans, cut some things."
During his wide-ranging press conference, Putin sparred with a Ukrainian journalist, reeled off statistics on the autumn harvest and spoke about guiding gifted children. He even told reporters that he has a good relationship with his ex-wife and is in love with someone new.
Assuring Business
The tone of the back-and-forth was captured in an answer about his pardon last year of former oil tycoon and political opponent Mikhail Khodorkovsky: "I don't regret anything. I did everything absolutely correctly."
In a reassurance to the business community, Putin indicated Vladimir Evtushenkov, the billionaire owner of investment company AFK Sistema, should be treated with leniency, saying the money laundering charges against him haven't been proven. Evtushenkov, whose oil company OAO Bashneft has been nationalized, was freed yesterday from house arrest. Sistema shares surged as much as 145 percent today.
The president has enjoyed near-record approval ratings since Russia took Ukraine's Crimea peninsula in March. His popularity will fall as people feel the effects of accelerating inflation and job cuts, political analysts say.
"Putin blamed all Russian economic woes on the evil West and gave no indication of the policies that could reverse the situation," said Masha Lipman, a visiting fellow at the European Council on Foreign Relations. "As always, he was adamant on always being right and not regretting anything."
One option that Putin appears to have discarded is to turn to his former finance minister, Alexei Kudrin, a supporter of ties with the U.S. and Europe who steered the country's finances during the first decade of the president's rule when rising oil prices fueled a booming economy.
Few Changes
"If he appoints Kudrin, he will need to make sweeping changes not only in economic but political policies and he's not ready for that," Makarkin said.
The president today accused the U.S. and EU of using the Ukraine conflict to contain Russia as they've done since the end of the Cold War through the expansion of NATO, comparing the current situation to the Berlin Wall.
"Putin just keeps on blaming the West for everything," said Karl-Heinz Kamp, academic director at the German government's Federal Academy for Security Policy in Berlin. "So there was nothing very new in his remarks today."
Polish Prime Minister Ewa Kopacz disputed Putin's arguments and said blaming other countries for Russia's ailing economy is misplaced.
'Clear Signal'
"We must send a clear signal that the sanctions imposed on Russia are purely in response to Putin's policies and not against Russia or Putin," Kopacz told reporters today in Brussels. "We're merely defending the principles of international law and territorial sovereignty."
While a truce that began on Dec. 9 in eastern Ukraine has started to take hold, Finnish Prime Minister Alexander Stubb said Russia must end its support for separatists in the region. "The only way we can get out of the situation is for Russia to change its policy toward Ukraine," he told reporters in Brussels.
After an emergency meeting this week, Russia's central bank in the early hours of Dec. 16 announced the largest interest rate increase since the 1998 default, raising the key rate by 6.5 percentage points to 17 percent. That failed to halt the slide in the ruble, which at one point during the day fell to a record of 80 per dollar, from 34 half a year ago.
Putin said he's firmly in control of the country and is not worried about a coup from within his ranks as Khodorkovsky suggested could happen in an interview with Bloomberg last week.
"People in their hearts and souls feel that we, and I in particular, are acting in the interests of the vast majority," the president said. "We'll emerge from this difficult situation today, stronger domestically and on the international stage."
Before it's here, it's on the Bloomberg Terminal.
LEARN MORE