BOJ Keeps Record Easing as Oil Price Tumble Challenges Kuroda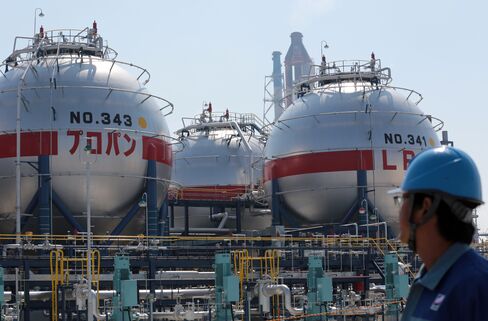 The Bank of Japan maintained unprecedented stimulus, as Governor Haruhiko Kuroda's bid to stoke inflation faces increasing challenges from the tumble in oil prices.
The central bank will boost the monetary base at an annual pace of 80 trillion yen ($670 billion), it said in a statement, as forecast by all 33 economists surveyed by Bloomberg News. The slide in oil could weigh on consumer price gains in the first half of the year starting in April, Kuroda said today.
Exports have shown signs of picking up, while production has started to bottom out, the BOJ said, striking a more upbeat tone in its view of the world's third-largest economy. Oil has lost more than a quarter of its value since the central bank boosted easing on Oct. 31 to end a "deflationary mindset."
"The BOJ wants the focus to be on the improvement in the economy," said Mari Iwashita, chief market economist at SMBC Friend Securities Co. "Chances are pretty low that it will ease because of the recent tumble in oil prices. They want to make it clear their policy is forward looking and that a virtuous economic cycle is intact."
The economy is expected to continue a moderate recovery as the effects of an April sales-tax increase dissipate, the BOJ said in a statement. Inflation expectations appear to be rising from a longer-term perspective, the bank said. Last month, it said exports had been "more or less flat" and cited "some weakness" in production.
The yen has declined 8.5 percent against the dollar since the day before the October easing, and was down 0.4 percent at 119.37 at 7:14 p.m. in Tokyo after touching a seven-year low of 121.85 on Dec. 8. The Topix index of shares rose 2.4 percent.
Growth Strategy
Speaking five days before Prime Minister Shinzo Abe is set to appoint a new cabinet following a Dec. 14 election victory, Kuroda kept pressure on the government to step up the pace of reforms, the "third arrow" of Abenomics that Abe has pledged to accompany fiscal and monetary stimulus.
"Measures -- growth and revitalizing policies -- to raise Japan's growth potential are increasingly important," Kuroda said today. "It will take time for each policy to bear fruit, so it's better the government have a sense of urgency to make progress."
The drop in oil prices has crimped inflation, complicating Kuroda's task of generating stable 2 percent price gains after he led a divided board on Oct. 31 to increase stimulus.
Given the declines in oil, it may be hard for inflation to pick up in the first half of the fiscal year starting in April, Kuroda said at a press conference after the policy decision.
Still, cheaper oil will spur the economy "quite soon," with the boost to growth taking a while longer to feed into faster inflation, he said. Over the long run, oil's decline is positive for consumer price gains, he said, saying the bank is sticking to its view the 2 percent target is likely to be reached around next fiscal year.
Breakeven Rate
"If there are any risks that change the outlook, we will take action without hesitation to achieve the price target," Kuroda said. "There is no change in this stance."
The central bank rejects the idea that more stimulus is needed to prevent cheaper oil from damping inflation, people familiar with the discussions said.
Consumer prices will likely be around the current level for the time being, the BOJ said today. Prices excluding fresh food and the effects of a higher sales tax -- its key measure -- rose 0.9 percent in October from a year earlier, a slowing from a 1 percent increase in September.
Barclays Plc slashed its inflation projections, predicting the slide in oil could drag down core consumer price to gains as low as 0.5 percent by next June.
"There is a clear downside risk" to the BOJ's inflation outlook, which will be updated on Jan. 21, economists Kyohei Morita and Yuichiro Nagai wrote in a report.
Plummeting Oil
The breakeven rate, a gauge of bond investors' expectations of future inflation over the next 10 years, has declined about 26 percent so far this month, and signals a 0.83 percent annual cost of living increase.
Excluding the sales tax, corporate goods prices declined 0.2 percent in November, the first drop since March 2013, pressured by oil's fall, according to the BOJ.
"Falling oil prices are a headache" for the BOJ, Yasuhide Yajima, an economist at NLI Research Institute, said before the decision.
Japan imports almost all of its oil, and is more dependent on fossil fuels to drive its economy with the nation's nuclear power industry shuttered after a disaster in 2011. Cheaper oil is good for the economy and inflation in the longer term, even as it weighs on consumer prices in the short term, Kuroda said last month.
OPEC Control
The price of Dubai crude oil -- a benchmark for Middle East supply to Asia -- was at $58.80 a barrel yesterday, losing 31 percent since Oct. 30, the day before the BOJ boosted the pace of its asset purchases.
Barclays's lower inflation outlook reflects a forecast that Dubai oil will be $60 per barrel in January before rising gradually to $70 by the end of next year, according to the e-mailed report.
Dubai oil at $60 per barrel would give the same boost to growth as an additional 10 trillion yen worth of fiscal stimulus, exceeding a drag from April's sales tax hike, Junichi Makino, an economist at SMBC Nikko Securities Inc., wrote in a note this week.
OPEC has lost control of the oil market, casting a shadow over the world economy, said Joji Okada, chief financial officer at trading house Mitsui & Co., which has $107 billion in assets spanning 66 countries.
It could take oil company bankruptcies, production stoppages at higher-cost members of the Organization of Petroleum Exporting Countries, or a widespread shutdown of shale output in the U.S. to stabilize prices, he said.
"I'm really concerned for the global economy," Okada said in an interview at the company's Tokyo headquarters this week.
Before it's here, it's on the Bloomberg Terminal.
LEARN MORE