Telstra in Talks to Buy Undersea Cable Operator Pacnet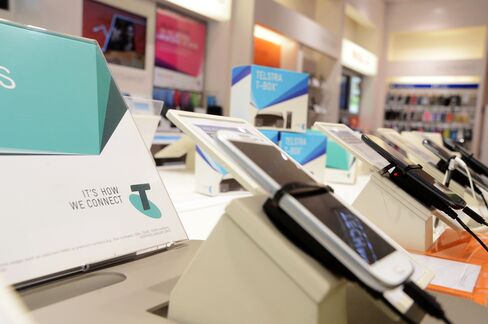 Telstra Corp., Australia's largest phone company, is in talks to acquire Pacnet Ltd., which operates undersea cables through Asia and across the Pacific Ocean.
There's no certainty that any transaction will take place, the Melbourne-based company said in a regulatory statement today, responding to a Bloomberg News report that the two companies are nearing an agreement. Pacnet's owners were seeking a valuation of about $1 billion including debt, people with knowledge of the sale process said in June.
Buying Pacnet would give Melbourne-based Telstra ownership of more than 46,000 kilometers (29,000 miles) of submarine cable from Asia to the U.S. The Australian operator has sold $2.8 billion of assets in the past year, including Hong Kong wireless carrier CSL New World Mobility Ltd. and a domestic directory business, data compiled by Bloomberg show.
"Globally these sorts of infrastructure assets are highly sought after," Ross MacMillan, an analyst at Morningstar Inc., said by phone from Sydney. "Telstra is really focused on getting infrastructure where they know they're going to get steady, stable cash flows."
Telstra shares rose 0.7 percent to close at A$5.76 in Sydney, the highest in a month.
Former Monopoly
The formerly state-owned company, which had a domestic phone monopoly until 1991, signed revised agreements Dec. 14 around handing over its fixed-line network to NBN Co., a government company building a national fiber network.
That will leave it exposed to the less profitable, more competitive mobile phone business. To compensate, Telstra is seeking investments in Asian phone and data infrastructure.
"Asia is clearly one of the key elements of our growth strategy," Andy Penn, chief financial officer, told an Oct. 24 investor call. Telstra's "very significant pan-regional undersea submarine cable network" is a key advantage against the company's regional competitors, he said.
Cash Flow
Pacnet owns the 36,800-kilometer EAC-C2C cable network connecting Hong Kong, China, Korea, Japan, Taiwan, the Philippines and Singapore. It also runs the 9,620-kilometer EAC Pacific cable from Japan to California.
The company's owners, including Ashmore Investment Management, Spinnaker Capital and Clearwater Capital Partners, are working with Credit Suisse Group AG on the sale, people with knowledge of the matter said in June. The company, with headquarters in Hong Kong and Singapore, is seeking a buyer as competition with regional phone companies intensifies. Pacnet spokeswoman Annie Ho declined to comment.
Moody's Investors Service cut Pacnet's debt rating in August to B3, saying that it would need either a pickup in revenue from selling bandwidth or a cash injection from shareholders to meet about $20 million of interest payments due this month. It has about $30 million in cash with no back-up bank facilities, according to the Moody's report.
Pacnet posted first-half sales of $227 million and its earnings before interest, tax, depreciation and amortization rose 14 percent to $60 million, Moody's said. Long-term cash flows from the business will be particularly useful given the preponderance of Telstra shareholders who own the stock for its dividend yield, MacMillan said.
Dividend Yield
Telstra's dividend yield has fallen to 5.1 percent, near the lowest level since 2005, and the yield spread over other members of the S&P/ASX 50 index of Australia's largest publicly-traded companies has narrowed.
"To pay that dividend yield they have to have that stable cash flow coming in," MacMillan said. "This fits really well with that kind of thing."
Citic Telecom International Holdings Ltd., a unit of China's largest state-owned investment firm, had previously weighed buying Pacnet, people with knowledge of the matter said in June.
Pacnet considered an initial public offering in 2011 and attempted a separate sale process, people familiar with the matter said earlier. It was formed through the merger of Asia Netcom Corp. and Pacific Internet Ltd.
Before it's here, it's on the Bloomberg Terminal.
LEARN MORE