Biggest Price Drop Since 2008 Lifts U.S. Consumers: Economy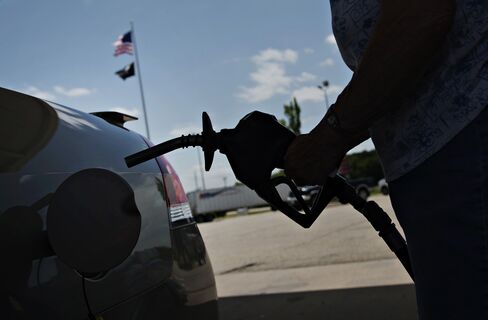 Prices paid by American consumers dropped in November by the most in almost six years, providing a boost to buying power that will propel economic growth.
The cost of living fell 0.3 percent, the most since December 2008, after being little changed the prior month, according to Labor Department figures issued today in Washington. The retreat was led by a plunge in fuel that is continuing to unfold.
The cheapest gasoline since 2009 and a strengthening job market lifted weekly paychecks in November by the most in six years, one reason why companies such as Delta Air Lines Inc. are enjoying a cheerful holiday season. Federal Reserve policy makers today said they will be patient on the timing of the first interest-rate increase and expect inflation to "rise gradually" toward their goal.
"The consumer is getting a well-deserved break," said Stuart Hoffman, chief economist at PNC Financial Services Group Inc. in Pittsburgh, who is among the most accurate CPI forecasters over the past two years, according to data compiled by Bloomberg. "We're seeing a little more wage growth, more jobs, better confidence and finally a price break at the pump. It adds up to a very strong holiday season."
Stocks rallied, giving the Standard & Poor's 500 Index its biggest gain since October, after the Fed said it will be patient in raising rates. The S&P 500 climbed 1.3 percent to 1,997.69 at 2:50 p.m. in New York.
Annual Gain
Consumer prices rose 1.3 percent over the past year, the smallest gain since February and down from a 1.7 percent annual advance the prior month, according to the Labor Department.
The median forecast of 84 economists surveyed by Bloomberg projected the CPI index would drop 0.1 percent. Estimates ranged from little change to a 0.3 percent decrease.
Energy costs decreased 3.8 percent from a month earlier, led by a 6.6 percent plunge in gasoline that was the biggest drop since December 2008. Food prices rose 0.2 percent.
Excluding volatile food and fuel, the so-called core measure rose 0.1 percent in November, bringing the advance over the past year down to 1.7 percent from 1.8 percent in October. The gain matched the median forecast of economists surveyed by Bloomberg and followed a 0.2 percent increase the prior month.
Rising rents, medical care and airline fares were almost completely offset by the biggest drop in clothing costs in 16 years and the largest fall in prices for used cars and trucks since September 2012.
Fuel Bills
Households' fuel bills continue to fall this month. The average cost of regular gasoline at the pump dropped to $2.51 a gallon on Dec. 16, the cheapest since 2009 and down from this year's high of $3.70 reached in April, according to AAA, the biggest U.S. auto group.
Those lower prices mean Americans can spend more elsewhere. Retail sales rose 0.7 percent in November, the most in eight months, as consumers snapped up electronics, clothing and furniture, Commerce Department figures showed. Industry data also indicate demand for vehicles remains robust.
The decline in the cost of living helped boost paychecks. Hourly earnings adjusted for inflation rose 0.6 percent on average after a 0.1 percent increase the prior month, a separate report from the Labor Department showed. On a weekly basis, they were up 0.9 percent, the biggest advance since November 2008.
Some of the nation's trading partners are also seeing improvement. U.K. unemployment fell in the three months through October and basic pay grew faster than inflation for the first time since 2009, data showed in London today.
Air Fares
Atlanta-based Delta is among companies benefiting from both the drop in fuel costs and gains in spending.
"We continue to price to demand," Edward Bastian, the carrier's president, said in a Dec. 11 teleconference with investors. "Demand is very solid."
That means that the airline will "be able to secure as much if not all of that fuel savings directly to the bottom line for 2015," he said. Delta's shares were up 65 percent so far this year through yesterday.
The Fed's preferred price gauge, which is issued by the Commerce Department and is linked to consumer spending, rose 1.4 percent in October compared with the same month last year and hasn't been above the central bank's 2 percent goal since March 2012.
Fed Chair Janet Yellen and her colleagues, weighing when to raise rates, raised their assessment of the labor market in their statement today. They also projected the economy will reach full employment later next year, while inflation remains below their target at 1 percent to 1.6 percent.
"Changes in today's policy statement were significant, but the most important message is that the Fed is no hurry to raise rates," Ward McCarthy, chief financial economist at Jefferies LLC, said in a research note.
Before it's here, it's on the Bloomberg Terminal.
LEARN MORE