School Massacre Unlikely to Prove a 9/11 Moment for Pakistan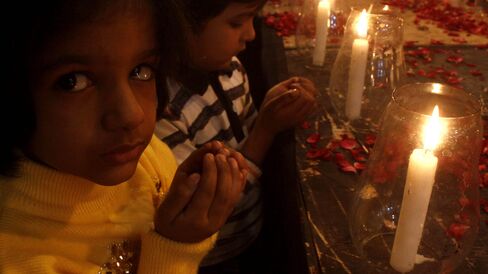 After almost 3,000 people were killed on September 11, 2001, President George W. Bush told world leaders that they either supported terrorism or opposed it.
Pakistan, a country riven by competing impulses in a violent corner of the globe, does both. The storming of a school in Pakistan's northwest city of Peshawar yesterday, in which Taliban gunmen murdered 141 people, including 132 children, made clear that approach isn't working.
"This is a decisive moment in the fight against terrorism," Prime Minister Nawaz Sharif told reporters in Peshawar. "The people of Pakistan should unite in this fight. Our resolve will not be weakened by these attacks."
It is far from clear, though, whether the gruesome attack will be something like a 9/11 for Pakistan, where the Taliban are seen as a legitimate counterweight to U.S. interests. Analysts who watch Pakistan differed on what the legacy of yesterday's bloodshed might be.
"That element of anti-American feeling will always remain and complicate the public reaction," said Sameer Patil, a former national security official in India who focuses on terrorism at Mumbai-based Gateway House, a research group. "Even the increasing violence is seen through the prism of the U.S. war against the Taliban and al-Qaeda in Afghanistan."
Talat Masood, a defense analyst in Islamabad and a retired lieutenant general, took an alternative view. He suggested that amid the steady stream of photographs of dead boys, their innocent faces smeared with blood, a line may have been crossed.
'Game Changer'
"The government and the army can convert this opportunity into a game changer," Masood said, adding that they need to work together to crush the militants, something that hasn't been a given in a country with a history of coups. "You can't sit and wait for them to attack again."
The Tehrik-e-Taliban Pakistan, or TTP, vowed to do just that unless the army halts an offensive into border areas near Afghanistan. In a statement today, the group said it hit the school to target the sons of military officers.
Beyond the image of Pakistan that's portrayed to Western audiences -- a renegade, nuclear-armed nation that shelters radical terrorists -- at home the country is deeply conflicted.
On one hand, Pakistan has strategic interests in both maintaining a sizable role in neighboring Afghanistan after the U.S. draws down its troops, and countering Indian influence in the region. For this it uses its main spy agency, the Inter-Services Intelligence agency, known as ISI, which is widely seen as a small empire outside the reach of civilian leadership.
ISI Role
On the other hand, groups that might help the ISI accomplish those goals -- such as the Afghan Taliban, Haqqani Network and Lashkar-e-Taiba -- are committed to brands of militant Islam that can have unintended consequences: Offshoot factions that attack Pakistan's 196 million people, 96 percent of whom are Muslims.
And so, Pakistan is both a place where terrorists have murdered more than 50,000 people since 2001 and where Osama bin Laden was found and killed by U.S. special forces during 2011 in the military town of Abbottabad after officials denied for years that he was in their country.
"They care about who have been the targets of these groups," said Daniel Markey, a former U.S. State Department official who is now a senior fellow for South Asia at the Council on Foreign Relations, referring to Pakistan. "If, for example, Lashkar-e-Taiba is attacking India and Haqqani Network is attacking Afghanistan, then they certainly don't see them with the same priority, at the very least."
Father Screaming
The grim outcome of that approach was on display yesterday. On the main road near the school, dozens of parents and families waited in the cold for news about their missing children. Inamullah, a father, said one of his sons had been killed. He buried the boy at 8 p.m. while awaiting news of his younger son, still lost to the chaos of men with guns. "At least someone tell me where my son is," he screamed.
The ISI was instrumental in creating the Taliban that fought Soviet forces with U.S. help and then gave Pakistan influence over Afghanistan after their withdrawal in 1989. Members of Lashkar-e-Taiba, which was held responsible for a commando-style assault on Mumbai that killed 174 people in 2008, operate freely in the country even though it's officially outlawed. One of its founders, Hafiz Saeed, lives openly in Lahore and has been a frequent user of social media.
Two Talibans
"The first positive thing that could come -- and, again, it's kind of hard to talk about anything positive when you've got 120 or so people killed, mainly children -- would be that Pakistan would continue to see the threat to them from terrorism," Democratic Senator Carl Levin of Michigan, outgoing chairman of the Senate Armed Services Committee, said at a BGOV breakfast yesterday in Washington. "They've got to see it."
Militant groups in Pakistan are far from a unified front, splintering along factions and tactics. The Pakistan government has chosen to fight some and protect others, though it officially denies lending any support.
The "Afghan Taliban," for example, has focused on fighting in Afghanistan. It has gotten support from Pakistan's military and hasn't targeted its host nation, said Jonah Blank, senior political scientist at the RAND Corporation in Arlington, Virginia. The TTP, however, has "been at war with the Pakistani state," he said.
Kids Killed
Militant groups in Pakistan's tribal areas united in 2007 to form the TTP. While the military repelled the group's offensive toward Islamabad in 2009, it resisted starting a ground operation into North Waziristan until earlier this year after an attack on Karachi's international airport in June.
The TTP has since sought to attack military-linked soft targets. A suicide bomber last month killed 55 people at an India border crossing guarded by troops. Many of those killed at the Army Public School yesterday were children of soldiers.
"The Pakistani military has never really wanted to launch an all-out war against the TTP; it much prefers to send its troops in every few years and give the TTP a bloody nose," Blank said. "But today's attack may well have changed the equation. When you go after someone's kids, they tend to take that pretty personally."
Before it's here, it's on the Bloomberg Terminal.
LEARN MORE