Repsol Agrees to Buy Canada's Talisman for $8.3 Billion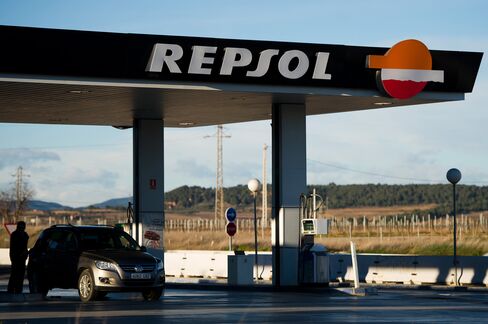 Repsol SA, Spain's largest energy company, agreed to buy Talisman Energy Inc. for $8.3 billion, ending a months-long search for acquisitions to help boost crude reserves and production.
Talisman shareholders will receive $8, or C$9.33, in cash for each share they own, according to statements from both companies. That's a 60 percent premium to Talisman's 30-day weighted average price, the Calgary-based company said.
Repsol has been seeking to spend about $10 billion on takeovers since receiving compensation in May from Argentina for the 2012 nationalization of YPF SA. The total deal value is about $13 billion, including Talisman debt, making it the biggest foreign takeover by a Spanish company since 2007, according to data compiled by Bloomberg. Repsol's offer comes as a slump in crude drove the Canadian explorer's stock below C$5 for the first time in 14 years.
"They're paying a full and fair price that Talisman shareholders should be satisfied with," Brendan Warn, an analyst at BMO Capital Markets in London, said by phone. "If oil had stayed above $100, the deal may not have happened as Talisman would have ploughed on."
Repsol fell for a seventh day, dropping 0.4 percent to 15.64 euros at the close in Madrid. Talisman rose 48 percent to C$8.84 at the close in Toronto, the biggest gain in 30 years. The stock is down 16 percent since news of Repsol's interest in the company first surfaced, as oil prices plunged to the lowest in more than five years.
Boosting Reserves
In losing the Argentine producer YPF, Repsol gave up almost half of its oil and gas reserves and has been looking for ways to replace them. The Talisman deal will boost Repsol's crude reserves by 55 percent and production by 76 percent, the Madrid-based company said in a regulatory filing. Talisman, which has operations spanning six continents, is focused on the Americas and Southeast Asia.
"The transaction with Talisman is the result of a thorough analysis of more than 100 companies and assets around the world," Repsol Chief Executive Officer Josu Jon Imaz said in a statement. "Talisman has always been the best option due to the excellent quality of its assets."
Similar-sized targets in oil exploration have commanded an average premium of about 38 percent in the last three years, according to data compiled by Bloomberg.
Repsol may sell as much as 5 billion euros ($6.26 billion) of hybrid bonds to help finance the transaction.
Carl Icahn
The deal requires the approval of two-thirds of Talisman shareholders, who include billionaire Carl Icahn. Icahn's representatives on Talisman's board support the offer, Repsol Chairman Antonio Brufau told reporters in Madrid today. Talks between the companies had broken off in August.
Shareholders will probably support the deal, said David Neuhauser, whose holdings include Talisman in funds under management at Livermore Partners in Northbrook, Illinois. Talisman couldn't afford to expand its business in the current oil price environment and didn't have a replacement for Hal Kvisle, its outgoing CEO, Neuhauser said.
"They had to come out with a knock-out bid and they did that," Neuhauser said. "For Talisman shareholders, it's not the type of ending we all would liked to have seen but given the environment, it's a better ending than the alternative."
Talisman's board considers the Repsol offer superior to other options for the company, Kvisle said on a conference call today. Low oil prices, limited options to reduce spending, a difficult environment to sell assets and risks associated with its debt all pose challenges for the company, Kvisle said.
Pension Board
Repsol will soon seek approval from the Canadian government for the Talisman takeover, which will result in a company operating in more than 50 countries with output the equivalent of more than 680,000 barrels of oil a day and refining capacity of more than 1 million barrels a day, Kvisle said. A government spokesman said it's expecting the application under the Investment Canada Act.
Industry Canada will probably approve the deal after a straightforward review because Talisman doesn't operate in the oil sands, a particular area of focus for the government, the CEO said. Also, Repsol is not controlled by a foreign government and Talisman has 80 percent of its assets outside the country, Kvisle told reporters in Calgary today.
Canada Pension Plan Investment Board was weighing a bid for Talisman, people with knowledge of the matter said yesterday, after initially considering buying parts of the company. Linda Sims, a spokeswoman for the pension board, declined to comment today on whether the fund was still considering bidding on Talisman.
Goldman Sachs Group Inc. and Nomura Holdings Inc. advised Talisman, while JPMorgan Chase & Co. and Deutsche Bank AG advised Repsol.
Before it's here, it's on the Bloomberg Terminal.
LEARN MORE