Microsoft's Ross Breaks Mold in Male-Dominated Video Games: Tech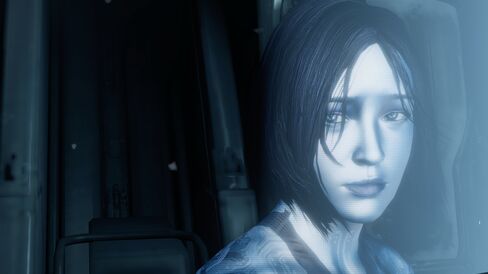 When Bonnie Ross took over Microsoft Corp.'s biggest video-game franchise, she inherited a Halo 4 script riddled with one-dimensional female characters who existed mainly as villains to be slain by the male protagonist.
She ripped that version up and worked with a cadre of writers and designers to create a world with stronger women. It's a delicate balancing act faced by many publishers seeking to boost sales: making tweaks to reach a bigger audience that includes women without alienating the mostly male hardcore base.
So far Ross's formula is working: the Halo series' sales have surpassed $4 billion. The company is aiming for hundreds of millions more with the 2015 release of Halo 5: Guardians.
The balancing act is getting harder as tensions over gender have crescendoed and publishers face pushback from some of the men who were the first target audiences for games like Halo. A movement called GamerGate has focused unprecedented attention on a long-simmering debate about the way women are often portrayed on screen, and about how few work behind the scenes.
Halo under Ross shows mixing up management and employee ranks can make, or keep, a game relevant, said Brian Blau, an analyst at Gartner Inc. "Players benefit from it because having a diverse set of technologists and people building content is going to translate to better experiences."
Ross is one of a handful of women high in major publishers' ranks. The club includes Lucy Bradshaw, who oversees the Sims games at Electronic Arts Inc., Shannon Studstill, who runs Sony Corp.'s Santa Monica Studio, which developed God of War for Xbox rival PlayStation, and Kiki Wolfkill, the race-car driving executive producer who Ross added to her team.
'Diverse Audience'
A Microsoft vice president, Ross has run Halo publisher 343 Industries since 2007, when she was tapped to build the studio from scratch for Microsoft's most valuable Xbox game franchise. The studio was set up after Bungie Inc., which invented Halo, split from Microsoft to become an independent outfit.
The goal in rewriting the Halo 4 script was to "create a universe, a game, an environment that is appealing to a diverse audience," Ross said in a telephone interview.
Diversity is getting more scrutiny with GamerGate, named after a hashtag adopted by online bullies who badger feminist developers and reviewers and most anyone else posting about female stereotyping or gaming culture's guy-only exclusiveness.
The industry's male-dominance -- women are an estimated 20 percent of developers, designers, animators and others with jobs making games -- made GamerGate inevitable, said Brianna Wu, an independent developer targeted by the bullies. She moved out of her house in October after her address was publicized and she received rape and death threats.
Lifetime Bans
"There's a problem of gamers attacking women but you have to understand that they're getting this signal from the top down that women should not be there," Wu said.
Ross declined to comment on GamerGate or her experiences; she was the target of sexually explicit Twitter posts after she appeared last year at the industry's E3 conference. She's spoken out on the issue of bullying and sexism in the past, telling the GameSpot gaming site that Microsoft has a zero-tolerance policy and issues lifetime bans for people caught making discriminatory comments in Xbox Live online.
Ross echoed Wu about the gravity of the imbalance in the industry, which she said is in companies' interest to change. Women are becoming key customers Microsoft has to compete for. They're about 40 percent of users of the Xbox Live online service, according to the company, and 48 percent of all gamers in the U.S, Entertainment Software Association data show. There are more women playing video games than there are teenage boys.
Lagging PlayStation
"It's really important for us to get young female talent, because they are the future," Ross said, and women in top jobs will help draw them. "It's important to have leadership roles across the industry that people can aspire to."
Her boss, Phil Spencer, who runs the Xbox division, said Ross's promotion from a general manager at Microsoft Studios has helped the company recruit women, though he declined to provide a gender breakdown of the payroll.
"It's important when you're trying to attract people to your platform that you have content that represents the diversity on the planet," and diverse studio staff can help do that, Spencer said. "We want to attract everybody to Xbox."
Xbox One has been lagging PlayStation 4 in this generation of consoles. It's started to narrow the gap -- it was the top-seller in the U.S. last month -- and Microsoft is relying on Halo to persuade more people to plunk down $349 for an Xbox One.
Agent Locke
Microsoft engaged in an all-fronts marketing and buzz-creating campaign before a packaged set of all the previous games came out this month. It includes access to a beta online version of Halo 5. That installment will have a more diverse cast, with a black character called Agent Locke in a key role.
Besides changing the character and makeup of games, women can be better managers, said Frank O'Connor, who works for Ross as the franchise development director for Halo. "My female bosses have always tended to have a better big picture of how the studio or publisher is working."
Ross said diversity was a focus as she built 343 Industries, named for the Halo character 343 Guilty Spark. Creating the studio was "crazy," she said. "It was the most challenging thing I've ever done."
The game was six years old at the time and "I wanted to make sure we were able to go another three decades," she said. Part of that mission was making sure Halo had "characters that people can identify that: heroic females and heroic males."
Armor-Encased Warrior
Set in a future where aliens try to wipe humans out, it's mostly played through the eyes of a male human cyborg warrior called the Master Chief. The female protagonist is Cortana, who helps the taciturn Master Chief in his fight. She's so all-knowing that Microsoft chose "Cortana" for its mobile-phone personal assistant, a competitor to Apple Inc.'s Siri. Her stylized form -- she's a curvy holograph who appears to be either naked or in a skin-tight bodysuit -- is typical of the way women are portrayed in shooter games.
Wu, the feminist developer, said the complexity of Cortana's character helps offset the issue of how she looks. "She's every bit master chief's equal in that narrative."
Other female characters are the armor-encased warriors Sarah Palmer and morally ambiguous species-saving scientist Dr. Catherine Halsey. "We've spent the last four years bringing in more characters and many of them are women," Ross said. "It's a very strong, intelligent set of female characters."
A senior engineer at a company where 17 percent of technical workers are women, Ross earned her degree from Colorado State University. She started at Microsoft more than 20 years ago as a technical writer, and said she was thrilled when she landed a job working on one of the first basketball titles.
She said she found making video games was "this amazing art and technology blend." More women should be exposed to it, she said, but it's not an obvious choice. Even women at Microsoft still tell her, "I didn't even know this type of career was available."
Wolfkill said the "gradual improvement" she's seen in the number of women developers in the past 15 years isn't enough. "We are very far off from where we need to be."
Before it's here, it's on the Bloomberg Terminal.
LEARN MORE