Abe Claims Mandate to Stoke Economy After Sweeping Election Win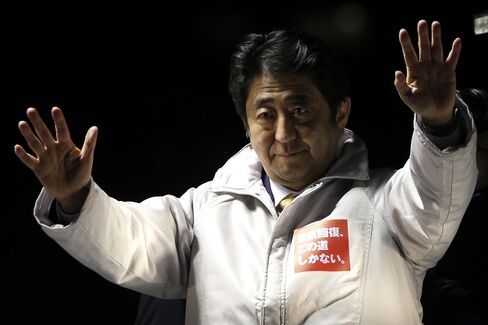 Prime Minister Shinzo Abe claimed a mandate for his economic program after his gamble on early elections paid off with a sweeping victory that forced the leader of the opposition to resign.
"We were able to gain strong support from the people of Japan," Abe told reporters today in a news conference at the headquarters of his ruling Liberal Democratic Party in Tokyo. "Control of economic policy was the focus of this election. The message we heard from the Japanese people yesterday was to move forward with Abenomics," he said in reference to his economic policies aimed at ending deflation.
With the lowest voter turnout in the postwar era, Abe's coalition won 326 seats, more than two-thirds of the 475 in parliament's lower house. Abe, 60, strengthened his mandate to lead the Liberal Democratic Party before his current term is up in September, and boosted chances of staying in office until 2018 -- becoming the longest-serving premier in four decades.
While Abe's reflation program has driven the benchmark Topix index of stocks up more than 70 percent in his two years in office, he has yet to boost real incomes for Japan's workers, and is now working to stoke a recovery from a mid-2014 recession amid sagging manufacturer sentiment. Another goal is overcoming resistance to plans to reduce limits on the military
"For the first time in a long time Japanese policy is going to be consistent and these guys are going to be in power" for at least another two years,'' Jesper Koll, head of Japan strategy at JPMorgan Chase & Co. in Tokyo, said today in an interview on Bloomberg Television. Even so "you have to be pragmatic," he said. "There is not going to be revolutionary change."
Kaieda Quits
Yesterday's vote underscored the weakness of the main opposition Democratic Party of Japan, which has been riven by infighting and hit by a shortage of funds. After losing his seat in the Diet, DPJ leader Banri Kaieda announced his resignation in a news conference today.
With many opposing Abe's calling of the vote two years before one was due, turnout fell to 52.7 percent, from 59 percent in 2012. The LDP won 291 seats, including the party's endorsement of an independent candidate, and its coalition partner Komeito garnered 35, according to results published by NHK. This compares with 294 and 31 seats last time. Abe will not rejig his cabinet, NHK reported
While the number of female lawmakers rose to 45 from 38 two years ago, the share is still only about 10 percent of the total -- a long way short of Abe's vow to get women into 30 percent of supervisory roles in all fields by 2020. Yuko Obuchi, who resigned as trade and industry minister in October over allegations of financial impropriety, kept her seat in Gunma Prefecture with a resounding victory.
Reflationary Policy
"This landslide victory will give Abe so much power to proceed with his reflationary policy," said Masamichi Adachi, a JPMorgan Chase & Co. senior economist in Tokyo who used to work at the central bank. "That said, Abe can't pump his chest to say he won the will of Japanese people," he said. "He must realize it's imperative to bring some benefits to the Japanese people."
Abe's win didn't stop Japanese stocks from slumping after a slide in U.S. equities on concern about oil's freefall. The benchmark Topix index fell 1.5 percent in Tokyo today, and the yen, which has tumbled under the Abe-backed policy of unprecedented monetary easing and reached a seven-year low last week, rose 0.4 percent against the dollar to 118.32 as of 3:38 p.m. in Tokyo.
Falling Approval
Approval for Abe's cabinet had fallen to 42 percent from a peak of more than 70 percent in April last year, according to a Nikkei newspaper poll last week. It lost support a year ago with passage of a bill stiffening penalties for leaking government secrets. A July reinterpretation of the U.S.-imposed pacifist constitution to let Japan to defend other countries also sparked public opposition, and Abe has delayed the submission of the bills needed to put the policy into practice until spring 2015.
"If he tries to push too hard on controversial issues, he will face a voter backlash," said Kazuhisa Kawakami, a professor of political science at Meiji Gakuin university in Tokyo, adding that Japanese premiers face frequent elections, with an upper house vote due in two years.
The security laws may take time to pass as they must be scrutinized by Komeito, Abe's Buddhist-backed coalition partner, which wrangled for weeks with the LDP to limit changes to the interpretation of the constitution.
Abe said yesterday that constitutional revision is a long-held desire of his party, though it requires the understanding of the people. Polls indicate that many Japanese fear that easing the pacifist restraints of the constitution could draw Japan into future conflicts.
Security Policies
Abe's security policies, as well as his visit last year to the Yasukuni war shrine in Tokyo, have hampered attempts to improve ties with China and South Korea, which both have territorial disputes with Japan. While he succeeded in securing his first summit with Chinese President Xi Jinping last month, the televised opening of the meeting appeared frosty.
The election has delayed a revision of defense guidelines governing the roles of Japan's Self-Defense Forces and the U.S. military, which had initially been scheduled for the end of the year.
"I feel the Abe administration is moving dangerously toward war," Hiroko Nakai, a 34-year-old Tokyo woman said after voting for the opposition DPJ yesterday. "Defending one's own territory is something totally separate from Japan engaging in war and the policies pursued should be clearly separate, but they are not."
One party that benefited from militarist concerns was the Communists, who saw their seats jump to 21, from 8. The DPJ, which had swept to power in 2009 only to disintegrate three years later in the aftermath of enacting an unpopular sales-tax increase, won 73 seats versus 62 last time, NHK reported.
Before it's here, it's on the Bloomberg Terminal.
LEARN MORE