Apollo Nearing PetSmart Deal in Year's Biggest U.S. LBO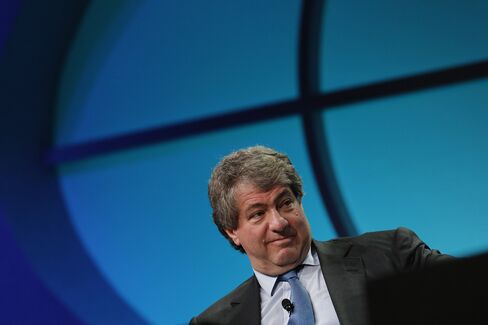 Leon Black's Apollo Global Management LLC is nearing a buyout of PetSmart Inc., the retailer with a market value of $7.72 billion, people with knowledge of the matter said, in what would be the largest leveraged deal for a U.S. company this year.
New York-based Apollo is in late-stage talks to buy PetSmart for about $8 billion following an auction process that has been underway for weeks, said one of the people, who asked not to be identified because the talks are confidential.
Activists have been urging PetSmart to sell itself as the retailer's business has waned. Same-store sales at the pet-supply company were flat last quarter after falling in the previous three months for the first time in at least a decade, as competition from Amazon.com Inc. and other retailers intensified.
A private-equity deal with Apollo would top Blackstone Group LP's $5.4 billion purchase of industrial-products maker Gates Global LLC in July, data compiled by Bloomberg show. Buyout firms have held off on making purchases this year, as valuations climb with stock benchmarks that have reached records.
In the U.S., the value of private-equity buyouts tumbled to about $65 billion so far in 2014, from $100 billion in 2013, the data show.
Fran McGill, a spokesman for Apollo at public-relations firm Rubenstein Associates, declined to comment. Representatives for PetSmart declined to comment.
Returning Capital
Shares of PetSmart have gained 6.8 percent this year, closing at $77.67 on Dec. 12, compared with an 8.3 percent gain in the Standard & Poor's 500 Index.
Jana Partners LLC, the $10 billion hedge fund run by Barry Rosenstein, disclosed a 9.8 percent stake in PetSmart on July 3 and urged the company to seek a sale, improve operating performance and return "significant" capital to shareholders.
PetSmart responded on July 7, saying its board "has been reviewing potential changes to the company's capital structure," with a focus on returning capital to shareholders. That same day Longview Asset Management LLC disclosed a 9 percent stake in PetSmart and also called for the company to weigh a sale. The two investors are the biggest stakeholders in PetSmart.
Jana ratcheted up its campaign later in July, saying the retailer should put itself up for sale before "short-circuiting" its prospects by taking on debt. It sent a letter to the board saying the company should conduct a "fulsome review" and engage with prospective acquirers rather than pursuing a leveraged recapitalization.
Boost Returns
A representative for New York-based Jana declined to comment.
PetSmart's high free-cash-flow yield and low debt relative to earnings open up several ways to boost returns, shareholder Olstein Funds has said. While the retailer could take on debt to buy back shares, a bigger payout could come from a merger with rival Petco Animal Supplies Inc. or a buyout by a private-equity firm, Credit Suisse Group AG has said.
Petco was acquired by private-equity investors led by Leonard Green & Partners LP in 2006. Buyout firms may be interested in PetSmart, thanks in part to an attractive financing market, Jana said in July.
Black, Apollo's chief executive officer, founded the firm in 1990 with partners Josh Harris and Marc Rowan. They have built Apollo's credit business to $108 billion in assets, its private-equity group to $46 billion and its real estate segment to $9 billion.
Private Equity
Black said this month that Apollo doesn't plan to expand its private-equity business, which uses debt and equity to buy companies and sell them later. It will instead focus on maintaining the unit's high returns, he said.
Apollo's private-equity funds have produced 26 percent annualized returns after fees since 1990, compared with 19 percent at Carlyle Group LP, 16 percent at Blackstone and an industry average of 14 percent over 25 years, according to research firm Cambridge Associates LLC.
The New York Post earlier reported that Apollo was close to buying PetSmart and may have beaten KKR & Co. to the deal.
The retailer, which has about 53,000 employees, operates more than 1,340 pet stores, as well as 200 in-store dog and cat boarding facilities.
Before it's here, it's on the Bloomberg Terminal.
LEARN MORE