Wall Street's Win on Swaps Rule Shows Washington Resurgence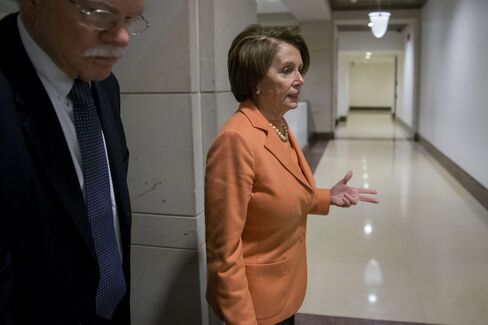 Wall Street is re-emerging as a force in Washington as it closes in on one of its biggest wins against regulation since the financial crisis.
With must-pass spending legislation making its way through Congress this week, banks seized on an opportunity to attach a measure that would halt a planned restriction on derivatives trading they had long opposed. The industry's lobbying extended to the highest levels of finance with JPMorgan Chase & Co. Chief Executive Officer Jamie Dimon pressing lawmakers to support the change.
Wall Street's success, after four years of struggling to persuade Congress to ease the Dodd-Frank Act, is a precursor to more fights next year against some of the law's hallmarks: the consumer protection bureau and stiff oversight of big financial companies whose failure could threaten the financial system.
"The Wall Street interests -- the big banks -- they're back," said Richard Durbin of Illinois, the Senate's second-ranking Democrat.
The $1.1 trillion spending measure cleared its biggest hurdle when the House passed it last night and sent it to the Senate for consideration today.
Banks had modest expectations even under the new Republican Congress that will convene in January, a group they presume will be more receptive to their agenda. Their surprising success this week may embolden lenders to seek deeper regulatory changes as Republicans take control of the Senate from Democrats.
Dodd-Frank Requirement
The derivatives provision would let JPMorgan, Citigroup Inc., Bank of America Corp. and other banks trade almost all swaps in divisions that have government backstops like deposit insurance. It would repeal a requirement that some of the trades be pushed out to separate units, which Wall Street argued would drive up costs for clients and increase risk in the financial system by moving the trades to firms less regulated than banks.
Lawmakers put the requirement in Dodd-Frank, which was passed in 2010 after banks' losses on souring derivative trades spurred a taxpayer bailout of Wall Street in 2008.
The inclusion of the Dodd-Frank changes in the spending bill spurred a week-long opposition campaign by Senator Elizabeth Warren of Massachusetts, House Minority Leader Nancy Pelosi and other Democratic lawmakers. Their news conferences, TV interviews, emergency meetings on Capitol Hill and pressure from allies including the AFL-CIO labor federation prompted President Barack Obama to call lawmakers urging them to vote for the broader bill to avoid a government shutdown.
Lobbying Campaign
White House Chief of Staff Denis McDonough told Democratic lawmakers at a caucus meeting last night that the administration was late to learn of the swaps provision's inclusion and urged the Senate to remove it, according to a Democratic aide who requested anonymity to discuss the closed-door session.
The industry's lobbying campaign on the provision gained momentum after a move by the Obama administration itself, which signaled last year that it was willing to bend on the swaps rule, said a person familiar with the bank's campaign who sought anonymity to discuss the effort.
At the time, White House officials discussed a deal that would have scuttled the requirement in exchange for Republican support for a bill to increase funding for the International Monetary Fund. It ultimately fell through. Republicans and Wall Street, however, took notice: The rule wasn't off limits to the administration.
"It is simply not accurate that the White House pushed for a deal in 2013 that would have eliminated the swaps provision," said Jen Friedman, a White House spokeswoman.
Seeking Compromise
This year, the industry decided to try to broker a similar compromise, using funding for the Commodity Futures Trading Commission and Securities and Exchange Commission instead of the IMF as the carrot for Democrats. The strategy played out in the Senate and was led by several regional banks, including PNC Financial Services Group Inc., SunTrust Banks Inc. and Fifth Third Bancorp, two people familiar with the matter said.
Those banks, while having tiny amounts of derivatives on their books compared with their Wall Street counterparts, argued that the regulation would increase compliance costs and require them to redirect massive amounts of capital to affiliates.
The regional firms focused their efforts on Senator Richard Shelby, an Alabama Republican who's in line to be the next Banking Committee chairman, and Senator Barbara Mikulski, the Maryland Democrat who heads the Appropriations Committee. They encouraged congressional staff to keep the SEC and CFTC informed and find out what kind of budget increase the agencies would support.
Crimping Lending
Little was left to chance. Several months before a deal became public, the Maryland Bankers Association contacted Mikulski's office. The group said that the rule affected banks of all sizes and would crimp lending to borrowers, Kathleen Murphy, president and chief executive of the association, said in a phone interview. The group reiterated its views to the senator's office in the last week, she said.
As the negotiations went down to the wire, Dimon picked up the phone and called senators urging their support for the deal, according to three people with knowledge of the matter.
JPMorgan spokesman Andrew Gray declined to comment.
"I know that the president was whipping and he was supporting this bill and I know that Jamie Dimon was whipping," Maxine Waters of California, the top Democrat on the House Financial Services Committee, told reporters yesterday. "That's an odd combination."
Spending Negotiations
Meanwhile, Mikulski was one of the members of Congress in charge of negotiating the broader spending legislation. House Republicans had earlier this year passed a spending bill, in which they inserted a provision undoing the swaps rule without Democratic objection at an appropriations committee hearing. Mikulski took to negotiating a $35 million funding increase for the CFTC in return for the provision while trying to fend off other attacks on Dodd-Frank.
"She simultaneously knocked down six terrible riders that would have watered down or weakened Dodd-Frank," according to an e-mail from an appropriations committee spokesman.
Wall Street outspent any other industry on the November election, with employees of securities and investment companies and their political action committees contributing $169 million, according to Center for Responsive Politics data. About two-thirds of the donations went to Republican candidates.
Making Headway
After the record giving on a midterm election, finance-industry lobbyists said they want to make headway on a number of items in the next Congress, including some that Republican lawmakers failed to get in the spending bill. Those provisions will probably be a heavier lift, as Wall Street faces resistance from a broader swath of Democratic lawmakers, the lobbyists said.
Revisions to Dodd-Frank that were excluded this week include prohibiting the SEC from writing tough disclosure rules on stock brokers' conflicts-of-interest, preventing regulators from imposing stringent regulations on large asset managers and barring the SEC from forcing companies to reveal their political contributions, according to a Democratic official with direct knowledge of the negotiations.
Another measure kept out of the spending bill would have given Congress authority over the budget of the consumer bureau, an agency long-opposed by banks that was created to oversee mortgage lending and credit cards, the official said. The regulator is now funded by the Federal Reserve. Handing lawmakers authority over its budget would allow them greater control of the agency.
Next year, the banks' wish list will be even broader. They will be targeting burdensome regulations on lenders deemed "too-big-to-fail" and the Volcker Rule, which bans Wall Street from making market bets with their own money, lobbyists said.
"In terms of opening up Dodd-Frank, I think that train has left the station," said Wayne Abernathy, executive vice president for financial institutions policy at the American Bankers Association. "The problems are piling up and it's becoming embarrassing."
Before it's here, it's on the Bloomberg Terminal.
LEARN MORE