Schwarzman Says Energy Is Best Opportunity in Many Years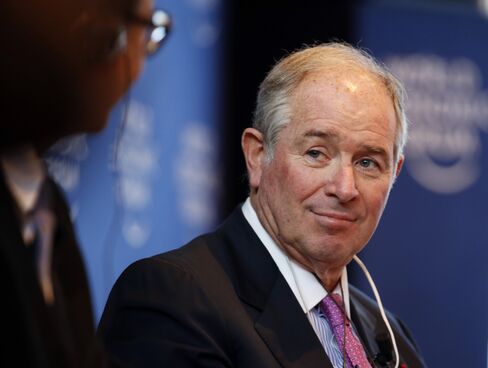 Stephen Schwarzman, the chairman of Blackstone Group LP, said it's going to be the best time in many years to invest in energy.
"There are a lot of people who borrowed a lot of money based on higher price levels and they're going to need more capital," Schwarzman said Dec. 11 at a conference sponsored by the New York Times' DealBook. "There are going to be restructurings to do. There's going to be a fallout. It's going to be one of the best opportunities we've had in many, many years."
Oil prices have tumbled since June to the lowest in more than five years because of slower growth in global demand combined with surging production in North America. Blackstone, the world's biggest manager of investment alternatives to stocks and bonds, with $284 billion under management, is raising a second energy fund with a limit of $4.5 billion.
The New York-based firm's first energy fund, which gathered $2.5 billion in 2012, produced a 44 percent annualized return after fees as of Sept. 30.
Oil futures fell below $60 a barrel today after the International Energy Agency cut its global demand forecast. The price benchmarks for crude oil have tumbled about 20 percent since Nov. 26, the day before the Organization of Petroleum Exporting Countries agreed to leave its production limit unchanged at 30 million barrels a day.
Carlyle's View
Carlyle Group LP, which has $6 billion to $7 billion available to deploy in energy, also sees the industry as more attractive now than it will probably be for the next five to 10 years, co-founder David Rubenstein said on Dec. 10.
"This is a great time to buy," Rubenstein said at Goldman Sachs Group Inc.'s financial-services conference in New York. "The bottom hasn't been hit yet. Oil prices will probably stay low for a while."
High-yield bonds of energy companies have declined 14 percent since June 19, when oil prices peaked this year, according to a Bank of America Merrill Lynch index. The drop is luring Oaktree Capital Group LLC, the world's biggest distressed-debt investor, co-Chairman Howard Marks said on Dec. 9.
Schwarzman, who has a net worth of $10.9 billion, according to the Bloomberg Billionaires Index, said the U.S. financial system is in "good shape." Europe is "quite discouraging" because of a lack of economic growth, he said, and Asia is "spotty, but there is still really good growth there" despite a slowdown in China.
Before it's here, it's on the Bloomberg Terminal.
LEARN MORE