Terror Suspects Doused With Water, Force-Fed Rectally by CIA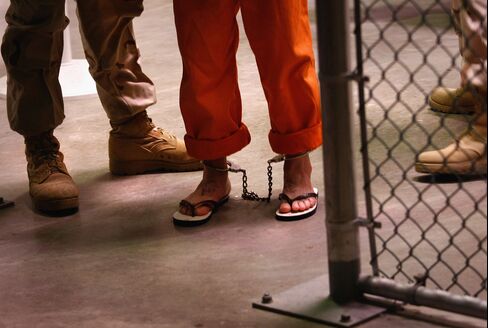 A CIA interrogation program kept terrorism suspects in cold cells, doused them with refrigerated water and force-fed some rectally, according to graphic details revealed in a report by Senate Democrats.
At least one detainee died in an unheated cell. Another tried to chew his arm and committed other acts of self-mutilation. Others hallucinated, suffered from paranoia and exhibited other signs of psychosis.
The report issued yesterday by Democrats on the Senate intelligence committee goes into detail about what supporters described as enhanced interrogation techniques. It concluded that the techniques used by the Central Intelligence Agency were largely ineffective at providing useful information and sometimes weren't reviewed by the Justice Department.
A team from the U.S. Bureau of Prisons inspected one of the secret detention facilities, saying they had "never been in a facility where individuals are so sensory deprived," according to a December 2002 e-mail in the report's summary that redacted the identity of the sender and receiver. "There is nothing like this in the Federal Bureau of Prisons."
The CIA contracted with two psychologists to develop, operate and assess its interrogation operations, although they had no experience as interrogators nor specialized knowledge of al-Qaeda. The psychologists, who previously worked at a U.S. Air Force survival school, were identified by pseudonyms in the report.
Detainee Death
In the fall of 2002, a detainee died of hypothermia while shackled to a concrete floor. Another detainee was held for 17 days in the dark without anybody knowing he was there. At least 26 didn't meet the standards for being held, according to the report.
Abu Zubaydah, who was captured in 2002, was initially cooperative with interrogators. He identified Khalid Sheikh Mohammed as the planner of the Sept. 11 attacks, for example.
As he recovered from wounds suffered in his capture, however, the interrogation techniques grew harsher. Officials believed Zubaydah was withholding information about pending attacks.
Zubaydah was shackled naked during interrogations and was forced to stay awake. He spent 47 days in isolation without being asked any questions. After that, he was subjected to waterboarding, which prompted him to vomit and caused his body to convulse in involuntary spasms.
11 Days
He spent a total of 11 days and two hours in a box the size of a coffin and 29 hours in a box that was even smaller, at 21 inches wide, 2 1/2 feet deep and 2 1/2 feet high. Daily cables from the site where he was interrogated said Zubaydah frequently cried, begged, pleaded and whimpered, the report said.
The CIA later concluded Zubaydah didn't know about any pending attacks.
Another detainee, Abd al-Rahim al-Nashiri, who was suspected of being involved in the bombing of the USS Cole and the 1998 East Africa U.S. embassy bombings, was subjected to four periods of enhanced interrogation techniques, including on three occasions being subjected to a method of simulated drowning known as waterboarding.
On-site interrogators said al-Nashiri was compliant, but officers at CIA headquarters disputed that contention and sought to continue his interrogations, according to the report.
The report said interrogators used unauthorized techniques against al-Nashiri, including forcing him to stand with his hand over his head for 2 1/2 days. A CIA officer placed a pistol near al-Nashiri's head while he was blindfolded. He was also given a forced bath with a stiff brush.
Sleep Deprivation
Muhammad Rahim, described as an al-Qaeda facilitator who was thought to have information about Osama bin Laden's whereabouts, was subjected to "eight extensive sleep deprivation sessions" after his capture in 2007, according to the report.
Rahim was usually shackled in a standing position, wearing a diaper and a pair of shorts, the report said. His diet was almost entirely limited to water and liquid Ensure meals.
Other detainees were subjected to "rough takedowns" where they were dragged naked down long corridors while being slapped and punched by CIA officers.
One detainee was left handcuffed by his wrists to an overhead bar for 22 hours over two consecutive days, the report said.
At one detention site known as Cobalt, detainees were held naked in tubs as interrogators poured cold water on them, according to the report.
Shackled Naked
"Others were hosed down repeatedly while they were shackled naked, in the standing sleep-deprivation position," the report said.
Majid Khan, who the CIA thought had knowledge of a plan to attack gas stations, was one of at least five detainees subjected to rectal feeding. He was fed a pureed mix of hummus, pasta with sauce, nuts and raisins.
He tried to chew into his arm at the elbow, attempted to cut his wrist on two occasions and tried to cut a vein in his foot, according to the report.
"Multiple psychologists identified the lack of human contact experienced by detainees as a cause of psychiatric problems," the report said.
Numerous CIA interrogators and other CIA personnel associated with the program had either suspected or documented personal and professional problems that raised questions about their judgment and CIA employment, according to the report.
'Abusive Treatment'
"The CIA deployed officers who had history of personal ethical and professional problems of a serious nature. These include histories of violence and abusive treatment of others and should have called into question their employment with the United States government," Dianne Feinstein, a California Democrat and chairwoman of the intelligence committee, said on the Senate floor yesterday.
In response to the report, current CIA Director John Brennan said the detention and interrogation program had "shortcomings" and that the agency made mistakes early on in the rush to gather intelligence after the Sept. 11, 2001, terror attacks. He took his post as director after the program had been ended.
But he disputed the contention that the aggressive interrogations didn't produce useful information, saying the CIA's efforts "helped thwart attack plans, capture terrorists, and save lives."
'Hard Pill'
Anthony Romero, executive director of the American Civil Liberties Union, called the contents of the report "shocking" and said it showed the CIA violated human rights.
Ben Emmerson, the United Nations special rapporteur on counter-terrorism and human rights, said those responsible must be brought to justice. In a statement on the UN website, he said the findings show that there was a policy orchestrated within former President George W. Bush's administration that allowed it "to commit systematic crimes and gross violations of international human rights law."
Senator John McCain, an Arizona Republican who was himself tortured while a prisoner of war in Vietnam, said he supported the release of the report.
"I believe the American people have a right -- indeed, a responsibility -- to know what was done in their name," McCain said in a statement. "The truth is sometimes a hard pill to swallow."
He said the interrogation tactics "stained our national honor, did much harm and little practical good."
Before it's here, it's on the Bloomberg Terminal.
LEARN MORE