China Internet Company Seeks License to Make Electric Car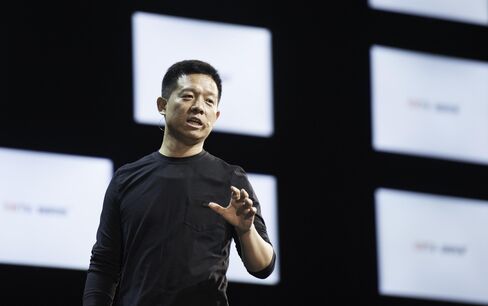 A Chinese technology billionaire is following in the footsteps of Tesla Motors Inc. Chairman Elon Musk in seeking to build electric cars in the world's largest auto market.
Jia Yueting, chairman and founder of Leshi Internet Information & Technology (Beijing) Co., said this week that the maker of Web-enabled televisions has spent the past year developing an electric car and will seek a license to manufacture them in China. Leshi will bank on its experience "managing disruptive change" and is confident of surpassing Tesla in creating the most connected electric car, he said in e-mailed comments yesterday.
The 41-year-old's ambitions to venture into electric cars come as China proposes to grant auto manufacturing licenses to companies other than carmakers to encourage innovation and create local challengers to Tesla, as part of a broader plan to cut air pollution, reduce dependence on imported oil and lead the global auto industry.
"Leshi has been trying to diversify and it's the CEO's wish to become bigger and enter new industries," Luke Xu, a Beijing-based analyst at iResearch, said by phone. "The government is encouraging the development of the electric-vehicle industry, and everybody sees an opportunity in the fast-developing market."
Emulating Musk
Musk, who helped remake online commerce as co-founder of PayPal Inc., has more recently shaken up the aerospace and solar-power industries. He said in April that China will eventually overtake the U.S. to become the largest market for Tesla's electric cars.
Richard Lan, a Beijing-based Tesla official, declined to comment on Jia's remarks about beating the U.S. company.
Jia got his start in technology as a 22-year-old technical support officer maintaining the internal network of a county taxation bureau in China's coal-producing Shanxi province.
He quit after less than a year to start a company providing consulting services to technology firms, before founding handset distributor Sinotel Technologies Ltd. in 2002, taking it public five years later in Singapore, according to the company's latest annual report.
Jia founded Leshi in 2004, and the Beijing-based company had its initial public offering in 2010 in Shenzhen. Leshi has a larger market value than Youku Tudou Inc., the New York-traded Internet TV company, and Jia's 44 percent stake is worth about $2.3 billion at current market prices.
Billionaire Dreams
He isn't the only billionaire with ambitions to embrace China's push to adopt eco-friendly vehicles.
Wanxiang Group Corp., the auto-parts supplier headed by founder Lu Guanqiu, has said it expects to receive a license to produce EVs in China when the government finishes drafting a policy that would allow new players to produce EVs in the world's largest auto market.
Wang Chuanfu, who founded BYD Co. as a battery maker and was once China's richest man, has spearheaded the company's push into EVs with production of battery-powered buses in the U.S. while its E6 electric car is used in taxi fleets.
The proposal to grant more manufacturing licenses comes as China lags behind its own target for putting eco-friendly cars on the road, even as the government offers billions of dollars in subsidies and pledges to build charging stations for the public.
Companies should have more than three years of product research and development experience, have capability for vehicle design, and have auto production capacity before applying for licenses, according to a draft circulated for public comment until Dec. 2.
Shares Gain
Leshi rose 2.9 percent today in Shenzhen trading, after jumping as much as 7.4 percent yesterday following Jia's announcement on his Weibo social-media account.
Leshi's Internet-linked smart electric car will be "reasonably priced" and feature multiple touch screens that replace traditional consoles and dashboards, the company said in a press release. Users will be able to achieve unmanned driving, automatic parking, positioning and search functions powered by the company's cloud platform, it said.
The company is in close contact with BAIC Motor Corp. about producing electric cars and is willing to cooperate with other traditional automakers, He Yi, chief executive officer of Leshi Internet of Vehicles, said at a briefing in Beijing today.
Leshi said it invested in U.S.-based battery-maker Atieva Inc. together with BAIC earlier this year and has a research and development team based in Silicon Valley.
Jia declined in his e-mail to say how the company plans to fund the development of electric vehicles, saying only it will be "innovative." The company will seek to "redefine the auto industry" and is pursuing the venture to support China's goal to clean up air quality.
"This is our dream and passion," Jia said in an e-mail. "Look at China's skies, all responsible corporate citizens want to do something about it. This is the truth."
— With assistance by Alexandra Ho, and Tian Chen
Before it's here, it's on the Bloomberg Terminal.
LEARN MORE