Ruble's Rout Is Tale of Failed Threats, Missteps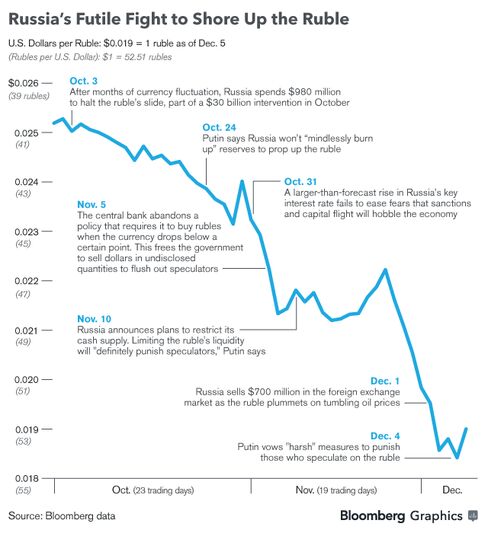 Russian President Vladimir Putin has tried everything from selling dollars to threatening speculators in his bid to stem this year's plunge in the ruble.
None of it has worked.
The attached graph provides an up-close look at the ruble's collapse over the past two months. It dropped 25 percent during that time to 53.40 rubles per dollar, extending this year's slide to 38 percent. The only currency in the world that's fallen more is that of Ukraine, the country where all of Putin's financial troubles began when his troops invaded the Crimea peninsula in March.
Putin's frustration with the ruble showed during his annual address to parliament last week. He pledged "harsh" measures for those speculators betting against the currency while promising to repel any effort to force Russia to back down over Ukraine. With his finance officials now appealing to state-controlled exporters to take measures to help shore up the ruble, speculation is mounting that he may turn to capital controls next as oil revenue dries up.
"Intervention, rate hikes and capital controls are in the mix," Win Thin, Brown Brothers Harriman & Co.'s global head of emerging-market strategy, said by phone from New York. "And I wouldn't be surprised to see all three of these in some form or another."
Before it's here, it's on the Bloomberg Terminal.
LEARN MORE