Putin's New Deal Spells End to 15 Years of Wage Gains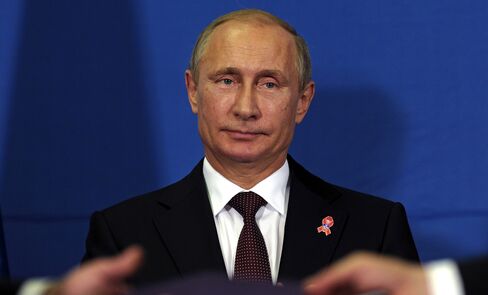 Vladimir Putin's confrontation with the U.S. and Europe augurs a new deal for his 144 million subjects.
Instead of the rising living standards he's delivered the past 15 years in exchange for the public's acquiescence, the Russian president now holds out declining wages and more austere lifestyles as the price of swollen national pride.
The first signs of discontent are appearing. Doctors protested Nov. 30 over job cuts and Putin ordered a freeze in inflation-linked pay raises for some government employees. Keeping dissatisfaction at bay will be costly too: Putin may exhaust more than half of the nation's $420 billion of reserves -- down from almost $600 billion in 2008 -- within two years.
"There's been a social contract in place in Russia whereby the population understood that its living standards will continue to improve even if political freedoms are limited, but now living standards are taking a hit," said John Lough, an associate fellow at Chatham House's Russia and Eurasia program in London. "This is going to affect public attitudes and it's going to put pressure on the system and on Putin personally."
It's a watershed moment for Putin, whose first two terms in power coincided with oil prices rising from about $25 a barrel to a peak of $140 during a decade-long run. His emergence ushered in an era of stability and prosperity after the wrenching transition from the breakup of the Soviet Union, when the government was often unable to pay salaries and inflation wiped out small savers.
Boom Years
Under Putin's rule, between 1999 and 2007, Russia went through "one of the biggest booms in the world" as average living standards rose from Indian to Polish levels, according to Roland Nash, chief investment strategist of Verno Capital in Moscow.
The government's approval rating has fallen by seven percentage points the past two months to 59 percent, according to the latest poll by the independent Levada Center in November. While Putin's support fell three points from October, it was still 85 percent. Four-fifths say living standards are "clearly worsening," another Levada poll showed last month.
"This is a bad development for Putin because the entire system is starting to be seen less favorably," said Levada's deputy director, Alexei Grazhdankin. "So far, it's not having an impact on the popularity of the president, though that could change."
Spending Cuts
Putin's poll ratings help explain why he is standing his ground in the dispute over Ukraine. At home, though, he's retreating: He's cutting spending as the economy sinks into recession and the price of oil and gas, which contribute about half of government revenue, tumbles. The 40 percent drop in crude from a June peak, along with sanctions that curb Russia's access to hard currency, have sent the ruble to a record low.
Putin's advisers have been taken aback by the scale and speed of the fall in the price of oil, said an official who asked not to be identified because of the sensitivity of the issue. Brent crude, which is priced close to Russia's Urals main export blend, is at about $68. It needs to be at $90 for the 2015 budget to balance, according to Finance Minister Anton Siluanov.
Even before crude prices began their descent in June, Russia was feeling the impact of the sanctions imposed by the U.S. and its allies to punish Putin for his Ukraine policy and annexing the Crimea peninsula in March.
Consumers Squeezed
Meantime, consumers are being squeezed by inflation fueled by a 40 percent plunge in the ruble this year. Price increases may reach 10 percent by the second quarter, Economy Minister Alexei Ulyukayev said.
The only other time Putin had to cope with a plunge in oil prices -- during the 2008-2009 financial crisis -- he kept the money taps flowing, thanks to the reserves built up over nine years of budget surpluses.
That permitted higher social spending, pensions and state salaries, says Olga Sterina, an analyst at UralSib Capital in Moscow. "Now, there's no possibility to increase spending," she said by phone. "All they can and should do is cut it."
The stash is evaporating fast, down by about $90 billion this year as the central bank moved to slow the ruble's descent.
Putin may exhaust more than half of the country's rainy-day funds within two years on the budget, indebted companies and banks as well as to keep the ruble from total collapse, according to Valery Mironov, deputy head of the Moscow-based Higher School of Economics' Center for Development Institute.
Budget Pressure
"The reserves will be used up but even that won't be enough," said Dmitry Oreshkin, an independent political analyst in Moscow. "They'll have to limit social benefits, and state salaries won't rise in line with inflation."
The budget is already under pressure.
Even without further deterioration in the ruble and oil prices and a spending freeze in real terms, the deficit will be about 2.2 percent of gross domestic product -- the most since 2010 -- according to Neil Shearing, chief emerging markets economist at Capital Economics Ltd. in London.
In contrast, spending increased by about 10 percent a year on average in real terms during the past decade, he said. Russians benefited from a 15 percent annual expansion in real wages from 2000 to 2008; that slowed to 5 percent a year from 2010 to last year after the 2009 recession, in which they declined slightly.
Cutting military and police spending is politically impossible because Putin needs the support of the security establishment so he can rely on them in case of social unrest, Oreshkin said.
Growth Years
This means the government will have to target investments, benefits and salaries, said Mironov.
High oil prices have been key to Putin's rule since he took over from Boris Yeltsin, fueling an average growth rate of 7 percent between 2000 and 2008. In December 1999, reserves were at $11.5 billion; 16 months before that, the government defaulted on its ruble debt and the currency collapsed.
Putin ordered his government Dec. 5 to cut the budget annually by 5 percent in real terms from 2015-2017 by reducing "ineffective spending," except for defense and security, according to an order posted on the Kremlin website.
Putin used to promise Russians that their country would overtake Germany as the world's fifth-largest economy by 2020. In May 2012, he signed a decree pledging to increase real wages by half by 2018. That goal is already a distant memory as real wage growth slowed to almost zero by October.
Winter Demand
Putin has so far remained defiant.
It's "highly unlikely" that Putin will change his policy over Ukraine because his calculation is that sanctions won't last long enough to threaten his rule, said Amanda Paul, policy analyst at the Brussels-based European Policy Centre.
He's also betting that oil prices will rebound.
"Winter is coming and I am sure the market will come into balance again in the first quarter or toward the middle of next year," he said Nov. 28.
In his annual speech to parliament Dec. 4, Putin attacked the U.S. and Europe for backing Ukraine and said that Crimea has "sacred meaning" for Russians. He also blamed his adversaries for the economic woes. Putin signaled Russia will stand up to them as it did to Hitler in World War II.
As social spending is reined in "we're going to see more and more protests," yet it remains to be seen whether that's enough to sway Putin, Capital's Shearing said.
Unrest can pan out in two ways, he said. "One is that Putin is forced to back down, seek a more conciliatory path with the West, but equally it could just entrench his position and entrench Russia's economic isolation and nationalism."
Before it's here, it's on the Bloomberg Terminal.
LEARN MORE