Nintendo's Mario Heads for Best Holiday in Years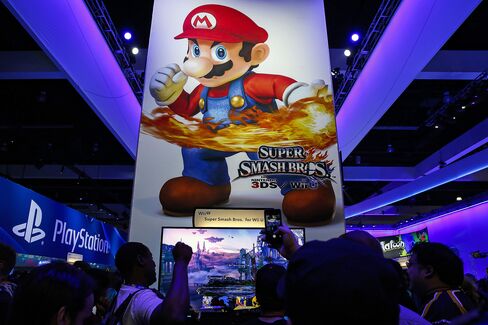 Nintendo Co. looks like it's finally going to be able to celebrate this Christmas.
The Japanese game maker that lost 23.2 billion yen ($193 million) last year is on a surprising comeback with hit game titles like Super Smash Bros. and a new line of interactive figurines called Amiibo. At least eight analysts raised profit estimates or ratings since September, with the two most recent calling for profit to triple to 36.8 billion yen.
Such results would mark a vindication of sorts for President Satoru Iwata, who stuck with a strategy of selling his games only on Nintendo devices rather than offering them on smartphones and tablet computers. With Super Smash Bros. and Mario Kart 8 gaining popularity, the Kyoto-based company projects it will sell 3.6 million Wii U consoles this year and take in $1 billion from Amiibo sales in the U.S. alone.
"Nintendo has picked up good momentum heading into the Christmas season," said Tomoaki Kawasaki, a Tokyo-based analyst with Iwai Cosmo Securities Co., who raised his rating to neutral plus last month. "This time they have a hit lineup. Amiibo represents a new revenue source, and we are watching it very closely."
The Wii U struggled to gain traction after its 2012 debut amid a shortage of new software titles, while Sony Corp. and Microsoft Corp. lured serious gamers to their machines when they were released last year. Iwata came under fire for not making Nintendo games available to the surging number of people playing on smartphones and tablets, especially after the loss last year that marked just the second unprofitable year in two decades.
Software Lineup
Shares of Nintendo fell 2.4 percent to 13,845 yen in Tokyo. The stock has surged about 25 percent since reporting a surprise quarterly profit Oct. 29.
When the Wii U was released in November 2012, Nintendo had 23 titles available for the U.S. market. The pace of new software has been slow since then, and Nintendo now has 53 games available, according to its website, compared with 410 for the predecessor Wii.
With the success of recently released games featuring the plumber Mario and his brother Luigi, analysts expect there to be a flow-on effect to consoles.
Super Smash Bros. for Wii U sold 490,000 units in the three days since its U.S. release, the fastest pace ever for the console in the market, according to a statement from Nintendo. Mario Kart 8 has sold 3.49 million units since May, including 2.74 million outside Japan.
Nintendo is counting on the two titles and Amiibo demand to reach its full-year sales target of 3.6 million Wii U consoles. Players can use the figurines to enter a Nintendo character into a game through the Wii U's GamePad tablet.
Brighter Prospects
There are a total of 7.6 million of the machines in the hands of gamers worldwide, according to VGChartz.com, which tracks industry sales. That compares with the 15.1 million for PS4 and 8.1 million for Xbox One, despite a one-year lead.
"Last year was just a bad year for the game business, and this year is a recovery," said Hideki Yasuda, an analyst at Ace Research who raised the stock to neutral on Oct. 30. "Add to that Amiibo, and you're likely to see a considerable improvement in earnings."
Mitsubishi UFJ Morgan Stanley Securities Co. raised its rating on the company on Nov. 26. In the past four weeks, the average of analyst estimates for annual net income has risen 24 percent to 23.3 billion yen.
Prime Minister Shinzo Abe's push to spur inflation helped weaken the yen 12 percent against the dollar this year and 2.7 percent against the euro. The depreciation bolstered Nintendo's profit 15.5 billion yen in the fiscal first half.
Life Cycle
The yen will probably rebound to 118 in the first three months of next year, before weakening to 124 in 2016, according to analyst forecasts compiled by Bloomberg.
While next year might see the fullest ever software lineup for Wii U, the console is approaching the end of a lifespan typically measuring five years, Yasuda said. That means it is unlikely to reach the Wii's 101 million unit lifetime total.
The 3DS will be the next Nintendo device to get an upgrade, according to Yasuda. The portable players sold more than 45 million units so far, compared with 154 million for its predecessor, company data show.
Nintendo will develop completely new game machines for emerging markets starting next year, Iwata during an interview in May. China lifted a ban on selling video-game consoles in the country, and Microsoft and Sony plan to release machines there.
"To get hits like the previous Wii and DS, they will have to introduce new machines," Yasuda said. "In the game business, it's difficult to change market share except in the periods of generational change. The proliferation curve is decided early on and it's difficult to alter it mid-flight."
Before it's here, it's on the Bloomberg Terminal.
LEARN MORE