Junk Fervor Cools as Oil Rout Upends Energy Debt: Credit Markets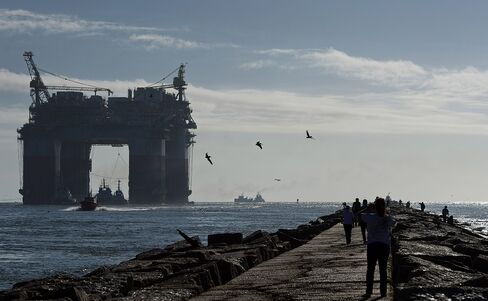 The plunge in oil prices is sapping demand in the $1.3 trillion U.S. junk-bond market, pushing yields to the highest in more than a year and leaving energy companies struggling to attract financing.
Speculative-grade companies have sold $4.52 billion of securities in the first four trading days of December, the slowest start for the month since 2011. Gas producer Atlas Energy Group and EnTrans International LLC, a maker of equipment used in fracking, have postponed loan and bond offerings as crude oil prices fell to a five-year low and yields on high-risk, high-yield bonds rose to 6.75 percent, the highest since October 2013.
"If you have to finance in this environment you are in real trouble if you don't have the absolute best assets," Bill Zox, a money manager at Columbus, Ohio-based Diamond Hill Investment Group, which oversees $15 billion, said by telephone. "Energy prices have been driving the high-yield market, and investors are still discounting the rapid changes in this new environment."
The setbacks are tempering the third straight record year for debt sales from the riskiest borrowers. Prior to the start of oil's slump, energy producers were the most prolific of junk issuers with about $50 billion of bond sales through October. Their share of the market has climbed to 13.8 percent, the most of any group, from 10.8 percent in 2008.
'Spill Out'
Investors withdrew $859 million from U.S. funds that invest in junk bonds last week, the most since Oct. 1, according to Lipper, the data provider owned by Thomson Reuters Corp.
Speculative-grade yields have jumped more than a percentage point from this year's low of 5.69 percent, index data compiled by Bank of America Merrill Lynch show. Returns are set to be the worst in six years, with gains of only 3.4 percent in 2014, index data show.
"If oil can stabilize, the scope for contagion is limited," said Edward Marrinan, a macro credit strategist at RBS Securities in Stamford, Connecticut. "But if we see a further fall in prices, there will have to be a reaction in the broader market as problems will spill out and more segments of the high-yield space will feel the pain."
Price War
The Organization of Petroleum Exporting Countries is waging a price war against U.S. energy producers who have increased production to the highest on record in part by using the process of horizontal drilling known as hydraulic fracturing, or fracking. Brent crude, an international benchmark, has fallen 37 percent this year to a low of $69.43 a barrel, while West Texas intermediate, the key U.S. grade, is down 32 percent, close to its nadir of $66.15 last week.
New Atlas, a newly formed unit of oil and gas producer Atlas Energy Group, put on hold a $155 million loan it was seeking to refinance debt.
EnTrans delayed a debt sale this week. More than half of Cleveland, Tennessee-based EnTrans's revenue comes from equipment sales to the fracking industry, Moody's Investors Service said in a Nov. 17 report. The notes, which were being arranged by Credit Suisse Group AG, would have been used to refinance debt.
Only one energy-related company has sold dollar-denominated junk bonds since Nov. 13, data compiled by Bloomberg show. MarkWest Energy Partners LP sold $500 million of 10-year, 4.875 percent notes Nov. 18.
'Some Fatigue'
The bonds last traded at 98.25 cents on the dollar Dec. 3, lower than its initial price of par and raising the yield to 5.1 percent, according to Trace, the bond-price reporting system of the Financial Industry Regulatory Authority.
After losing 5.1 percent this year, according to the Bank of America Merrill Lynch U.S. High-Yield Energy index, the bonds may continue to underperform in 2015, Suki Mann and Matthew Mish, strategists at UBS Group AG, wrote in a Dec. 4 note. Default rates in the energy industry may approach 5 percent by the end of next year, about double the rate of all junk-graded issuers, the analysts wrote.
The surge in junk-bond yields also has ensnared companies outside the energy industry. Lodha Developers Ltd., a Mumbai-based real estate developer, scrapped plans to sell dollar notes on Dec. 3, saying the offering would be postponed until early 2015 "in view of current market conditions."
Reliance Communications Ltd., also based in Mumbai, called off a transaction that day and will instead refinance its $225 million of debt using bank loans.
"Issuance in the fourth quarter has shown some signs of indigestion as there seems to be some fatigue developing in the investment community," RBS's Marrinan said.
Before it's here, it's on the Bloomberg Terminal.
LEARN MORE