109-Year Old Glassmaker Driven to Bankruptcy by Abenomics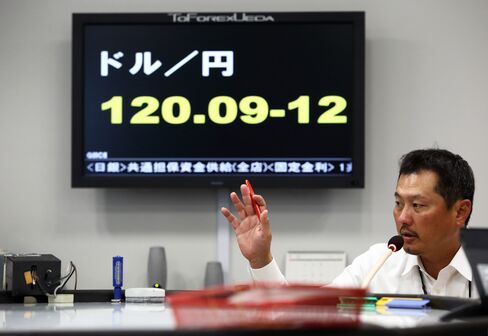 Eight years ago, Isuzu Glass Co. was held up by Japan's trade ministry as a star among the nation's small manufacturers. Today, it's bankrupt, a victim of the weak yen ushered in by Abenomics.
The maker of optical filter glass from the country's industrial heartland in Osaka was one of a record number of corporate failures last month linked to the slumping currency, according to Teikoku Databank Ltd. Founded in 1905, Isuzu succumbed to a surge in costs of imported raw materials that is pinching many small businesses as Prime Minister Shinzo Abe tries to stoke inflation in the world's third-biggest economy.
Forty-two of the companies that failed in November cited the yen's drop as a contributor, bringing the total number of bankruptcies associated with the currency this year to 301, almost triple that of the same period in 2013, according to Teikoku Databank. Soaring costs of imported food, metals and construction materials squeezed small companies, it said.
"Business conditions for small and medium-sized companies are severe," said Norio Miyagawa, an economist at Mizuho Securities Co. "The more the yen weakens, the more the drawbacks will become evident, unless the benefits big companies are seeing spill over to consumption through an increase in wages."
While some small firms struggle to pass on higher costs of imported materials to customers, large exporters are reporting higher profits and the total number of corporate failures is in decline.
The yen broke through 120 per dollar yesterday for the first time since 2007, as Abe's handpicked central bank chief pumps a record amount of funds into the economy. It's lost 28 percent since Abe took office in December 2012 and traded at 120.09 against the dollar at 3:40 p.m. in Tokyo.
Customer Requests
Isuzu Glass was highlighted by the trade ministry in 2006 as one of 300 "vibrant" small- and medium-sized manufacturers. The employer of about 100 people was pressured by price-cut requests from customers at the same time as raw material costs rose, according to Teikoku Databank.
Inoue Industry Co., a supplier of goods for discount retailers, was another casualty of the yen's decline, declaring bankruptcy after procuring goods from China became more expensive, Teikoku Databank found. About 190 employees of Inoue, based in Fukui prefecture, lost their jobs.
Bankruptcies linked to the weak yen, especially of small companies and businesses outside large cities, are likely to continue to increase, Teikoku Databank said. The research company began surveying the link between the yen and bankruptcies in January 2013.
Economic Scale
The broader trend in corporate failures in Japan is down. The total number of bankruptcies declined 14 percent from a year earlier in October, to 794 cases, a 15th straight monthly drop, Teikoku Databank said. Further data for November bankruptcies will be released next week.
Japan's economy is about 1.7 percent bigger than when Abe took office in December 2012, measured by annualized gross domestic product data through September.
Abe's bid to accelerate growth stumbled mid-year, when an April increase in the sales tax triggered two straight quarters of contraction, marking Japan's fourth recession since 2008.
The higher prices of imports have helped spur inflation. Consumer prices excluding fresh food -- the BOJ's main gauge -- increased 2.9 percent in October from a year earlier, a 0.9 percent gain when stripping out the effects of the sales-tax hike and a 17th straight increase.
Living Costs
Rising costs of living have pinched households that have seen wages trailing consumer prices. Cash earnings rose 0.5 percent in October from a year earlier.
The nation's biggest opposition party, the Democratic Party of Japan, is calling for a flexible policy stance by the central bank that takes into account people's livelihoods.
BOJ Governor Haruhiko Kuroda on Nov. 25 said that the weak yen tends to boost exports and spur profits for global Japanese companies while also weighing on small companies and households. He indicated that he thought the effects overall were still positive for Japan's economy.
Finance Minister Taro Aso showed concern about the pace of the yen's drop, saying on Nov. 21 that the currency was falling too fast, as it raced to its biggest monthly decline since the start of 2013.
The government will take measures to combat the effects of the yen's decline and continue to pay close attention to moves in the currency, Deputy Chief Cabinet Secretary Hiroshige Seko said today.
Before it's here, it's on the Bloomberg Terminal.
LEARN MORE