Yahoo Set to Pass Twitter in U.S. Mobile Ads After Mayer Revamp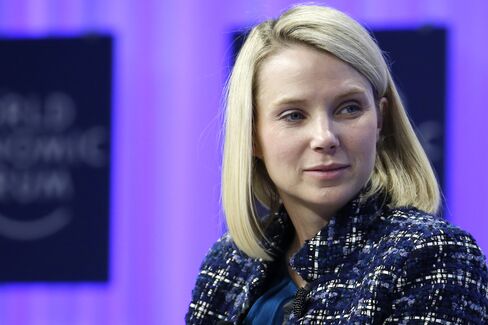 Yahoo! Inc. is poised to surpass Twitter Inc. next year to become the third-biggest company in U.S. mobile advertising, bolstering a key part of Chief Executive Officer Marissa Mayer's turnaround effort.
Underlying the market-share increase is a meeting that Mayer held in early 2013 at a graffiti-decorated conference room at Yahoo's Sunnyvale, California, headquarters. There, the CEO challenged a team of employees to create a new ad feature that would run across mobile devices and desktop personal computers - - and gave them 45 days to complete it.
The group, called "Moneyball" after the book about the scrappy Oakland Athletics baseball team, responded by delivering the new service in 43 days. The technology laid the groundwork for the effort that's helping to drive Yahoo's growth in digital promotions on smartphones and tablets.
"We've invested deeply in mobile, and those investments are paying off," Mayer said on a call with analysts in October.
Yahoo is now projected to be the largest gainer of U.S. mobile-ad market share between 2014 and 2016, according to new data from EMarketer Inc. out today. Yahoo's mobile-ad slice will climb to 3.74 percent in 2015 and to 4.2 percent in 2016. While still tiny, it's enough to push Yahoo ahead of current number three player Twitter, which will have 3.69 percent market share next year and 3.8 percent in 2016. Google Inc. and Facebook Inc. remain the biggest U.S. mobile-ad companies, with 35 percent and 17 percent shares next year respectively.
Reaping Results
The numbers show how an effort by Mayer to marshal resources and refocus the company on mobile is starting to pay off, making Yahoo relevant in a digital-advertising area that's projected to reach almost $60 billion in the U.S. in 2018 from $19 billion this year. In October, Mayer broke out Yahoo's mobile revenue for the first time, reporting third-quarter sales of more than $200 million, with gross revenue in mobile set to exceed $1.2 billion this year.
Challenges remain, with Yahoo still trailing the mobile-ad market share of Google and Facebook. Yahoo also faces many other rivals, including Yelp Inc. and Apple Inc., which are crowding the field with digital-ad alternatives.
Yet the gains present a glimmer of progress for Mayer as she tries to reinvigorate Yahoo. The Web portal is under renewed investor scrutiny after it divested part of its valuable stake in Chinese e-commerce company Alibaba Group Holdings Ltd. in September. That prompted activist investor Starboard Value LP to recently question Mayer's leadership and call for a breakup of the company and cost cuts.
"Mobile is becoming extremely mainstream" for Yahoo, said Sameet Sinha, an analyst at B. Riley & Co., who rates the stock a buy. "That sort of focus over the last two years seems to be working for them now."
60 Employees
From her earliest days at Yahoo, Mayer talked about the importance of mobile -- and for good reason. After arriving in July 2012, she found the company had few people -- 50 or 60 employees, or less than 1 percent of its total workforce that year -- devoted to technology for smartphones and tablets.
Adam Cahan, who formerly worked at Google on mobile initiatives and had joined Yahoo several months before Mayer, was soon asked to head up the effort to centralize and expand mobile.
"Marissa came and said, hey, 'It's quite clear that there's a massive platform shift under way. We're moving to a mobile growth opportunity,'" Cahan said in an interview.
He quickly began adding people to the mobile and emerging products team, which today numbers almost 600 workers.
Designing Apps
Under Cahan's leadership, Yahoo took a new technical approach to development to make mobile applications more speedy and user-friendly than they had been. The group rolled out brand new mobile apps around news and revamped existing apps, including the one for weather, to attract more users.
Yahoo's mobile audience has now increased to more than 550 million by the third quarter, up from about 200 million at the end of 2012.
Mayer also pushed for more mobile advertising. That spawned the Moneyball group, led by Enrique Munoz Torres, a vice president of product management. In early 2013, the group decided to focus on creating a product for "native" ads, which look like the content that surrounds them so users don't find the promotions as jarring. The ads would work on mobile devices as well as PCs, compared with previous Yahoo ad products that had been geared to desktop computers.
To meet Mayer's 45-day deadline for the new mobile-friendly ad platform, the CEO gave the group plenty of help. Moneyball team members could put on Oakland A's baseball caps and approach others at the company when they weren't getting the help they needed to complete the job.
No Sleep
The team sometimes worked late into the night to finish projects for the platform. Within days of the planned debut of the service, engineers discovered a mistake during testing that was related to a database.
"That was a nice all-nighter for a large chunk of the team," Torres said in an interview.
The ad service -- completed on the 43rd day -- was dubbed Yahoo stream ads and was rolled out in April 2013. It soon gained traction with advertisers, reaching a key milestone by August: a run-rate of $100 million in annual revenue. As a reward, Torres and several others on the Moneyball team were offered a trip to Hawaii.
By November 2013, Mayer wanted more from the ad platform -- and pushed to create a marketplace where native promotions could be purchased together with mobile search ads. That would enable marketers to reach people whether consumers were using a mobile app or searching for something on their tablet or smartphone browser.
Gemini Debuts
Torres's team was put to work again and completed the effort in about four months. The program, called Gemini, debuted in February. It also now serves other mobile applications, including CBS Interactive Inc. and Vox Media Inc.
There are more areas to explore with mobile ads, including how and where a user is located when they access their devices, Torres said, without giving details on what new options might be on tap from the company. Gemini already offers some location tools for zeroing in on a user's city.
"I think that there's tons of experiments that we could be running," he said.
Yahoo also is looking beyond its own products to boost mobile ads. Last month, the company agreed to acquire BrightRoll Inc. for about $640 million in cash, helping marketers that want to buy video ads on PCs and devices. In August, Yahoo purchased Flurry Inc., a mobile analytics and advertising services company, for about $300 million. The service helps customers tailor promotions for audiences across marketing campaigns on smartphones and tablets.
Hurdles Remain
Yahoo still needs to show more user traction, according to Dave Marsey, managing director of DigitasLBI, part of ad-agency Publicis Groupe SA. Facebook, Google's YouTube, and Twitter still get more attention individually than Yahoo's most popular application, he said.
"It's still a challenge," Marsey said. "They don't have an app with the creative canvas and the numbers that Facebook, Twiiter, YouTube provide."
Mayer isn't deterred. The company is changing, she has said, shifting away from its roots as a Web portal that made Internet pages and profited off them by showing banner ads.
Now Yahoo is becoming a "company that makes mobile apps and monetizes them through native ads," she told analysts in October.
Before it's here, it's on the Bloomberg Terminal.
LEARN MORE