Dimon Says Europe Economy to Drag for Decade as China Hits Goals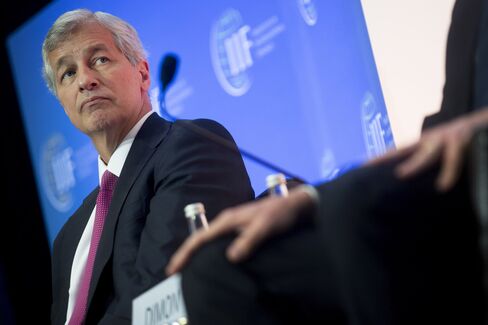 Europe's economy faces a decade of drag as policy makers struggle to enact reforms, while China will keep meeting its short-term growth targets, JPMorgan Chase & Co. Chief Executive Officer Jamie Dimon said.
"Europe is going to be tough," Dimon said yesterday at an event in Washington hosted by Politico as he predicted years of "sub-optimal growth" in the region. "They have all the same structural issues that you read about of other countries, but it's 17 nations -- and some of those structural issues have to be agreed upon in 17 parliaments and then by Brussels."
The concern echoes that of U.S. Treasury Secretary Jacob J. Lew, who last month called on Europe to do more to avert a lost decade of growth. European Central Bank President Mario Draghi will lead the Governing Council today in its last policy meeting of 2014, when it will debate proposals on new tools to improve the economy.
Europe's situation contrasts with the U.S., which Dimon called a "bright spot," and with China, where he said the nation's leaders will take steps to maintain growth.
"The Chinese authorities are very smart," Dimon said. "Right now they can macro-manage and they can meet their short-term growth objectives, which is good for everybody else."
The nation still faces too much corruption, a lack of transparency and a need to "broaden out their democracy," said Dimon, 58.
Cancer Fight
China's economy is poised for the weakest expansion since 1990 and Communist Party leaders have discussed reducing the 2015 growth target from this year's 7.5 percent goal, a person familiar with the matter said last month. Premier Li Keqiang has said a rate of about 7 percent would still make the country a top performer.
While Dimon praised the U.S. as the best place to invest, he said its competitiveness is being threatened by an infrastructure in decline. Lawmakers also need to overhaul the corporate tax system and immigration policy, he said.
The banker, who was diagnosed with throat cancer this year, said his energy has rebounded following a round of treatment and that he's running as many as 2.5 miles.
"I have been through all the treatment and stuff like that, and the prognosis is very good, but we don't exactly know," he said. "I'm happy to be back working again and trying to be productive."
Before it's here, it's on the Bloomberg Terminal.
LEARN MORE