Russian Woes Worsen as Recession Looms With Banks in 'Panic'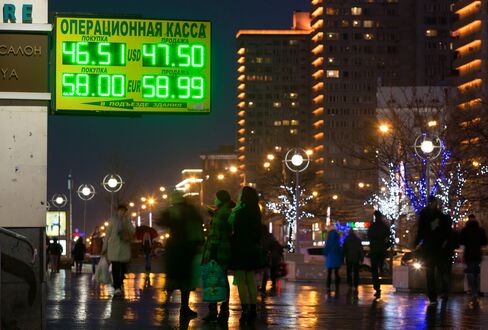 Russia's economic crisis deepened as the government acknowledged it's heading for recession and a former central banker spoke of "some panic" in the financial system as oil prices plunged.
Speaking a day after President Vladimir Putin said Russia is scrapping a proposed $45 billion pipeline to Europe, the government predicted the economy will contract next year and canceled a bond auction. It was also forced to pledge 39.95 billion rubles ($740 million) to support OAO Gazprombank, at least the third lender to secure a capital injection since U.S. and European Union sanctions curbed their ability to borrow.
The economy is succumbing to penalties imposed over the conflict in Ukraine as the plummeting ruble stokes inflation and a 30 percent drop in oil prices erodes export revenue. Russia may enter its first recession since 2009 in the first quarter, according to Deputy Economy Minister Alexei Vedev.
"The elements of instability" afflicting Russia's economy range from structural to geopolitical, Vedev told reporters in Moscow today. "One of the key factors is the lower price of oil."
Urals, Russia's chief export oil blend, will probably average $99 a barrel in 2014, a downgrade from an earlier forecast for $104, he said. Its price is forecast to drop to an average of $80 next year, according to Vedev.
Looming Recession?
Gross domestic product may shrink 0.8 percent next year, compared with an earlier estimate of 1.2 percent growth, Vedev said. The forecasts are still preliminary and don't reflect the government's unified position, Finance Minister Anton Siluanov told reporters in Moscow.
The revised outlook shows the toll on economic output of Russia's worst confrontation with the U.S. and its allies since the Cold War. GDP will probably shrink or show zero growth this quarter and decline in the next three months on an annual basis, Vedev said.
A recession is usually defined as two consecutive quarters of contraction on a quarterly basis.
In the latest sign of the pressures facing the government, it agreed to channel aid to Gazprombank from the National Wellbeing Fund, one of Russia's two sovereign wealth funds with $80 billion in assets. That follows decisions to help state-owned lenders VTB Group and Russian Agricultural Bank bolster their capital by allowing them to convert loans worth 239 billion rubles into preferred shares. Profits have plunged as banks increase provisions for bad loans amid a slowing economy and the decline in the ruble.
'Get Through'
"We will get through this situation," said Sergey Dubinin, chairman of VTB's supervisory board who led the central bank in 1998 during the government's debt default. The free-floating ruble and higher borrowing costs are a "bad combination" for the Russian economy, he said at an event in London today.
The Bank of Russia shifted to a free-floating exchange rate ahead of schedule last month after its rules-based interventions drained billions from its currency reserves. Policy makers have also raised their main interest rate four times by a cumulative 400 basis points since March to rein in inflation.
The ruble has weakened almost 30 percent against the dollar in the past three months, the worst performer among more than 170 currencies tracked by Bloomberg. It extended declines today and traded 5.1 percent weaker at 53.8060 per dollar as of 6:36 p.m. in Moscow.
Ukraine Standoff
Russia has been targeted by U.S. and EU sanctions, with the penalties curbing access to global capital markets and stoking outflows. Putin denies involvement in the unrest, which began after he annexed the Black Sea peninsula of Crimea in March.
Net capital outflows are set to surge to $125 billion in 2014, more than the $100 billion predicted earlier, according to Vedev. That would be the highest annual total since 2008, when $133.6 billion left the country, according to central bank data. The Economy Ministry projects outflows will slow to $90 billion in 2015 as sanctions will remain in place throughout the year.
Russia needs Brent, the grade of oil traders look at for pricing Russia's main export blend, to average about $100 this year to balance its budget, Deutsche Bank AG estimates. Brent crude today slid 0.7 percent to $72.06 after yesterday's 3.4 percent rally.
Budget Financing
Russia may use more than 500 billion rubles from the $88.9 billion Reserve Fund to finance the budget next year, said Maxim Oreshkin, head of the Finance Ministry's strategic planning department. GDP forecasts of the ministries of finance and economy coincide for next year under the Finance Ministry's "optimistic" scenario, which assumes an $80 oil price, Oreshkin said.
Inflation will end the year at 9 percent in 2014 and slow to 7.5 percent at end-2015, Vedev said. The ruble's devaluation will contribute 2.4 percentage points to consumer-price growth this year and 3.2 percentage points in 2015, he said. Inflation accelerated to 8.3 percent in October, the fastest since July 2011.
Retail sales, which were predicted to grow 0.6 percent next year, may instead plunge 3.8 percent, according to Vedev. Unemployment may rise to 6.4 percent in 2015, more than predicted earlier, and real wages will probably shrink 3.9 percent, he said.
"Some very strong factors have already done the damage for GDP growth next year," Vladimir Miklashevsky, a strategist at Danske Bank A/S, said by phone. "Extremely tight monetary policy by the central bank, capital outflows, the weakening of the ruble, and sanctions are contributing to accelerated inflation and the cost of capital."
(An earlier version of this story was corrected to fix the time since Russia's last recession.)
Before it's here, it's on the Bloomberg Terminal.
LEARN MORE