Hollywood Bows to Chinese Censors, Courts Investors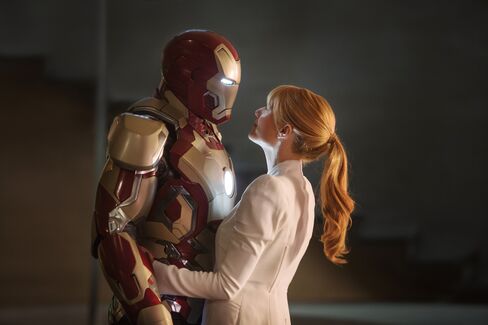 Hollywood film studios are courting Chinese investors to gain access to the world's most populous nation, brushing aside concerns that their new partners will seek to censor the next generation of films and TV shows.
In the latest sign of the growing mutual interest, Dalian Wanda Group Co. said yesterday it's in talks to acquire a stake in Lions Gate Entertainment Corp., maker of "The Hunger Games" films. Alibaba Group Holding Ltd. Chairman Jack Ma toured Hollywood in October seeking alliances, while Shanghai-based Fosun International Ltd. invested in Jeff Robinov's Studio 8, which is making films for Sony Corp.
Hollywood is seeking Chinese investors despite the country's routine censorship of films and TV shows. Studios from Walt Disney Co. to Metro-Goldwyn-Mayer Inc. have changed story lines, altered national identities and removed sex scenes to accommodate government oversight. Hollywood has even partnered with the Chinese government-owned companies on movies like "Kung Fu Panda 3," from DreamWorks Animation SKG Inc.
"Every mainstream studio is keenly aware of not offending the Chinese market, because it's become such an important revenue stream," said Tom Nunan, a visiting professor at the University of California at Los Angeles School of Theater, Film and Television.
Wanda is interested in buying control of Lions Gate, though the studio, run from Santa Monica, California, is only willing to sell a minority stake, Wanda Chairman Wang Jianlin said yesterday in an interview.
Soft Power
A deal would likely bring a payout to Lions Gate investors including Chairman Mark Rachesky, owner of a 37 percent stake, after the shares more than quadrupled since the start of 2012. Lions Gate rose 3 percent to $34.90 yesterday in New York.
The expansion of entertainment companies like Wanda fits into President Xi Jinping's push to increase China's "soft power" by promoting homegrown content and the Chinese language.
"He has really put forward a new vision for China's place in the world," said Robert Cain, president of Pacific Bridge Pictures and an entertainment industry consultant.
Last year, Wanda announced the construction of the world's biggest film studio in the eastern port of Qingdao, part of an $8 billion complex that will include 20 studios, a yacht club, movie theater, hotels and a wax museum. The project will help Wanda create a Chinese cultural brand, the state-run Xinhua News Agency reported at the time.
Government Censorship
China, the largest film market after the U.S., is also among the fastest growing, according to the Motion Picture Association of America, making it the single most important opportunity for Hollywood studios to expand.
The Chinese box office grew 27 percent to $3.6 billion last year, while U.S. ticket sales rose 1 percent to $10.9 billion, according to the Motion Picture Association of America. As China looks to grow its creative industries under its latest five-year industrial plan, it is improving copyright protection.
At the same time, Xi has overseen tighter controls over the world's largest Internet audience and urged artists to produce works of moral, rather than commercial value. At home, Wanda works under strict censorship on what films it can produce or show in its theaters.
Local Tastes
To appease Chinese censors, and sometimes cater to local tastes, studios are making changes. Disney, based in Burbank, California, offered a separate version of 2013's "Iron Man 3" with Chinese actors and bonus footage. It totaled $121.2 million in ticket sales in the market.
For the remake of "Red Dawn" in 2012, MGM changed the enemy army to North Korean from Chinese, the Los Angeles Times reported then. "Cloud Atlas," the Warner Bros. film also released in 2012, had almost 40 minutes cut for the Chinese version, with sex scenes omitted, the Hollywood Reporter said at the time.
At Studio 8, Robinov has greenlight authority over the films made, which will target a global audience, according to a company statement. As part of the agreement, Sony has also invested in the studio, according to the statement. Fosun will "exercise significant influence' over distribution arrangements in China, Hong Kong, Macau and Taiwan,
American entertainment companies are also investing in China. DreamWorks Animation, based in Glendale, California, formed a partnership, Oriental DreamWorks, in 2012 with state-owned Shanghai Media Group, China Media Capital and Shanghai Alliance Investment Ltd. Oriental DreamWorks is producing ''Kung Fu Panda 3,'' scheduled for release in 2016, and is building an entertainment center in Shanghai for live performances.
Theme Parks
Disney plans to open a theme park in Shanghai next year, while Comcast Corp.'s Universal Studios plans to invest 20 billion yuan to construct a park in Beijing, the company said on Oct. 14.
The international box office is now more than twice as large as the domestic market of U.S. and Canada. That's encouraged studios to focus on fare that targets as broad an audience as possible, such as superhero films. Those films are easier to conform to Chinese tastes, said Nunan, the UCLA professor, who was a producer of the Oscar-winning film ''Crash."
"When it comes to superhero movies that's really not that difficult," Nunan said.
Before it's here, it's on the Bloomberg Terminal.
LEARN MORE