Fischer, Dudley See Oil Slump Spurring U.S. Consumers to Spend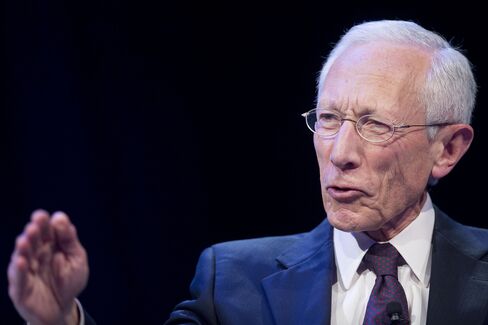 Sharply lower oil prices will boost spending and aid U.S. growth, said two of the Federal Reserve's most influential officials, playing down the risk that plunging energy costs could push inflation further below the Fed's goal.
Fed Vice Chairman Stanley Fischer and New York Fed President William C. Dudley, speaking at separate events yesterday in New York, both stressed the positive economic impact from the steepest decline in oil prices for five years.
"I'm not very worried," Fischer told an audience at the Council on Foreign Relations. "The lower inflation that we'll get from the lower price of oil is going to be temporary."
He also said lower oil prices were "a phenomenon that's making everybody better off."
Oil has slumped into a bear market as the U.S. pumps crude at the fastest rate in three decades while global demand growth slows. West Texas Intermediate crude futures rebounded yesterday from a five-year low.
The policy-setting Federal Open Market Committee, which next meets Dec. 16-17, will take energy prices into account in their assessment of inflation and the economy.
The Fed's preferred gauge of price pressures facing U.S. consumers rose 1.4 percent in October from the same period a year ago and has not been above the U.S. central bank's 2 percent inflation target since March 2012.
Inflation that's too low increases risks of a slide into deflation, a protacted and broad-based decline in prices that hurts growth by encouraging consumers to delay spending.
'Seems Reasonable'
Economists said they expect the Fed to ignore short-term oil price movements when officials gather for this month's FOMC meeting, and Dudley said investors' expectations of a mid-2015 interest-rate increase "seem reasonable to me."
Officials are expected to debate whether to repeat a pledge to keep interest rates low for a "considerable time" in the policy statement to be released at the end of the meeting.
"For some time now, policy makers at the Fed have decided that the thing to do is to look through commodity price changes," said Kevin Logan, chief U.S. economist at HSBC Securities USA Inc. in New York.
Logan said it was a 50-50 proposition whether the "considerable time" commitment would be left in place when the policy statement is issued on Dec. 17.
Dudley, who serves as FOMC vice chairman, yesterday argued that low inflation and labor market slack were reasons why the Fed should not rush to tighten policy, even as he noted that lower oil prices will give a "significant" lift to real income growth that will spur consumer spending.
Patience Required
"It is still premature to begin to raise interest rates," Dudley said in a speech at Bernard M. Baruch College. "When interest rates are at the zero lower bound, the risks of tightening a bit too early are likely to be considerably greater than the risks of tightening a bit too late."
Dudley said cheaper energy will be particularly helpful to the budgets of lower-income Americans.
"They have a higher tendency to spend any additional real income," he said. "As a result, much of the boost to real household income from falling energy prices is likely to be spent, not saved."
That said, economists don't see declining oil prices knocking the Fed off course from raising rates for the first time since 2006 at some stage next year.
"This is not going to derail the potential midyear liftoff," said Tom Porcelli, chief U.S. economist at RBC Capital Markets in New York.
Speaking yesterday in Washington about the effect of lower oil prices more broadly, International Monetary Fund Managing Director Christine Lagarde said ``it is probably good for the global economy.''
She said the drop is a "significant threat" to Russia that "is adding to their fragility and their vulnerability and they know it. It remains to be seen what the reaction will be."
A 30 percent decline in oil prices translates into a 0.8 percent boost in growth for most advanced economies and ``probably 0.6 percent for the U.S.,'' Lagarde said.
Before it's here, it's on the Bloomberg Terminal.
LEARN MORE