Cyber Monday Web Sales Rose 17% to a Record $2 Billion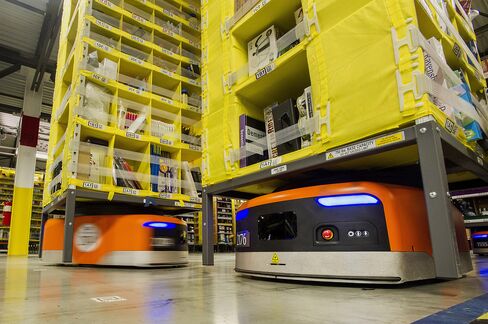 Holiday shopping on the Web rose 17 percent in the U.S. to a record $2.04 billion on Cyber Monday, researcher ComScore Inc. said, as consumers took advantage of online deals.
Dec. 1 -- this year's Cyber Monday, so named because of a surge in online retail sales the Monday after Thanksgiving -- remains the busiest Internet shopping day so far this year, topping Black Friday's $1.51 billion in desktop Web sales. Still, growth on Cyber Monday is slowing as consumers spread out their purchases to other days. On the same day last year, online retail sales on desktop computers rose 18 percent.
Shoppers have been responding to earlier promotions at e-commerce websites such as Amazon.com Inc., which kicked off its holiday deals a week before Black Friday. As gift-buying creeps earlier in the month and includes Thanksgiving Day, the Cyber Monday peak is becoming less pronounced.
Even as spending shifts between days, the broader trend is robust growth, ComScore said. Online spending from Nov. 1 through Cyber Monday totaled $26.7 billion, up 16 percent from the same period last year, the researcher said. That compares with last year's growth rate of 8 percent for the same period.
"The online holiday shopping season is clearly going very well at the moment and is currently running ahead of forecast," ComScore Chairman Emeritus Gian Fulgoni said yesterday in a statement. "Varying reports have also indicated weakness in the consumer economy due to flagging brick-and-mortar sales over the holiday weekend, but what we may really be seeing is an accelerating shift to online buying as mobile phones spur increased show-rooming activity. The data we're seeing suggest it may be more a change in shopping behavior than a lack of consumer demand."
Desktop PCs
ComScore measures online retail sales from desktop personal computers, so its numbers exclude mobile purchases. Shopping on smartphones and tablets accounted for 22 percent of all online sales on Cyber Monday, according to International Business Machines Corp.
Online spending on Thanksgiving Day jumped 32 percent to reach $1 billion for the first time, and Black Friday spending increased 26 percent, according to ComScore.
E-Commerce Advantage
Online retailers have an advantage over those that combine e-commerce and brick-and-mortar stores, which have had a disappointing start to the holidays because of slow foot traffic at physical locations.
Total retail spending fell 11 percent from a year earlier to $50.9 billion in the four-day period from Thanksgiving to Sunday, the National Retail Federation said. It was the second year in a row that sales declined during the post-Thanksgiving weekend. The NRF had predicted a 4.1 percent sales gain for November and December -- the best performance since 2011.
ShopperTrak, a Chicago-based research firm, offered a less bleak view, estimating that Thanksgiving weekend shopping fell 2.1 percent.
Sales at online clothing retailer JackThreads, which targets the millennial male, were up 43 percent on Cyber Monday, said Ryan McIntyre, executive vice president of marketing. Shoppers are snapping up inexpensive suits that start at $100, as well as jackets and boots to prepare for winter.
The company experienced a surge in "couch commerce," with 58 percent of all Thanksgiving purchases made on mobile devices, McIntyre said.
"More and more people are getting comfortable shopping for clothes online," he said.
Early Deals
Amazon and other online retailers offered deals before Black Friday, when stores traditionally began holiday discounts. Brick-and-mortar retailers like Wal-Mart Stores Inc. and Target Corp. also started their deals earlier this year, both online and in stores.
Seattle-based Amazon's sales for the five-day period through Cyber Monday increased 23.8 percent, higher than the broader e-commerce industry's growth of 20.6 percent, according to ChannelAdvisor Corp., which works with merchants to increase sales. EBay Inc.'s sales for the same period grew 20.5 percent.
Amazon benefited from early promotions, with its largest sales increase on Saturday. EBay, based in San Jose, California, saw its biggest sales gain -- 32.3 percent -- on Cyber Monday, helped by limited inventory of in-demand toys like the Zoomer Interactive Puppy and some gaming consoles, said Scot Wingo, chief executive officer of ChannelAdvisor.
For instance, the Zoomer puppy was out of stock Tuesday on Walmart.com, where it sells for about $80. It was available on EBay for $100.
"People know EBay always has these things, but you have to pay a premium for them," Wingo said.
Before it's here, it's on the Bloomberg Terminal.
LEARN MORE