Swiss Gold Rejection Deals Blow to Investors Hurt by Slump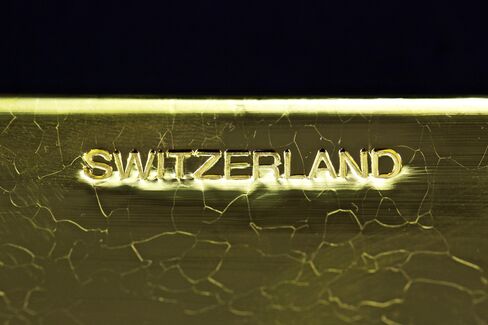 As Switzerland rules out that its central bank will be the next big buyer of gold, sending prices to the lowest in more than three weeks, there's one more reason for investors to be bearish.
Voters yesterday rejected a referendum requiring the Swiss National Bank hold at least 20 percent of its 520-billion-franc ($540 billion) balance sheet in gold. Had it been approved, it would have led to purchases of at least 1,500 metric tons over five years. With lower oil prices reducing costs for consumers and the U.S. considering raising interest rates, demand is fading for hedges against inflation such as gold.
Gold has lost 16 percent since peaking in March and investor holdings of exchange-traded products are near a five-year low. While prices probably won't be affected too much by the "no" vote of the initiative called "Save Our Swiss Gold," approval would have improved sentiment and increased prices by as much as $50 an ounce, HSBC Holdings Plc estimated in November.
"Gold had received some support in the last couple of weeks" before the vote, Georgette Boele, an analyst at ABN Amro Bank NV in Amsterdam, said by phone. "We'll get more pressure on gold. The overall outlook is not looking great."
Bullion for immediate delivery fell as much as 2.1 percent to $1,142.88 an ounce today in London, the lowest level since Nov. 7. Prices rebounded as some investors closed out bearish bets, with gold up 0.7 percent at $1,175.33 by 11:17 a.m.
Investors sold 147.3 tons from exchange-traded products in 2014, wiping about $7.1 billion from the value of holdings, data compiled by Bloomberg show. Prices reached a four-year low last month.
No Vote
The proposal stipulating the SNB raise the portion of its assets held in gold from about 8 percent now was voted down by 77 percent to 23 percent.
The initiative would have also prohibited the SNB from ever selling any of its bullion and required the 30 percent currently stored in Canada and the U.K. to be repatriated. Polls forecast the initiative's rejection.
Approval probably would have made Switzerland the world's third-biggest holder by country of the metal. Analysts had said purchases would have been at least 1,500 tons over five years. Adding 300 tons a year would equal about 7 percent of annual global consumption.
SNB policy makers had a higher estimate, forecasting 70 billion francs worth of gold, or about 1,932 tons.
National Wealth
Proponents of the initiative said boosting bullion holdings would help preserve national wealth. The SNB and national government had argued that approving the measure could undermine efforts to prevent the franc from surging against the euro and erode the bank's annual dividend distribution to regional governments.
Signs of muted inflation around the world have made gold less attractive. Consumer prices in the euro-area slowed in November to match a five-year low, prodding the European Central Bank toward expanding its unprecedented stimulus program.
Gold purchases by central banks globally have helped support prices, according to Daniel Briesemann, an analyst at Commerzbank AG in Frankfurt. They added an average of 372 tons to reserves annually from 2010 to 2013, World Gold Council data show. Purchases will probably be 400 tons to 500 tons this year, the group estimated in November.
Demand Component
"If central bank buying would not be there, gold would probably trade lower," Briesemann said by e-mail Nov. 25. "It is still an important demand component."
SNB policy makers warned repeatedly that the gold measure would have made it harder to keep prices stable and shield the central bank's cap on the franc of 1.20 per euro. That minimum exchange rate was set three years ago, with the SNB pledging to buy foreign currency in unlimited amounts to defend it.
The SNB's assets have increased by more than a third in the wake of its setting the cap in September 2011 to ward off deflation and a recession amid the euro area's debt crisis. It currently holds 1,040 tons of gold. The Swiss already have the world's highest amount of bullion per capita.
"The Swiss have always had an affinity with gold" and that's one of the reasons for the referendum, Eric Schreiber, an independent investor and former head of commodities at Swiss wealth manager Union Bancaire Privee, said by phone. "It would have been supportive for gold due to the fact that if gold prices dropped, the SNB would have bought more. That would have put a floor on gold."
Before it's here, it's on the Bloomberg Terminal.
LEARN MORE