Surprise End to India Gold Controls Boosts Wedding Demand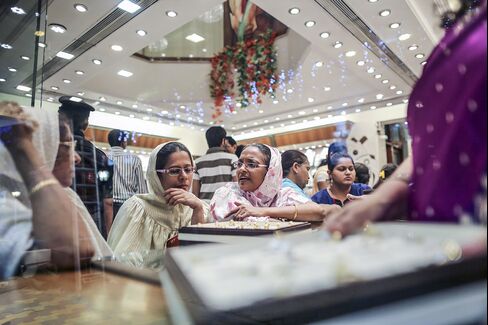 For Indian gold buyers looking for bargains ahead of the main wedding season, the scrapping of curbs on imports last week couldn't have come at a better time.
"I'm very happy that I'm able to get more gold within my budget," said Sunita Jain, 55, a housewife whose son is getting married this month. "Prices have fallen and may fall even more," she said while checking out jewelry stores in Mumbai's Zaveri Bazaar.
The Reserve Bank of India on Nov. 28 unexpectedly removed rules requiring importers to sell 20 percent of their shipments to jewelers for re-export. The end of the regulation, which limited buying since its introduction in July last year, will reduce smuggling and return domestic demand to normal levels of about 800 metric tons to 900 tons annually, the Indian Bullion and Jewellers Association Ltd. estimates.
"This was the trigger to get wedding demand going," said Kumar Jain, owner of jewelry retailer U.T. Zaveri in Mumbai. "The shops are crowded now. This move will remove the monopoly enjoyed by the bigger traders and allow more supplies to smaller jewelers."
An average of about 5 million weddings every year fuel demand for gold in India, according to Prithviraj Kothari, managing director of Riddhisiddhi Bullions Ltd. in Mumbai. He estimates average purchases for a wedding at about 200 grams. The main marriage season runs from November through May. Bullion is bought for weddings as part of the bridal trousseau and gifts. Demand also climbs during the festival season that runs from late August to October.
Deficit, Rupee
Imports by India, which accounted for 25 percent of global demand in 2013, plunged after the government imposed curbs to narrow a record current-account deficit and stop a slump in the rupee. The government increased import taxes three times in 2013 to 10 percent and introduced the 80:20 rule.
After the controls cut imports and narrowed the deficit to about $32.4 billion in the fiscal year ended March 31, 2014, from a record $87.8 billion a year earlier, the government in May eased the curbs, allowing more traders to ship in the metal.
Imports in October jumped to about 150 tons, the highest in the year started April 1, people with knowledge of the matter said on Nov. 13. Overseas purchases in the April 1 to Nov. 15 period jumped to 710 tons, a finance ministry official who asked not to be identified in line with departmental policy said Nov. 28. India imported about 640 tons of gold in the year that ended March 31, the people said.
Surprised Markets
The decision to ease restrictions "surprised" markets that had anticipated the possibility of tighter rules being introduced, UBS Group AG analysts Edel Tully and Joni Teves wrote in a note on Nov. 28.
"The removal of the main constraint on the supply chain should be positive for gold as it frees up the inflow of the metal into India, where appetite has remained quite healthy," Tully and Teves said.
Declining prices may further act as catalyst for demand, said Haresh Soni, Chairman of the All India Gems & Jewellery Trade Association.
"It's the wedding season and consumers were waiting for right prices," said Soni, whose association represents about 300,000 jewelry retailers and bullion dealers. "Because of the abolition of 80:20 scheme domestic rates may come down a little bit because premium will come down."
Annual Losses
Shares of jewelry retailers rallied in Mumbai today. Titan Co. Ltd. rose 5.2 percent to 390.20 rupees, the most at close since Aug. 21, and Gitanjali Gems Ltd. climbed by the daily limit of 20 percent to 60.15 rupees. Shares of Rajesh Exports Ltd. gained 3.9 percent to 172.80 rupees, while Tribhovandas Bhimji Zaveri Ltd. advanced 19 percent to 179.60 rupees.
Gold for immediate delivery in London headed for a second year of declines after it lost its appeal as a hedge against inflation as oil prices slumped to a five-year low. The price fell as much as 2.1 percent to $1,142.88 an ounce today, the lowest in three weeks, after Swiss voters rejected a measure requiring the central bank to hold at least 20 percent of assets in gold. It traded at $1,173.83 at 4:42 p.m. in Mumbai.
Bullion in London has dropped 2.3 percent in 2014 after slumping 28 percent last year, the most since 1981. Futures on the Multi Commodity Exchange of India have fallen 9.3 percent this year to 25,768 rupees ($415) per 10 grams.
'No Threat'
A recovery in gold imports won't pose a threat to the current-account deficit or the rupee as commodity prices are declining, according to Shilan Shah, an economist at London-based Capital Economics Ltd.
"Even if India's gold imports now pick up, the threat of the current-account deficit ballooning to previous levels is slim," Shah wrote in a Nov. 28 note.
The move to scrap the rule reflects policy makers' growing confidence in the external sector outlook, Sonal Varma and Aman Mohunta, economists at Nomura Holdings Inc., wrote in a research report on Nov. 29. Gold imports will rise by $8 billion annually because of the abolition of the 80:20 rule, although this will be offset by lower oil costs as every $10 fall in crude prices lowers the oil import bill by about $9 billion, they said.
Easier import rules will also reduce the incentives for smuggling the metal, Soni of the jewelers' federation said. Illegal inflows into India may be about 200 tons this year, the World Gold Council said Nov. 13.
The council on Nov. 28 reiterated its prediction that demand for the year will be from 850 to 950 tons. The sharp increase in imports in recent months was not triggered by changes in demand estimates and was more likely a result of expectations for additional curbs, P.R. Somasundaram, the managing director for India, said in an e-mailed statement.
"The government has understood that the Indian mentality is that when you restrict something, we tend to buy more and more," said Kothari, who is also the vice president of the Indian Bullion and Jewellers Association.
Before it's here, it's on the Bloomberg Terminal.
LEARN MORE