Oil Futures Rebound From Five-Year Low After OPEC Slump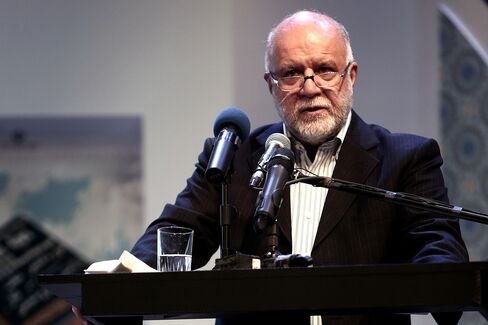 West Texas Intermediate rebounded from the lowest level in more than five years as the market selloff prompted by OPEC's failure last week to curb production took a pause.
Futures in New York rose the most in more than two years and Brent jumped 3.4 percent in London. Both grades had their biggest monthly loss in November in almost six years after the Organization of Petroleum Exporting Countries signaled it will leave it to the market to curb a glut. Current prices are no guarantee of a significant drop in U.S. shale output, Iran's Oil Minister Bijan Namdar Zanganeh said in a Nov. 28 interview.
Oil has collapsed into a bear market as the U.S. pumps crude at the fastest rate in three decades while global demand growth slows. OPEC resisted calls from members including Venezuela and Iran to reduce its production target of 30 million barrels a day when it met last week in Vienna.
"The failure of last week's OPEC meeting has had a tremendous impact," John Kilduff, a partner at Again Capital LLC, a New York-based hedge fund that focuses on energy, said by phone. "Prices have fallen a great deal, which is going to bring the value buyers out of the woodwork."
WTI Futures
WTI for January delivery rose $2.85, or 4.3 percent, to $69 a barrel on the New York Mercantile Exchange. It was the biggest gain since Aug. 3, 2012. Futures earlier fell as much as 3.7 percent to $63.72, the least since July 2009. The volume of all futures traded was 44 percent higher than the 100-day average at 2:58 p.m. Prices, which decreased 18 percent in November, are down 30 percent this year.
Brent for January settlement climbed $2.39 to end the session at $72.54 a barrel on the ICE Futures Europe exchange. It was the biggest increase since October 2012. The North Sea oil earlier declined as much as $2.62 to $67.53, the lowest since October 2009. Volume was 46 percent above the 100-day average. Prices declined 18 percent last month and 35 percent in 2014.
Many of OPEC's 12 members intended to trim 1.5 million barrels, or 5 percent, from their collective quota, with non-member producers contributing an additional 500,000 barrels in reductions, Iran's Oil Minister Bijan Namdar Zanganeh said. Saudi Arabian Oil Minister Ali Al-Naimi cited the threat from U.S. shale as the main justification for maintaining the output limit, according to Zanganeh.
Shale Boom
"It will be interesting to see if Iran, Venezuela and maybe some non-OPEC countries like Russia can get it together and make some cuts," Michael Lynch, president of Strategic Energy and Economic Research in Winchester, Massachusetts, said by phone. "The Saudis have decided to squeeze the shale producers, so they won't be taking part."
The U.S. oil boom has been driven by a combination of horizontal drilling and hydraulic fracturing, which has unlocked supplies from shale formations including the Bakken in North Dakota and the Eagle Ford in Texas. The technique is typically more expensive than pumping from conventional reservoirs. Output rose to 9.08 million barrels a day in the week ended Nov. 21, the most in weekly records that started in January 1983, data from the Energy Information Administration show.
About 4 percent of U.S. shale output needs $80 a barrel or more to be profitable, according to the International Energy Agency. Most production in the Bakken formation, one of the main drivers of shale oil output, remains commercially viable at or below $42, the IEA estimates. It expects U.S. supply to rise by almost 1 million barrels a day next year, with increasing flows to international markets.
'Bottom Line'
"The bottom line is that we have to hold here," Stephen Schork, president of Schork Group Inc. in Villanova, Pennsylvania, said by phone. "We're at key levels for both U.S. shale and Canadian production. There's no telling what the impact will be if there's a further drop."
U.S. production expanded to 9.08 million barrels a day through Nov. 21, the most in weekly records that started in January 1983, data from the Energy Information Administration show.
China's efforts to boost emergency stockpiles may increase imports by as much as 700,000 barrels a day in 2015, according to Energy Aspects Ltd., a London-based consultant. That's more than half the global glut forecast by Citigroup Inc.
"The Chinese are sure to buy these cheap barrels to fill their strategic stockpiles," Kilduff said.
Brent Wagers
Hedge funds and other financial traders increased bullish bets on Brent crude in the days before the OPEC meeting. Money managers' net wagers on rising prices rose 7.9 percent to 65,973 contracts in the week ended Nov. 25, according to figures from the ICE Futures Europe exchange.
Gasoline futures for January delivery climbed 5.34 cents, or 2.9 percent, to settle at $1.881 a gallon in New York. January ultra-low sulfur diesel rose 5.12 cents, or 2.4 percent, to close at $2.2124.
Retail gasoline, averaged nationwide, slid to $2.769 a gallon yesterday, the lowest since October 2010, according to Heathrow, Florida-based AAA, the largest U.S. motoring group.
Before it's here, it's on the Bloomberg Terminal.
LEARN MORE