Sony's Holiday Box Office Sales at Risk After 'Fury' Leak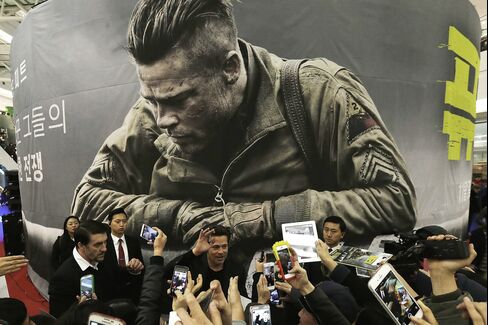 Sony Corp. will see its holiday box-office sales blunted after Brad Pitt's "Fury" and the unreleased "Annie" were stolen by hackers and leaked online.
The World War II drama "Fury" was downloaded 500,000 times since the Nov. 25 cyber attack on Sony's film-and-TV studio, according to the news site TorrentFreak. The leaks, which include the upcoming "Still Alice," and "Mr. Turner," will draw viewers from a unit that has been one of Sony's most reliable profit-makers, with gross ticket revenue up 13 percent this year, according to Box Office Mojo.
"There will be an impact on Sony Pictures' box office revenue for this year due to hacking and the leaks," said Hideki Yasuda, a Tokyo-based analyst for Ace Research Institute. "It will be a one-time impact and won't drag on too long."
The illegal downloads of "Fury" illustrate the economic damage hackers can inflict. The scourge facing Hollywood, Silicon Valley and investors costs the global economy as much as $575 billion annually, according to a study published in June by McAfee, a security-software maker owned by Intel Corp., and the Center for Strategic and International Studies.
Sony, which had hits with "The Amazing Spider-Man 2" and ''22 Jump Street'' this summer, intends to boost annual sales from its film unit to as much as $11 billion in 2018 from $8.1 billion now.
Shares of the company rose 1.5 percent to 2,640 yen at the close in Tokyo trading. The stock has gained 45 percent this year, compared with a 9.2 percent increase in Japan's benchmark Topix index.
"Annie" Leaked
Sony Pictures is continuing to investigate the breach, including the possibility it may involve North Korea, a person with knowledge of the matter said last week. The website Re/code reported Nov. 28 the studio was looking into whether the attack coincides with the release of "The Interview," a comedy about a CIA plot to kill North Korean leader Kim Jong-Un.
"Sony Pictures continues to work through issues related to what was clearly a cyber attack last week," the studio said today in an e-mailed statement. "The company has restored a number of important services to ensure ongoing business continuity and is working closely with law enforcement officials to investigate the matter."
"Fury," which was released Oct. 17, was No. 5 on TorrentFreak's weekly list of the most-pirated movies. The industry news outlet Variety.com reported the number of downloads may exceed 1.2 million across multiple sites, citing piracy tracking firm Excipio.
Future Releases
"Annie," "Still Alice," "Mr. Turner" and "To Write Love on Her Arms" have also appeared on sites offering pirated movies since the attack that continues to affect computer systems at Sony Pictures, the person said.
The theft of completed motion pictures shows cyber criminals are targeting more than credit card and bank account numbers. Vast film and TV libraries are the main assets of studios such as Culver City, California-based Sony Pictures.
The hacking incident came to light when a picture of a skull appeared on company computer screens. The image was accompanied by a message saying Sony had been hacked by #GOP, believed to stand for "Guardians of Peace," and that private data would be released if undisclosed demands weren't met.
Text Messages
The attack has forced some employees to communicate via text message and private e-mail accounts. The studio's home entertainment division was able to fulfill Black Friday orders, the person added.
The attack occurred a month before the scheduled release of "The Interview," a comedy about a CIA plot to kill North Korea's leader.
The Seth Rogen film, currently being advertised for release in theaters on Dec. 25, features Rogen and James Franco as TV producers who are recruited by the CIA to assassinate Kim. Plans for the film drew a rebuke from the country, with a foreign ministry spokesman saying in state media that the release would be an "act of war," according to the BBC.
The remake of the 1982 "Annie" is Sony's next big film release, schedule to hit theaters on Dec. 19. The new version stars Quvenzhané Wallis, Cameron Diaz and Jamie Foxx.
Oscar Contenders
One comfort for the studio is that the targeted audience for "Annie" doesn't often use pirated content, the person said. The website BoxOffice.com predicts "Annie" will generate $100 million for its run in U.S. and Canadian cinemas. Films frequently do much more in overseas markets.
Two other new films, "Mr. Turner" and "Still Alice" are considered possible Oscar contenders for their lead actors Timothy Spall and Julianne Moore, according to the website GoldDerby.com.
In 2011, Sony's online-entertainment service was targeted by hackers who gained access to information on millions of customers. The company was criticized by U.S. lawmakers after the hacking.
In August, Lions Gate Entertainment Corp. won a court order blocking websites from distributing an allegedly stolen copy of the action film "The Expendables 3" starring Sylvester Stallone, Arnold Schwarzenegger, Mel Gibson and Harrison Ford. Downloaded copies were viewed by more than 2 million people before the movie was shown in theaters.
Before it's here, it's on the Bloomberg Terminal.
LEARN MORE