GlaxoSmithKline Said to Plan Reorganization, U.S. Cuts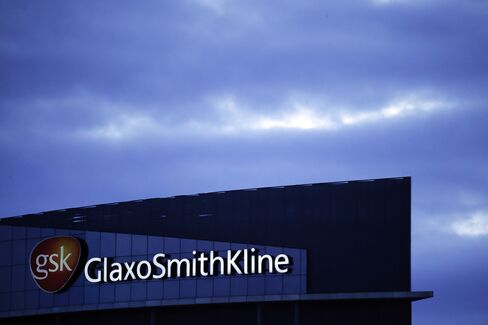 GlaxoSmithKline Plc is planning a reorganization that will include hundreds of job cuts in the U.S., people familiar with the situation said.
The drugmaker is poised to announce a workforce restructuring as soon as this week, said the people, who asked not to be identified discussing a private company matter. The changes will involve operations in the U.S., where London-based Glaxo has struggled to sell respiratory medicines in recent months. Deirdre Connelly, president of North American operations, is scheduled to speak to U.S. employees on Dec. 3, two people said.
Glaxo pledged in October to cut costs by 1 billion pounds ($1.56 billion) over three years, with half the savings coming in 2016. U.S. sales are flagging amid increased competition for the company's best-selling Advair asthma medication. Analysts estimate that sales of the drug will decline 30 percent by 2015, from $5.3 billion last year.
This has put Connelly under pressure. The former Eli Lilly & Co. executive was part of a management reshuffle last month, and now reports to Abbas Hussain, Glaxo's head of global pharmaceuticals, rather than directly to Chief Executive Officer Andrew Witty. Glaxo shares have fallen about 8 percent this year, while the Bloomberg Europe Pharmaceutical Index has climbed about 22 percent.
In October, "GSK announced a new restructuring program to refocus our global pharmaceuticals business and deliver cost savings," Glaxo said in an e-mailed statement on Nov. 28. "The aim of this program is to improve performance by taking unnecessary complexity out of our operations and establish a smaller, more focused organization, operating at lower costs, that supports our future portfolio."
'Patients First'
Each business unit is "currently deciding how to respond to this challenge," Glaxo also said. "When we do have proposals, we will first share those with our employees."
Glaxo told workers this month it would tweak one part of its "patients first" program in the U.S., which was designed to disconnect compensation of sales representatives from prescription numbers, one person said.
While the program remains in place, changes are being brought to the way sales professionals are tested on knowledge of products as part of their evaluation, two people said. Sales representatives continue to be judged on simulations of interactions with doctors and by manager observations of real meetings, one person said.
U.S. Fine
Connelly unveiled the initiative in 2010, saying the company would no longer link bonuses to sales targets and instead reward sales staff for their scientific knowledge. The changes came as Glaxo grappled with probes into its sales and data disclosure practices. The company eventually paid a $3 billion fine to settle U.S. criminal and civil investigations and signed an agreement with the U.S. government pledging to reform sales and marketing methods.
Some top managers in the U.S. have left Glaxo since Connelly's appointment in 2009, in part driven away by the new approach, several people said. One reason for Glaxo's poor performance in the U.S. may be that the sales force no longer has the right incentives, some analysts have said. Witty intends to expand the model globally by early next year.
"Top performers under our previous sales compensation model continue to be some of the top performers under the patient-focused model we introduced in 2011," Glaxo said in an e-mailed statement on Nov. 28. "We remain resolutely committed to our commercial model and are on track to role out this approach globally."
Glaxo has about 99,000 employees in 115 countries, with about 17,000 in the U.S., where the company gets almost one-third of its sales.
The drugmaker is hoping a new selection of lung medicines led by Breo and Anoro will help make up for Advair's shortfall. So far, sales of the new drugs have fallen short of analyst estimates.
Before it's here, it's on the Bloomberg Terminal.
LEARN MORE