Abe Tested by Weak Retail Sales as Japan Election Looms: Economy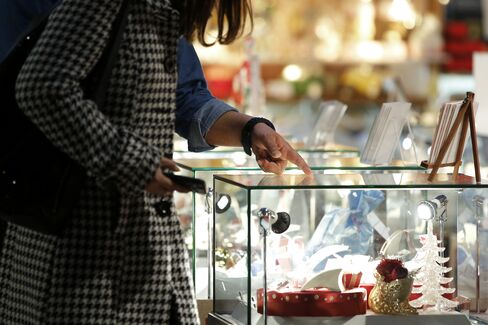 Japan's inflation slowed for a third month and retail sales fell more than forecast, showing the economy continues to struggle from a sales-tax increase as Prime Minister Shinzo Abe heads into an election next month.
The Bank of Japan's key price gauge increased 2.9 percent in October from a year earlier, equivalent to a 0.9 percent gain when the effects of April's tax bump are excluded. Retail sales dropped 1.4 percent from September, more than a 0.5 percent decline forecast in a Bloomberg News survey.
An unexpected increase in production points to resilience among manufacturing exporters that contrasts with the pinch on Japanese households from the weakening yen amid unprecedented monetary easing. Abe has ordered preparations for a stimulus package as he seeks a fresh mandate for Abenomics in an election Dec. 14.
"There is still no clear sign that domestic consumption is recovering after the sales-tax hike," said Minoru Nogimori, an economist at Nomura Holdings Inc. "Fiscal stimulus would be a plus but probably won't be large enough to provide sufficient support, given Japan's fiscal situation."
With today's data reinforcing forecasts for the BOJ to expand its already unprecedented monetary stimulus, two-year note yields slumped below zero percent for the first time and the yen dropped -- sending Japanese equities higher.
The yen fell 0.4 percent against the dollar to 118.20 as of 12:12 p.m. in Tokyo, and has lost 7.2 percent since Oct. 30, the day before the BOJ unexpectedly boosted easing. The Topix index of shares advanced 0.9 percent.
Last Glimpse
Today's data give one of the last glimpses of the economy before the election that comes two years into Abe's term. He last week postponed an increase in the sales levy set for next October to 2017, saying the economy wasn't strong enough after sliding into recession last quarter.
Fiscal stimulus worth at least 2 trillion yen to 3 trillion yen is likely to be compiled to combat weak consumer sentiment, said Junko Nishioka, an economist at Royal Bank of Scotland Group Plc.
Cheaper oil prices are also complicating Governor Haruhiko Kuroda's task of stoking inflation in the world's third-largest economy.
When the central bank boosted its already-unprecedented easing last month, it cited a risk that weak demand and cheaper oil could delay an end to Japan's "deflationary mindset."
No Limit
The BOJ's expansion of asset purchase plans was "totally incomprehensible," and could only be seen as a move aimed at paving the way for Abe to give the final go-ahead to increase the sales tax next year, said Hideo Hayakawa, a former chief economist at the central bank.
The 3 percent bump in the levy to 8 percent in April added to living costs that have increased as the weaker yen pushes up prices of imported goods. Inflation has been running ahead of incomes, squeezing household budgets and increasing the stakes for Abe's plans to revive growth with the "third arrow" of Abenomics.
Kuroda said there was no limit to steps the BOJ could take to reach its 2 percent inflation goal after he led a divided board last month to increase stimulus. He said last week the BOJ's inflation gauge may fall below 1 percent, backtracking on his prediction in July that there was no such chance.
Production rose 0.2 percent in October from the previous month, against a median forecast for a decline of 0.6 percent in a separate Bloomberg survey. The jobless rate declined to 3.5 percent. Household spending fell 4 percent from a year earlier, following a 5.6 percent drop the previous month.
Energy Prices
BOJ board member Sayuri Shirai, who was one of the five who supported last month's decision to increase easing, said Nov. 26 a recovery in consumer spending has been weaker than expected.
The downward pressure on prices from oil could cause core inflation to slow to 0.8 percent, according to Takeshi Minami, chief economist at Norinchukin Research Institute.
Energy prices dropped 0.8 percent in October from a month earlier, today's report showed. Japan's gasoline prices fell for a 19th straight week to 158.3 yen per liter last week, according to the trade ministry.
West Texas Intermediate for January delivery lost as much as $5.94 to $67.75 in electronic trading on the New York Mercantile Exchange and was at $68.73 at 10:44 a.m. Tokyo time. Floor trading was closed yesterday because of the U.S. Thanksgiving holiday and transactions will be booked with today's for settlement purposes. Prices are down 10 percent this week, the most since May 2011.
Before it's here, it's on the Bloomberg Terminal.
LEARN MORE