Samsung to Buy Back Shares After $1.7 Billion Chemicals Sale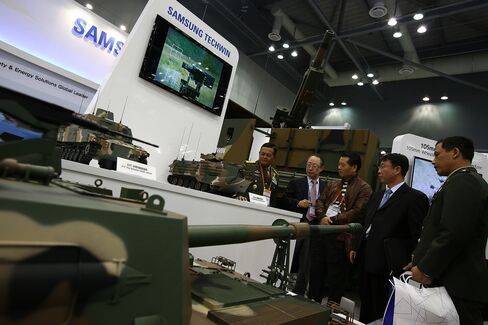 Samsung Electronics Co. said it will buy back shares valued at 2.19 trillion won ($2 billion) after its parent group announced the sale of stakes in chemicals and defense businesses in the chaebol's biggest restructuring.
Samsung Electronics, the world's biggest mobile-phone maker, will buy back 1.65 million common shares and 250,000 preferred stock, according to a regulatory filing today. The Suwon, South Korea-based company, with a market value of 176.9 trillion won, will buy stock from the market by Feb. 26.
The announcement comes as South Korea's largest business group earlier today said it will dispose stakes in the chemicals and defense businesses for 1.9 trillion won to Hanwha Group, a conglomerate that's been making explosives for more than six decades. Samsung group is preparing for a generational handover of power from Chairman and patriarch Lee Kun Hee, who's been hospitalized since May, leaving his only son Lee Jae Yong as heir apparent.
"This clearly shows Lee Jae Yong's intentions that he will focus on businesses that Samsung can do well and drop the uncompetitive part," Kim Ji San, an analyst at Kiwoom Securities Co. in Seoul, said by phone. "This is evidence that Samsung Group's management decision is now centered around the vice chairman."
Last week, Samsung Heavy Industries Co. had to call off a proposed merger with Samsung Engineering Co. after shareholders claimed buyback rights.
No Role
Earlier today, the group said Samsung Electronics, Samsung C&T Corp. and four other companies will sell their stakes in Samsung Techwin Co. and Samsung General Chemicals Co. The sales to Hanwha are expected to be completed in the first half of next year.
Samsung Electronics global depositary receipts traded in Frankfurt climbed 4.8 percent to 454.05 euros as of 10:28 a.m. local time. Each GDR represents half a common share. The company earlier rose 0.9 percent to 1,201,000 won at the close in Seoul trading, before the buyback announcement.
Vice Chairman Lee Jae Yong "didn't play a leading role in the latest stake sale," Samsung Group spokesman Kevin Cho said in response to Bloomberg News queries.
Samsung Electronics and other affiliates of the chaebol will sell 32.4 percent of Samsung Techwin to Hanwha Corp. for 840 billion won. Samsung Group companies will dispose of their 57.6 percent stake in Samsung General Chemicals for 1.06 trillion won to Hanwha Chemical and Hanwha Energy Corp., Hanwha Group said in a statement. Samsung C&T will keep an 18.5 percent stake in the chemicals unit to maintain cooperation with Hanwha.
Jail Sentence
The Hanwha Group is a conglomerate like Samsung with interests in insurance, chemicals and other businesses. The group was founded in 1952 as Korea Explosives, according to its website. The group is led by Kim Seung Youn, 62, who in 2012 was sentenced to jail and fined for embezzlement.
"With the latest M&A, Hanwha Group will strengthen its chemical and defense operations, which helped start the group," the group said in a statement. "This will help us become a major player in the international market."
Shares of Hanwha Chemical Corp. rose 0.8 percent to 13,500 won at the close of trade. Hanwha Corp. fell 1.3 percent. Samsung Techwin plunged 15 percent.
Hanwha's Kim succeeded his father as chairman of the group in 1981. In 2009, the conglomerate's offer to buy Daewoo Shipbuilding & Marine Engineering Co. for 6.3 trillion won was rejected by creditors as the fundraising plan was insufficient.
Hanwha Group bought two Prudential Financial Inc. units in South Korea for as much as 490 billion won in 2010. The conglomerate also bought Germany's solar-panel maker Q-Cells SE in 2012.
Before it's here, it's on the Bloomberg Terminal.
LEARN MORE