Holiday Hiring Breaking Records as Retailers Pay Out More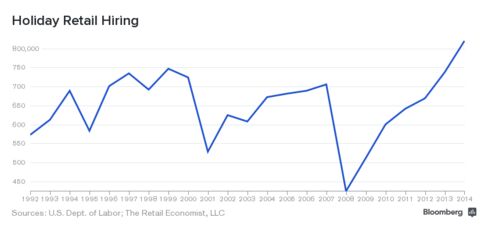 Wanda Tucker was hired on the spot for a part-time job with Gap Inc.'s Banana Republic chain earlier this month after searching for a full-time position since April.
"I thought I was just going in for an interview," said Tucker, 53, of Rex, Georgia, who'd finished five years of Army Reserves postings before entering the workforce. "It has been a blessing to have some money coming into the household."
Workers are facing the most favorable job market for seasonal work since the 18-month recession that started in December 2007, getting hired with fewer interviews and in some cases with higher pay.
About 821,000 workers will be hired for retail seasonal jobs this year, up 11 percent from a year ago and the highest since records were started in 1990, estimates Michael Niemira, former director of research for the International Council of Shopping Centers Inc. and now founder of economic forecasting firm The Retail Economist LLC in Tucson, Arizona.
Big retailers Wal-Mart Stores Inc., Target Corp., Kohl's Corp., J.C. Penney Co. and Amazon.com Inc. will hire 304,000 compared with 283,000 last year, he said. The estimate doesn't include United Parcel Service Inc. in Atlanta, which has said it will add as many as 95,000 temporary workers, and caterers, who are expecting an increase in holiday parties.
"I don't want to say there is pressure on wages but there is an alignment of wages with demand," said Jack Kleinhenz, chief economist with the National Retail Federation in Washington, who is estimating as many as 800,000 workers will be added. "There is some tightening" in the job market.
Wage Increase
The unemployment rate for the retail and wholesale trade sector fell to 5.1 percent in October, the lowest since early 2008 in the initial months of the recession, Labor Department figures show. Wages and salaries for retail workers rose 2.5 percent in the third quarter from the same period in 2013, the biggest increase in more than four years, according to the Bureau of Labor Statistics data.
Seasonal job seekers using the website Snagajob.com are finding work in an average of 28 days this year compared with 45 days last year, company Chief Executive Officer Peter Harrison said. The Richmond, Virginia-based online matching service focuses on part-time and hourly positions.
"There is a lot more activity by employers," he said. "Clearly there is a very strong trend."
More Buying
The retail federation is projecting holiday sales to rise 4.1 percent this year, more than last year's 3.1 percent gain, as rising employment, improved consumer confidence and lower gasoline prices lead to more buying. Sales in November and December can account for as much as 30 percent of a retailer's annual revenue.
Retailers that have lured shoppers with discounts on the day after Thanksgiving are opening doors during the holiday. About 45 percent of consumers plan to shop in a store or online on Thanksgiving itself, up from 38 percent last year, according to a survey released last month by consulting firm Accenture Plc.
An estimated 140 million U.S. shoppers will hit stores and the Web this weekend in search of post-Thanksgiving discounts, kicking off what retailers predict will be the best holiday season in three years.
Consumer Confidence
Consumer confidence rose in November to the highest level in seven years, according to the Thomson Reuters/University of Michigan preliminary sentiment index, reported Nov. 14. A separate report by the Conference Board yesterday showed an unexpected decline from October, which was a seven-year high, while a gauge of consumers' willingness to buy appliances rose to its highest level since at least 2010 and purchase intentions for televisions were at a two-year high.
Retail sales rebounded in October. Purchases rose 0.3 percent as 11 of 13 major categories showed gains, indicating broad-based growth, figures from the Commerce Department showed.
"It's the most wonderful time of the year for retailers' sales at year end, so it is literally all hands on deck as they try to hire sales help," said Chris Rupkey, chief financial economist at Bank of Tokyo-Mitsubishi UFJ Ltd. in New York. "Even if you have been out of work for two years, if you have a pulse, stores need you."
UPS expects to deliver 585 million packages in December, or the equivalent of 1.9 packages for every person in the country. The company peaked at 31 million packages delivered in a single day last holiday season; this year it expects six days to surpass that single-day figure.
Confident Outlook
The hiring of couriers and delivery people in October bodes well for retail hiring later in the season because it suggests confidence in the sales outlook, said Joseph LaVorgna, chief U.S. economist of Deutsche Bank Securities Inc. in New York.
"The consumer has enjoyed a decent year of real disposable income growth" and effectively has "a nice tax cut from energy," he said.
Restaurants are benefiting from a better consumer mood as well. Forty-four percent of small-business owners plan to throw a holiday party this year, compared with 32 percent last year, according to a survey by American Express Co.
Catered Too hired 10 part-time workers the past two months as the San Jose, California-based business prepares for a holiday rush, when Christmas celebrations will push December sales up 20 percent over last year. To attract workers, company founder Greg Casella has raised pay about 10 percent during the past two years.
'More Competition'
"There is definitely more competition for workers," he said. "Business is booming right now. Companies are having holiday parties again, which they didn't between 2009 and 2011."
In Atlanta, Fifth Group Restaurants, parent of South City Kitchen, is paying as much as 10 percent more to hire up to 100 seasonal workers for catering this year, or about four times as many as during the recession, said Robby Kukler, partner with the company.
"We are seeing wages go up across the board," he said, even though Georgia's unemployment rate at 7.7 percent was the highest in the U.S. in October. "Hiring for any position is as difficult as it has ever been."
Tucker landed at Banana Republic after mentioning to a friend who works at the chain that she was looking for a job.
Health-Care Specialist
Over the last five years as an Army reservist, she had postings as a health-care specialist in Iraq, at Fort Hood in Texas and at Pinellas Park, Florida.
Tucker has been averaging 10 to 15 hours a week and is scheduled to work 20 hours this week, including on Black Friday, the day after Thanksgiving.
While she has a master's degree in health administration and continues to look for a full-time position in her field, Tucker says she enjoys interacting with people on the sales floor.
"Especially if you can help someone, it is a really nice feeling," she said. "The last few days, we have had really mad sales going on and it has been quite busy. I am sure on Friday the sales are going to be just crazy."
Before it's here, it's on the Bloomberg Terminal.
LEARN MORE