Indonesia Said to Plan Fixed Subsidy by 2016 to Cap Oil Risk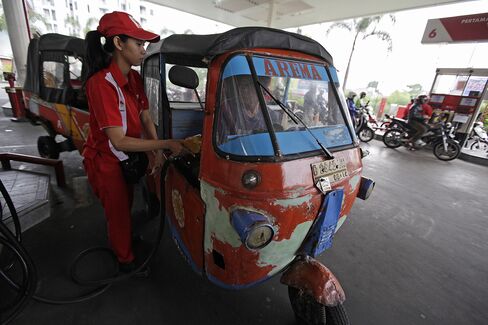 Indonesia's finance ministry plans to propose a fixed gasoline subsidy of 1,000 rupiah ($0.08) to 2,000 rupiah a liter, said a government official who asked not to be identified because the discussions are private.
The ministry will submit the proposal to President Joko Widodo soon, according to the official, who has seen the plans. The fixed-subsidy system may be implemented in 2016, unless Widodo wants to do it earlier, the official said.
Widodo, known as Jokowi, raised fuel prices last week to reduce state energy subsidies, acting on an election pledge to free funds for development spending and boosting optimism he's taking steps to overhaul Southeast Asia's largest economy. A shift to a fixed subsidy would insulate the government budget from oil-price fluctuations.
"Government wants to implement a fixed-subsidies regime," Finance Minister Bambang Brodjonegoro said at a forum in Jakarta yesterday, without specifying the levels being considered or the time frame. That would make the fuel subsidy budget more predictable and dependent only on consumption, without being affected by the volatility of oil prices, he said.
If Jokowi agrees to the fixed-subsidy plan, the finance ministry would need to go to parliament to get approval, the official said. The ministry is still calculating the possible fixed level for diesel, he said.
Once subsidies were set, pump prices would rise and fall with the exchange rate and oil costs, the official said. For the government, if it subsidizes 48 million kilo liters of gasoline a year, a 1,000 rupiah fixed subsidy would limit its cost to 48 trillion rupiah, he said.
Cost of Subsidy
Some 276 trillion rupiah was earmarked for fuel subsidies in the 2015 budget prior to this month's fuel-price increase, equivalent to 13.5 percent of total spending. Last week's adjustments will free 110 trillion rupiah to 140 trillion rupiah of state spending and reduce the 2015 budget deficit from the current forecast of 2.2 percent of gross domestic product, Brodjonegoro has said.
The finance minister said yesterday that the government is working on a mechanism for fixed subsidies and will wait for presidential approval. Indonesia will revise the 2015 budget deficit to below 2 percent of gross domestic product, he said.
"A fixed fuel subsidy scheme would make the government budget more robust if future oil prices were to rise," Thomas Rookmaaker, a director of sovereign ratings at Fitch Ratings, said by e-mail today. "It would be positive for the sovereign credit in the sense that public capital expenditures would be more stable, whether future fuel prices rise or not, and this would likely benefit the growth outlook in the longer run."
Politically Sensitive
Dismantling the decades-old fuel subsidy program is a political hot potato -- protests accompanied past price increases and riots spurred by soaring living costs helped oust dictator Suharto in 1998. The front page headline in the English-language Jakarta Globe newspaper read "A Bold Move" on Nov. 18, the day of the fuel price increase.
After last week's announcement, a student association in Jakarta burnt tires at one junction and put up a sign saying: "Fuel expensive. Jokowi go."
The price of subsidized gasoline was increased to 8,500 rupiah a liter from 6,500 rupiah, and diesel was raised to 7,500 rupiah a liter from 5,500 rupiah.
Indonesia has been subsidizing fuel since the first oil price shock in the 1970s and kept prices at less than $0.20 per liter until 2005, according to a World Bank report published in March. Before last week's announcement, the price of gasoline at the pump had most recently been raised in 2013, to 6,500 rupiah per liter from 4,500 rupiah.
A fixed subsidy will help the government, said Eric Sugandi, a Standard Chartered Plc economist in Jakarta.
"The government will no longer be bothered with social political costs of fuel-price hikes and can focus on other spending," Sugandi said today.
Before it's here, it's on the Bloomberg Terminal.
LEARN MORE