'Le Black Friday' Now Global With Deals Just a Click Away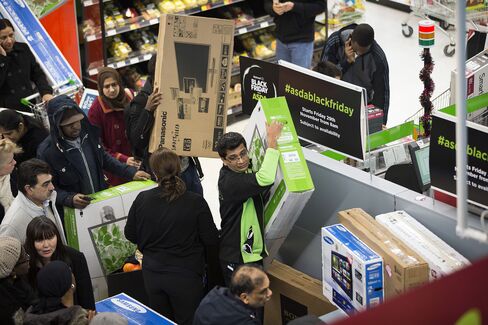 Although Londoner Hannah Lyons didn't have turkey and pumpkin pie yesterday, she will still be participating in that other Thanksgiving ritual: Looking for deep discounts at the mall.
"I've got my credit card at the ready," the 30-year-old business fashion student said while shopping at the Westfield White City mall in London's Hammersmith borough.
That's right. Black Friday, the annual rite of retail that commands American attention the day after Thanksgiving, is catching on around the world. Though the U.S. is the only nation to gather for a family meal on the fourth Thursday in November, people from London to Leipzig to London, Ontario, are starting to rush big box stores the following day.
The trend of discounts to kick off the Christmas shopping season -- a staple of U.S. retailing for decades -- reached neighboring Canada about five years ago, though Canadians celebrate Thanksgiving in October. The rise of the Internet has made it a worldwide phenomenon, as customers are always just one click away from the deals offered by U.S. e-tailers, even if shipping fees often erase the price advantage.
"The consumer is savvy," said Chris Morton, chief of Lyst, a London-based online fashion marketplace that expects a sixfold increase in traffic outside the U.S. this weekend due to Black Friday promotions. "She knows a massive sales event happens in the U.S., and with e-commerce she can tap into that."
In Costa Rica, authorities have warned consumers to beware of counterfeit goods offered in "Viernes Negro" sales. Germany's Conrad Electronic SE is in the midst of what it calls Black Week, with deals such as 14 percent off a Samsung Electronics Co. LED television. South African supermarket chain Checkers has promised to cut prices by as much as 50 percent for Black Friday promotions today.
Le Black Friday
Even in France, where discounting is highly regulated, supermarket operator Casino Guichard-Perrachon, media retailer Groupe Fnac and online store La Redoute are slashing prices for what some call "Le Black Friday." La Redoute has 55 percent markdowns on Braun laser hair removers, Casino is offering what it says are unbeatable prices on Nespresso coffee machines, and its online unit, CDiscount, will introduce Black Friday promotions in all eight countries where it operates, including Senegal, Vietnam, and Colombia.
Swedish online retailer CDON Group AB, which introduced the Black Friday concept last year, said sales that day were more than double those of an average Friday as it had 1.2 million website visits, 70 percent more than normal.
In Britain, Amazon.com Inc. introduced the idea in 2010, and it has since spread to at least a dozen big chains, with Marks & Spencer Group Plc and J Sainsbury Plc this year joining for the first time.
"Amazon did the groundwork in terms of increasing knowledge and awareness of the event," said Bryan Roberts, an analyst at researcher Kantar Retail. Now "tactical bandwagon climbing" by other retailers has turned Black Friday into the biggest fixture on the British shopping calendar after Dec. 26, Boxing Day. The trend got a boost last year when Asda, owned by Wal-Mart Stores Inc., joined in with discounts on goods like TVs and gaming consoles, Roberts said.
Fashion Frenzy
British shoppers are expected to spend 200 million pounds ($316 million) more today than the average, according to researcher Mintel. That would be about 20 percent more than a typical December Friday, and roughly double the increase last year, Mintel says.
Following a relatively balmy fall this year, apparel retailers are using today's promotions "as a way of shifting stock" that failed to sell earlier in the season "without losing face," Verdict Research analyst Patrick O'Brien said.
New Look, a 1,100-store clothing chain, is running a "fashion frenzy" for the first time with as much as 50 percent off items including coats, scarves and sweaters.
Marks & Spencer is discounting coats and fleeces by as much as 30 percent, while Topshop, owned by billionaire Philip Green, has cut the price of warm clothing by as much as 50 percent.
Hospitalized Shopper
"Black Friday now marks the real start of Christmas shopping," said Rob Hattrell, general-merchandise director for Tesco Plc, which is extending discounting to stores today after starting with online sales last year.
Another American import: a frenzied rush to get the best deals. Last year, at an Asda in Belfast, Northern Ireland, a woman was sent to the hospital after she injured her arm in a crush of shoppers seeking the "earth-shattering savings" promised. This year, the company says it's increasing staffing with "thousands more" sales clerks and security personnel.
The danger for retailers is that Black Friday sales will depress, rather than kick-start, Christmas shopping, said Nick Bubb, an independent retail analyst in London. The final two months of the year are the most lucrative for British retailers, representing an even greater proportion of annual revenue than in the U.S.
"There's a huge risk that consumers will buy what they would have bought anyway, just for less," Bubb said. "It's ruining margin."
Discount Drug
A primary concern is that retailers won't be able to return to charging full price in the traditionally lucrative month of December, Selfridges' operations director Sue West said at a retail conference.
Black Friday "is going to change the whole shape of Christmas this year," she said. "It's vitally important that it's a full-price trading period" after this weekend's discounts.
For that reason, Kingfisher Plc is approaching the concept gingerly. Its British home-improvement division, B&Q, will offer a half-price Bosch pressure washer and 30 percent off a Makita drill, but discounts will be limited when compared to those of superstore competitors, the company said.
"We're tiptoeing in," Ian Cheshire, Kingfisher's chief executive officer, said by phone. "You have to be quite careful about getting on a discount drug."
Before it's here, it's on the Bloomberg Terminal.
LEARN MORE