HSBC, Goldman Rigged Metals' Prices for Years, Suit Says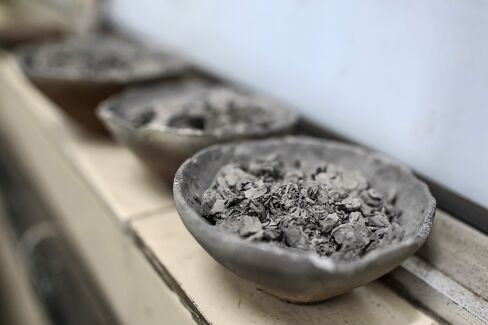 Goldman Sachs Group Inc. and HSBC Holdings Plc were sued in New York over claims they conspired for eight years to manipulate prices for the precious metals platinum and palladium in what plaintiffs' lawyers say is the first such class-action lawsuit in the U.S.
Standard Bank Group Ltd. and a metals unit of BASF SE, the world's largest chemical company, were also sued. The four companies used inside information about client purchases and sale orders to profit from price movements for the metals used in products ranging from jewelry to cars, according to a complaint filed yesterday in Manhattan federal court.
Modern Settings LLC, a jeweler that buys precious metals and derivatives set on their prices, claims the companies "were privy to and shared confidential, non-public information about client purchase and sale orders that allowed them to glean information about the direction" of prices.
Similar lawsuits have been filed this year in Manhattan accusing banks of rigging the benchmark price for gold. Authorities around the world are examining the gold market for signs of wrongdoing.
Regulators tightened scrutiny of benchmarks after uncovering price-rigging in interbank-loan rates and currencies. In August, the price-setting mechanism for silver became the first traditional procedure for a precious metal to be replaced, and Intercontinental Exchange Inc. will run the replacement for the 95-year-old London gold fixing. A new mechanism for platinum and palladium is set to be in place Dec. 1.
Catalytic Converters
Michael DuVally, a spokesman for Goldman Sachs, declined to comment on the lawsuit, as did HSBC spokeswoman Juanita Gutierrez in New York.
Ross Linstrom, a Standard Bank spokesman in Johannesburg, declined to comment on the case. BASF's London-based metals unit couldn't be reached for comment.
The potential damages in the case may range from tens of millions to hundreds of millions of dollars, based on the size of the markets for platinum and palladium, Gregory Asciolla, the lawyer for the plaintiffs, said in an e-mail today.
The biggest uses of the metals are for jewelery and producing catalytic converters, which curb harmful emissions from vehicles, according to the complaint.
Carmakers' use of platinum will climb 7.9 percent to a six-year high of 3.39 million ounces this year, and there will be "broad-based growth" next year, auto-catalysts producer Johnson Matthey Plc estimates.
Palladium Demand
Palladium auto usage will gain 4.9 percent this year to a record 7.3 million ounces. While demand will rise next year, it will likely be at a slower pace, the company predicted. Johnson Matthey makes about one-third of the world's catalytic converters.
Goldman Sachs, HSBC, Standard Bank and BASF are the only participants in twice-daily conference calls to set global price benchmarks for the London Platinum and Palladium Market, an off-exchange trading center whose quotes affect related derivative products, according to the complaint.
The daily calls, which are known to the public and the other members of the market, take place at 9:45 a.m. and 2 p.m. London time, while trading is under way in London and Zurich, according to the organization's website. The quoted prices are used worldwide by miners, refiners, wholesalers, jewelers and investors, the plaintiffs say in the lawsuit.
Boosting Profit
The companies, chosen to participate in the call because of their familiarity with the market, trade heavily in platinum and palladium and use the conference call to boost their own profit, according to the complaint.
"This unlawful behavior allowed defendants to reap substantial profits, while non-insiders, which include plaintiffs and members of the class, were injured," lawyers for New York-based Modern Settings said in the filing.
Modern Settings needs a judge's approval before it can represent other buyers of the metals.
The gross demand last year for platinum was more than 8 million ounces and more than 9.6 million ounces for palladium, according to the complaint.
The case is Modern Settings LLC v. BASF Metals Ltd., 14-cv-09391, U.S. District Court, Southern District of New York (Manhattan).
Before it's here, it's on the Bloomberg Terminal.
LEARN MORE