Behind 700% Loans, Profits Flow Through Red Rock to Wall Street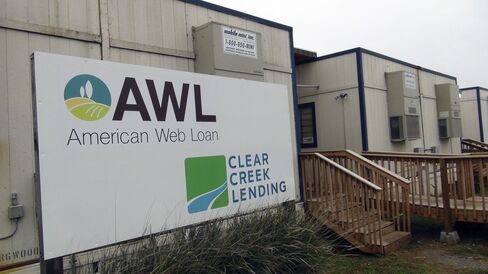 Joshua Wrenn needed money to make the January payment for his Jeep Cherokee.
The truck driver and aspiring country singer in Madison, North Carolina, got $800 within minutes from a website he found on his phone. When he called to check his balance a few weeks later, he was told he had electronically signed a contract to pay back $3,920 to a company owned by an American Indian tribe.
"I didn't ever see a contract, not one time," said Wrenn, 30. "If I was that stupid, to sign for $3,000 for an $800 loan, I might as well bury myself alive."
Payday loans like Wrenn's -- costly, short-term advances for those with poor credit -- are illegal in North Carolina and about a dozen other states. That's driving online lenders to Indian reservations, where tribes say they're not subject to interest-rate regulations.
American Web Loan, Wrenn's payday lender, is one of the biggest in the U.S. Its offices are in four double-wide trailers, behind the Otoe-Missouria tribe's 7 Clans Paradise Casino in Red Rock, Oklahoma, off a two-lane highway lined with wheat fields. John Shotton, chairman of the Otoe-Missouria, says his impoverished tribe needs the profits to fund affordable housing and after-school programs.
Chasing Returns
It turns out other people are profiting from the business inside the trailers.
Revenue from American Web Loan flows through the tribe to a firm owned by Mark Curry, according to a presentation his company gave to potential private-equity investors last year. Curry, whose payday-loan websites have been sanctioned by state regulators for the past seven years, is in turn backed by a New York hedge fund, Medley Opportunity Fund II LP.
Chasing big returns, some Wall Street investors have been willing to overlook the legal uncertainty of a business that regulators say is exploiting a loophole to trap poor borrowers in a cycle of debt. Hedge funds, private-equity firms and Silicon Valley venture capitalists are investing in a new generation of Internet companies that lend money at high rates to working people.
Curry's presentation, filed in federal court in Illinois by an investment banker suing him over fees, shows that Curry's MacFarlane Group Inc. generates more than $100 million a year in revenue from American Web Loan and another website owned by the Otoe-Missouria. The tribe keeps about 1 percent, according to Charles Moncooyea, who helped strike the deal with Curry in 2010 when he was the tribe's vice chairman.
"All we wanted was money coming into the tribe," Moncooyea said in a telephone interview. "As time went on, I realized that we didn't have any control at all."
Closing Loopholes
Shotton says that's not true. The tribe owns the websites, hires outside help when needed, as it does with its four casinos, and keeps all the profit, he said.
"Short-term lending on the Internet for us has been one of the most successful ventures we've been involved in since gaming," he said in an interview in his office across from the casino, where a drum decorated with the tribal seal hangs on a wall. "The profits were immediate and they were substantial."
Curry said in a telephone interview that he's only a consultant. He also said that the presentation was prepared by an outside firm and that many figures in it are inaccurate estimates. While he declined to say whether he does business with the Otoe-Missouria, Curry said he does work with some American Indians and that the arrangement is legal.
"They control these businesses very clearly," Curry said. "We provide, basically, call-center services for clients that do online financial services."
'Criminal Usury'
Curry, 46, isn't the only payday businessman who made an arrangement with a tribe in the past few years as regulators went after those incorporated offshore or in states that don't cap rates. Tribe-owned websites loaned about $4 billion last year, according to estimates from Jefferies Group LLC.
"What we're seeing is this cat-and-mouse game," said Bruce Adams, general counsel for the banking regulator in Connecticut, one of at least nine states that have taken actions against payday lenders linked to Curry since 2008. "What they're doing now is, frankly in my view, committing criminal usury and hiding behind this claim of sovereign immunity."
Curry's backer, Medley, was founded by the late Richard Medley, an adviser to billionaire George Soros. He intended to invest in socially responsible ventures that also would make money, according to a former employee of the firm. The twin brothers Brook and Seth Taube, who co-founded Medley, took the $3 billion money manager in a different direction.
Medley Loan
Medley invested in payday-store chain Allied Cash Holdings LLC. It loaned $22.9 million in 2011 to Curry's Mission, Kansas-based MacFarlane Group. A MacFarlane executive disclosed the deal in April during a deposition in the case brought by the investment banker, Thomas Ablum of Ablum Brown & Co. in Chicago.
The loan to MacFarlane carries the highest effective interest rate in Medley's second fund, 26 percent a year, according to a presentation Medley gave in 2012 to a pension plan that invested and another former Medley employee. Other pension funds that put up money represent city employees in San Jose, California, and San Antonio firefighters, according to data compiled by Bloomberg.
The Taubes didn't respond to e-mails and phone calls. Ablum, whose case is pending, declined to comment.
Modernist Mansion
Curry has made a fortune from payday lending. MacFarlane, which he owns through a trust, generated $47.3 million in profits from 2009 through mid-2013, according to the investor presentation and the deposition.
As his business expanded, Curry moved from the Kansas City area to a suburb of Las Vegas, where he paid $1.8 million for a modernist mansion, according to real estate records, then to Puerto Rico. He said in the interview that he's providing a service that customers want.
"They're making very educated decisions," Curry said. "Being an entrepreneur, what motivates me is to find solutions for things."
He co-founded the Online Lenders Alliance, a Washington-based lobbying group that fights restrictions on the industry. Two executives who attended the association's meetings and asked not to be identified to avoid retaliation said Curry arrived by private jet and picked up the tab at dinners that cost thousands of dollars. Curry said he usually travels on commercial airlines and that the bills for the dinners weren't extravagant.
Red Rock
Curry met the Otoe-Missouria's tribal council in Red Rock about five years ago, Moncooyea said. Few visitors come to the town, 95 miles south of Wichita, Kansas, where the tribe migrated from Nebraska around 1880 after much of its reservation was sold to make way for railroads.
"They put on a dog-and-pony show about how good they are, how much money they were bringing in," said Bat Shunatona, then the tribe's treasurer.
The 3,100-member tribe needed the money. In Red Rock, population 283, weeds grow through abandoned buildings. Some people live in government-surplus mobile homes that were raffled off by the tribe. A deserted grain-storage tower looms over the only business in town, a combination thrift store and diner run by the Baptist church.
The tribe's quarterly payments to members, then about $800, were threatened by planned casinos closer to Wichita. The council asked few questions during Curry's presentation and granted a license to American Web Loan in February 2010, according to Moncooyea, who was put in charge of the company.
"I didn't do much at all, just looked at the checks and passed them on," said Moncooyea, who added that he'd hoped to learn the business and eventually cut Curry out. "We were just a pawn."
Geneva-Roth
Curry's deal with the Otoe-Missouria came at a good time for him. Complaints from state regulators were piling up at his previous payday-loan firm, Geneva-Roth Ventures Inc., which shares a name with one of Gordon Gekko's shell companies in the 1987 movie "Wall Street." The regulators were disputing Geneva-Roth's claims that its license in Utah, which doesn't cap interest rates, allowed it to lend across the country.
Geneva-Roth settled with regulators in at least six states by agreeing to stop making loans through its now defunct website LoanPointUSA, according to records obtained by Bloomberg News. The settlements didn't affect American Web Loan, which kept lending in New York, North Carolina and other states where high rates are illegal.
American Web Loan typically charges $30 every two weeks per $100 borrowed, equivalent to about 700 percent a year, contracts obtained by Bloomberg News show. Payments are taken directly from borrowers' bank accounts on paydays. More than a quarter of them default on their first payment, according to the investor presentation. Federal Trade Commission records show more than 1,000 borrowers complained about the website.
Trucker's Complaint
Wrenn, the North Carolina truck driver, was one of them. After the company claimed he had signed a contract agreeing to pay 795 percent interest, he closed his bank account and complained to the state's attorney general, who wrote to the tribe on his behalf in May. Two weeks later, a reply came from the Otoe-Missouria Consumer Financial Services Regulatory Commission. Clayton B. Farrell, the commissioner, said he was the only one with jurisdiction.
"American Web Loan shares in the tribe's sovereign immunity and therefore is not subject to state regulation," Farrell wrote on May 19. "After reviewing Mr. Wrenn's complaint and a copy of the loan agreement contract we find no violation."
Debt Collector
Farrell's letter left something out. He has been a debt collector for American Web Loan and Curry's LoanPointUSA, according to consumer complaints to state regulators, lawsuits and bankruptcy filings dated between 2010 and August 2014. The address listed on his regulatory agency's letterhead is a UPS Store in Stillwater, Oklahoma, about 35 miles from Red Rock.
Farrell said in an e-mail that he doesn't collect debts for Curry's companies. He didn't respond to other questions.
Curry introduced other companies to the Otoe-Missouria, according to MacFarlane's investor presentation. Think Finance Inc., a Fort Worth, Texas-based technology and analytics firm was sued on Nov. 13 by Pennsylvania's attorney general for using tribes, including the Otoe-Missouria, as a cover for an "illegal payday-loan scheme."
Sequoia Capital, a venture-capital firm that backs Think Finance, declined to comment. Jennifer Burner, a spokeswoman for Think Finance, said the companies cited in the complaint are legal, licensed and follow tribal law.
"We're proud to be a service provider to Native American e-commerce lending businesses," she said in an e-mail.
Lawsky Letters
Courts in Colorado and California have blocked state regulators who have tried to impose their laws on tribal-owned payday lenders. The Consumer Financial Protection Bureau is still weighing national rules for the industry. Benjamin Lawsky, superintendent of New York's Department of Financial Services, is taking a more aggressive approach.
Each payday lender needs to find a bank that will act on its behalf to process the deposits and debits it makes in customers' bank accounts. Lawsky sent letters in August 2013 to 117 banks warning they might be facilitating illegal activity by processing payments for American Web Loan and 34 other companies. His action came after the U.S. Department of Justice started a similar campaign called Operation Choke Point.
"If payday lenders are just using tribes and tribal land as puppets to perpetuate their attempts to lend into states where payday lending is illegal, that's deeply disturbing," Lawsky said in an interview.
Joint Defense
The Online Lenders Alliance, along with two other lobbying groups, called for a "joint defense strategy" in an internal presentation dated September 2013 obtained by Bloomberg News. The organizations asked members for $9 million for litigation, lobbying and public relations.
Curry and Think Finance, a member of Curry's lobbying group, offered $600,000 to hire David Bernick, a lawyer known for defending tobacco companies and fighting asbestos claims, according to a provisional budget for the plan obtained by Bloomberg News and two people with knowledge of the matter.
Bernick sued Lawsky in federal court in New York last year on behalf of the Otoe-Missouria and another tribe, saying the regulator was attacking their sovereignty. The tribes dropped the case this month after Lawsky won a preliminary ruling.
Curry said in an e-mail that MacFarlane didn't pledge any funds for the lawsuit. A spokesman for the Native American Financial Services Association, part of the defense alliance, said that group paid the legal fees. Curry founded that group too, according to the MacFarlane presentation.
Shotton, the Otoe-Missouria's chairman, said litigating became less important after new banks were found to process payments. He said the profits from online lending are funding free lunches for the elderly and a subsidized loan program for members of the tribe, whose quarterly checks have dwindled to about $400.
"We're confident that our model stands up, and we're in the right," he said. "We're not out here hiding from anybody."
Before it's here, it's on the Bloomberg Terminal.
LEARN MORE