OPEC Said to Consider Sparing Three Nations From Oil Cuts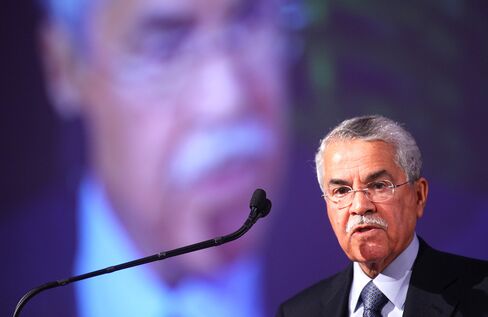 OPEC is considering exemptions for three nations from any potential oil-production cuts, two people with knowledge of the proposal said. Saudi Arabia's oil minister said he doesn't anticipate a difficult meeting when the group meets on Nov. 27 to decide its response to slumping crude.
Iraq, Iran and Libya wouldn't have to reduce supplies should the Organization of Petroleum Exporting Countries agree to cut output at its gathering in Vienna, according to the people, who asked not to be identified in line with their national policies. Ali Al-Naimi, Saudi Arabia's oil minister, told reporters in the Austrian capital yesterday that it's not the first time the oil market has been oversupplied.
Crude prices plunged into a bear market this year amid the highest U.S. oil production in more than three decades and speculation that Saudi Arabia wouldn't cut output in response to a surplus. Oil-market analysts are perfectly divided on whether OPEC will cut output when it meets, or leave it unchanged.
"It makes sense that these three countries shouldn't have to make further cuts" because they are already pumping less than they're able to, Abhishek Deshpande, oil markets analyst at London-based Natixis, said by phone yesterday. Saudi Arabia would probably want assurances from Iran, Iraq and Libya that they won't increase output, he said.
Futures Slump
Brent crude futures slumped to a four-year low of $76.76 a barrel on Nov. 14. Futures fell 9 cents, or 0.1 percent, to $79.59 on the London-based ICE Futures Europe exchange at 11:47 a.m. Singapore time.
The Saudi minister told reporters that he didn't know what OPEC should do at its next meeting. Still, he said that the event won't be difficult, without elaborating.
"Is this the first time that the market is oversupplied?" he said. "It is not the first time that the market is oversupplied."
Discussions to spare Iran, Iraq and Libya, one of several proposals under discussion, reflect the fact the three countries are pumping below their potential, the two people said.
They pumped almost 7 million barrels a day between them last month, compared with total OPEC output of 31 million, according to estimates compiled by Bloomberg. Their combined 1970s peak was more than 10 million barrels a day.
Russian Response
Russia's energy minister said yesterday his country hasn't decided to cut oil production as he prepares to meet with OPEC ministers to discuss the crude market. Russia is already helping to balance the oil market by keeping output steady, Alexander Novak said in an interview with state TV channel Rossiya 24. There's only a small chance that OPEC will agree to reduce output at this week's meeting, he said.
Iraq, the second-largest producer in OPEC, plans to almost double oil production to 6 million barrels a day by 2017. It pumped 3.2 million barrels a day this year, according to data compiled by Bloomberg.
The country's industry is bouncing back from decades of war and underinvestment that caused production to decline from 2.6 million barrels a day in 2000 to 1.4 million in 2003, the year the U.S. invaded and deposed Saddam Hussein, the data show.
Since 2012, Iran and Libya have been the biggest source of supply disruption in the global oil market, Societe Generale SA said in an e-mailed report yesterday.
Libya Strife
"Due to Iran, because of sanctions, and to Libya, because of fighting between tribal militias," the impact of rising shale oil production in the U.S. was offset, the bank said. "But the disruptions aren't increasing anymore, they are decreasing."
Libya, holder of Africa's largest crude reserves, produced an average of 437,000 barrels a day of oil this year, according to data compiled by Bloomberg. That's less than a third of the 1.55 million a day produced in 2010, before the rebellion that ended Muammar Qaddafi's 42-year rule. Political divides and violence have intensified amid a lack of central authority since the uprising, undercutting efforts to restore production.
Samir Kamal, Libya's OPEC governor, said last month the country shouldn't have to cut its production. Libya was out of oil markets for almost a year and other OPEC members have said they "will make room" for the country to revive output, he said.
Libya's production fell as low as 215,000 barrels a day in April when oil ports were shut by rebels seeking self-rule in the eastern region, according to state-run National Oil Corp. Production recovered to 850,000 barrels a day last month, before falling about 40 percent after Islamist militants halted the country's largest oil field, Sharara, on Nov. 5.
Iran Sanctions
Iran's oil production is curtailed by U.S. and European sanctions aimed at pressuring the country over its nuclear program. The Persian Gulf state pumped an average of 2.8 million barrels a day this year, down 23 percent from 3.6 million in 2011, the year before tighter sanctions were imposed, according to data compiled by Bloomberg.
Envoys representing Iran and a group of world powers agreed yesterday to extend nuclear talks until July after failing to overcome differences at negotiations in Vienna. Officials didn't immediately say how extending talks would affect the November 2013 interim pact that restricted some Iranian nuclear activities in exchange for limited sanctions relief.
Iran will protect its share of global crude sales under all circumstances, Oil Minister Bijan Namdar Zanganeh said Nov. 21, according to the ministry's news website Shana. The Persian Gulf nation can double oil exports within two months if sanctions are removed, he said.
"Using current production as a starting point will not be acceptable to Iran and Libya without a mechanism to allow for growth if political or sanctions situations change," said Julian Lee, an oil strategist at Bloomberg First Word.
Before it's here, it's on the Bloomberg Terminal.
LEARN MORE