Kenyan Strike on Militant Camps Kills 100 After Bus Shooting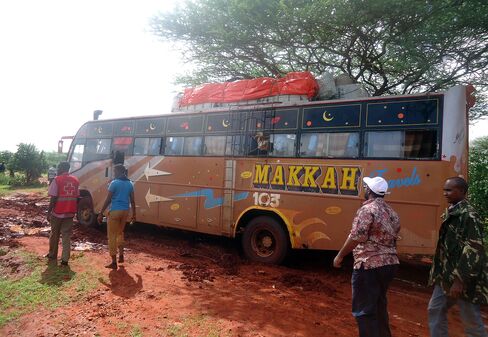 Kenya's army said it killed more than 100 fighters of the Islamist group al-Shabaab in assaults on its camps in neighboring Somalia after the militants claimed responsibility for a bus attack in northeastern Kenya that left 28 people dead.
Fighter jets targeted two camps near Godondowe in Somalia, killing 95 militants, Kenya's Defence Ministry said late yesterday in an e-mailed statement. Ground troops and helicopter gunships killed another 20 members of the al-Qaeda-linked group as they fled to the Arabia Hills along the Kenya-Somali border, it said. Al-Shabaab, in a statement broadcast on Radio Andalus, denied they lost fighters in Kenyan attacks.
"This rapid action is itself a huge victory against regional terrorist networks," Kenyan Deputy President William Ruto said in a statement. "It emboldens us to ultimately deliver our promise to secure our citizens against internal and external aggression."
Al-Shabaab claimed responsibility for the Nov. 22 attack on a bus while it was traveling between the towns of Mandera and Bulla Arabia, about 800 kilometers (500 miles) northeast of the Kenyan capital, Nairobi. Non-Muslims were separated from other passengers before being killed by gunmen, according to Mandera Deputy County Commissioner Elvin Korir.
Kenya has faced increasing attacks by Islamist militants since sending its troops into neighboring Somalia in October 2011 to fight al-Shabaab, which has waged an insurgency against that country's government since 2006.
Coastal Attacks
The group claimed responsibility for an assault on the Westgate shopping mall in Nairobi in September 2013 in which at least 67 people died, along with other attacks on Kenya's coast this year.
Al-Shabaab linked the bus attack to a raid on at least four mosques by Kenyan authorities in the port city of Mombasa last week. Many of Kenya's Muslims, who make up about 11 percent of the country's 45 million population, live in its coastal region.
"That attack is payback for the actions of their fellow Christian soldiers in Kenya that killed many innocent Muslims at prayers in a mosque in Mombasa over the past week," spokesman Sheikh Ali Mohamed Rageh said in a statement read on Radio Andalus, a pro-al-Shabaab broadcaster, on Nov. 22.
Police arrested at least 350 people in last week's raids and seized weapons including hand grenades and petrol bombs, along with jihadist literature. The raids were carried out after the police received information that the mosques were being used to encourage radicalism, according to Kenyan police.
Mombasa Raids
Ruto said al-Shabaab's claim that mosques had been taken over by security forces was false. "These are bandits blinded by criminal impulses and we shall treat them as such," he said of the group.
Ruto defended the Mombasa raids, saying that some mosques "have been turned into planning and logistics abodes" for groups affiliated with al-Shabaab.
"It is completely unacceptable that would-be holy places can be turned into battle pavilions and holding grounds for artillery meant for the infliction of death, pain and injury to Kenyans," Ruto said.
The governor of Mombasa county, Ali Hassan Joho, said authorities are preparing a "peace campaign" to ease tensions and boost security in the region.
"The problem in Mombasa is not Christians and Muslims, it is with the terrorists who seek to divide us," he told a gathering of community leaders in the city yesterday.
Before it's here, it's on the Bloomberg Terminal.
LEARN MORE