Thousands March in Mexico City Streets for Missing Students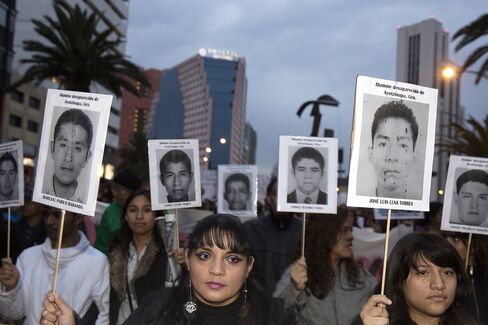 Tens of thousands of protesters took to the streets in Mexico City to demand that the government strengthen the rule of law after the apparent killings of 43 students by a drug gang working with police.
On a day marking the start of the Mexican Revolution 104 years ago, demonstrators marched from a monument commemorating that struggle to the capital's central square, or Zocalo, imploring President Enrique Pena Nieto to improve security in a nation racked by an eight-year drug war.
Banging drums and waving flags, demonstrators shouted "enough, the people are rising" and "justice." One group arrived at the Zocalo carrying a 20-foot tall paper-mache effigy of Pena Nieto in a dark suit, with the red, white and green presidential sash on his shoulder and blood on his hands. As chants of "Pena, get out" intensified, they set it ablaze.
Beatriz Aguilar, 49, walked into the square with tears in her eyes and a sign that said, "We don't want to just survive, we want to live."
"It's not just 43 disappeared people, it's thousands -- and among them is my daughter," she said. "Now she would be 29. She is 29. I'll never give up hope."
Her daughter Leni Gomez went missing in 2010 in the northern state of Tamaulipas that borders Texas, she said.
Drug War
The students' disappearance from the southern town of Iguala, less than three hours' drive from Mexico City, has become a symbol for how drug-related violence has undermined the state's grip on law and order. The crime is among the latest acts of violence in a drug war that has cost 70,000 lives since 2006, according to data compiled by Mexican newspaper Milenio.
Another 22,000 people have gone missing, according statistics from the attorney general's office, with more disappearing on an annual basis than during some military regimes in Latin America and the civil war in Colombia.
Police kidnapped the students from Iguala at the orders of the town's then-mayor to stop them from disrupting an event featuring the mayor's wife, Attorney General Jesus Murillo said at a news conference on Oct. 22. The mayor and his wife have been detained along with more than 70 others who include local police and alleged gang members.
Mass Murder
The government has been unable to identify remains found near Iguala as belonging to the students because the fragments of bond and teeth were too degraded and has sent them to experts in Austria for DNA testing, according to the Attorney General's office. In the search, they uncovered at least 38 other bodies in mass graves that didn't correspond to the students.
Evidence in the case of the missing students, including confessions from suspects, points to mass murder, Murillo said on Nov. 7.
Responding to recent protests in a speech on Nov. 18 after returning from a weeklong trip to Asia, Pena Nieto said that the most violent protests seem designed to destabilize the nation and undermine his agenda that includes pushing forward with an opening of the state-controlled energy industry.
"The federal government has been the first to be in solidarity with the pain that's been caused by the disappearance" and has undertaken an exhaustive probe of the incident, Pena Nieto said. "The protests at times aren't clear in their objective. They would seem to respond to an interest in generating destabilization, social disorder and attacking the national project that we've been pushing forward."
Popular Pressure
Today's protest came less than two weeks after demonstrators burned the doors of the government's National Palace, which forms one side of the Zocalo and is home to the Finance Ministry and one of Pena Nieto's offices.
Government buildings in Iguala, in the state of Guerrero, and Chilpancingo, the state's capital, have also been burned, as well as a bus near the campus of Mexico's Autonomous University in Mexico City.
Protests in the eight weeks since the disappearance are ratcheting up pressure for change from Pena Nieto, said Shannon O'Neil, a senior fellow at the Council on Foreign Relations in New York.
"Such big protests and so many people coming and joining in shows a real unhappiness in a broad segment of the population," O'Neil said in a telephone interview from Mexico City. "It doesn't seem as of yet that the steps the government is taking are addressing the real concerns of the protesters."
Risk Assessment
Pena Nieto or his cabinet ministers have addressed the search for the students on national television on an almost daily basis. Their comments haven't placated the public in a nation where demonstrators march each year to remember the Tlatelolco massacre, when government troops shot and killed hundreds of students protesting anti-democratic practices on Oct. 2, 1968, days before Mexico City hosted the Olympic Games.
Social unrest presents a risk to economic growth and public security was the top concern in the central bank's monthly survey of private-sector analysts, Banco de Mexico Governor Agustin Carstens said yesterday.
Mexico decided against holding the traditional parade marking Revolution Day today, with Pena Nieto instead attending a ceremony for army and navy personnel being promoted to higher ranks at a military field near the capital's Chapultepec Park.
A national holiday celebrating the revolution, which began in 1910, was observed Nov. 17. Some marchers today waved Mexican flags that replaced the red and green national colors with black in a sign of mourning.
Two Mexico City police officers were hurt and 15 protesters arrested in clashes near the airport, Mexico City Public Safety Minister Jesus Rodriguez said in interview broadcast on Radio Formula. Officers prevented demonstrators from setting fire to an LP gas transport truck, Rodriguez said.
Before it's here, it's on the Bloomberg Terminal.
LEARN MORE